KEN FOSTER - I'm a Good Dog
 

Tuesday, November 20 at 7PM


Bestselling Author
KEN FOSTER
speaking & signing
I'm a Good Dog:
Pit Bulls, America's Most Beautiful
(and Misunderstood) Pets

---

Filled with inspiring stories and photographs, this heartfelt tribute to the pit bull celebrates one of America's most popular yet misunderstood dogs.

Perhaps more than any other breed, the pit bull has been dogged by negative stereotypes. In truth, pit bulls are innately wonderful family pets, as capable of love and good deeds as any other type of dog. Setting the record straight, Ken Foster sings the praises of pit bulls in I'm a Good Dog, a gorgeously illustrated, tenderly written tribute to this most misunderstood of canines.

A writer and teacher, Ken Foster is the author of the bestseller The Dogs Who Found Me and its sequel, Dogs I Have Met. His collection of short stories, The Kind I'm Likely to Get, was a New York Times Notable Book.  His work has been featured in Salon, Time Out New York, The New York Times Book Review, and other publications. He lives in New Orleans with his dogs Brando, Zephyr, Douglas, and Bananas.

---

In order to have anything signed at a BookPeople event, a copy of the event book must be purchased from BookPeople. If you purchase your book from BookPeople in advance of the event, please save your receipt and present it at the event. 

Thank you for supporting Ken Foster and your local independent bookstore!
Event date:
Tuesday, November 20, 2012 - 7:00pm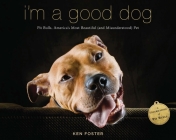 $17.50
ISBN: 9780670026203
Availability: On Our Shelves Now
Published: Viking Studio - October 25th, 2012
---