The Austin American-Statesman Selects.....
BookPeople is proud to partner with the Austin American-Statesman for their monthly Statesman Selects program. Each month, BookPeople will highlight the Statesman's top recommended read for Austin. January's pick is Homesick For Another World by Ottessa Moshfegh. Moshfegh will join us here at BookPeople Tuesday, January 31st at 7PM to speak and sign her book. Pick up a copy of the Statesman on Sunday, January 29th to read their review of the book!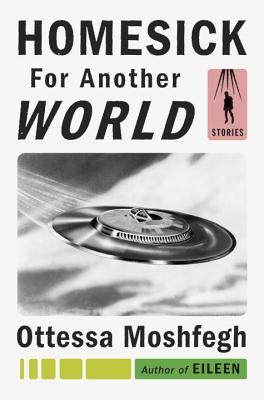 Award-winning author Ottessa Moshfegh's new book, Homesick For Another World, is one our staff has been anticipating for months. Moshfegh will be here on January 31st to speak & sign copies!
---
ABOUT OTTESSA MOSHFEGH
Ottessa Moshfegh is a fiction writer from Boston. She was awarded the Plimpton Prize for her stories in The Paris Review and granted a creative writing fellowship from the National Endowment of the Arts. Her first book, McGlue, a novella, won the Fence Modern Prize in Prose and the Believer Book Award. Her novel Eileenwas listed as a Kirkus best book of 2015.
---
ABOUT HOMESICK FOR ANOTHER WORLD
Ottessa Moshfegh's debut novel Eileen was one of the literary events of 2015 - garlanded with critical acclaim, it was named a book of the year by The Washington Post and San Francisco Chronicle, selected as a BEA Buzz pick, and nominated for a National Book Critics Circle Award. But as many critics noted, Moshfegh is among connoisseurs particularly held in awe for her short stories. Homesick for Another World is the rare case where an author's short story collection is if anything more anticipated than her novel.

And for good reason. There's something eerily unsettling about Ottessa Moshfegh's stories, something almost dangerous, while also being delightful, and even laugh-out-loud funny. Her characters are all unsteady on their feet in one way or another; they all yearn for connection and betterment, though in very different ways each to each, but they are often tripped up by their own baser impulses. Homesick for Another World is a master class in the varieties of self-deception across the gamut of individuals representing the human condition. But part of the unique quality of her voice, the echt Moshfeghian experience, is the way the grotesque and the outrageous are infused with tenderness and compassion. Moshfegh is our Flannery O'Connor, and Homesick for Another World is her Everything That Rises Must Converge or A Good Man is Hard to Find. The flesh is weak; the timber is crooked; people are cruel to each other, and stupid, and hurtful. But beauty comes from strange sources. And the dark energy surging through these stories is oddly and powerfully invigorating. We're in the hands of an author with a big mind, a big heart, blazing chops, and a political acuity that is needle-sharp. The needle hits the vein before we even feel the prick.
---
PRAISE FOR HOMESICK FOR ANOTHER WORLD:
"Expertly crafted stories…There's not a throw-away story in the collection. Each resonates with seemingly effortless, ineffable prose, rarely striking an inauthentic note—particularly memorable are the endings, which often land to devastating effect. The author's acute insight focuses obsessively, uncomfortably, humorously on excreta, effluvia, and human foible, drilling to the core of her characters' existential dilemmas. Moshfegh is a force."
— Publishers Weekly (starred)

"[Moshfegh] is fearless in her probing of her characters' emotional wounds, proceeding with such a sure touch readers are compelled, not repelled. The directness of her style demands that we register the life 'stuffed between the mattress and the wall.' While it is not always an easy read, this collection will leave readers with a sharper, more compassionate sense of the human condition."
— Booklist (starred review)

"A smartly turned and admirably consistent collection about love and its discontents."
— Kirkus

$26.00
ISBN: 9780399562884
Availability: On Our Shelves Now
Published: Penguin Press - January 17th, 2017
---