Books On Our Site May Not Be Available In-Store
Is This Book In Stock? Be Savvy! Check availability details beneath the blue "Add to Cart" button.
Abundance, a Novel of Marie Antoinette (P.S.) (Paperback)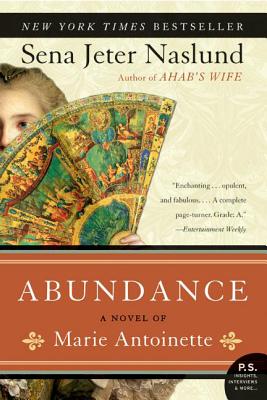 $16.99
Usually Ships in 2-5 Days
Description
---
Marie Antoinette was a child of fourteen when her mother, the Empress of Austria, arranged for her to leave her family and her country to become the wife of the fifteen-year-old Dauphin, the future King of France. Coming of age in the most public of arenas, she warmly embraces her adopted nation and its citizens. She shows her new husband nothing but love and encouragement, though he repeatedly fails to consummate their marriage and in so doing is unable to give her a child and an heir to the throne. Deeply disappointed and isolated in her own intimate circle, and apart from the social life of the court, she allows herself to remain ignorant of the country's growing economic and political crises, even as poor harvests, bitter winters, war debts, and poverty precipitate rebellion and revenge. The young queen, once beloved by the common folk, becomes a target of scorn, cruelty, and hatred as she, the court's nobles, and the rest of the royal family are caught up in the nightmarish violence of a murderous time called "the Terror."
Sena Jeter Naslund offers a dramatic reimagining of this truly compelling woman that goes far beyond the popular myth.
Praise For…
---
"Sumptuous...gripping...beautifully poignant. If you read one book about Marie Antoinette, let it be Sena Jeter Naslund's."
-USA Today

"Enchanting...Opulent and fabulous, as encrusted with detail as one of Marie's shimmering dresses...a complete page turner. Grade: A"
-Entertainment Weekly

"Exceptional...A richly detailed portrait of an opulent, turbulent time. 4 stars."
-People

"Perceptive and literate."
-Richmond Times-Dispatch

"Opulent. . . . Recreates the glories of Versailles and the political malice that wafts through its many doorways."
-Daily News

"Naslund recreates Marie so sympathetically that we can't help aching for the queen."
-Washington Post

"The novel is abundant, full of color and detail. . . . An engaging portrait of one of history's bright-colored butterflies."
-Atlanta Journal-Constitution

"A wealth of period details...even the most cynical reader will wish for a last-minute pardon."
-Christian Science Monitor

"Intensive historical inquiry enables Naslund to re-create Marie Antoinette's life with empathy and irresistibly piquant detail."
-Seattle Times

"Naslund mixes historical observation with delight and tension that makes it hard not to turn the page."
-San Diego Union-Tribune

"Fascinating...A richly detailed look at the doomed queen."
-Seattle Post-Intelligencer

"With skillful dialogue Naslund re-creates a time and place fresh and fearsome."
-Milwaukee Journal Sentinel

"Both a realistic and romantic novel (with) immediately engaging characters...offers a rich, panoramic depiction of an age."
-Raleigh News & Observer

"Hypnotically intimate…With vivid detail and exquisite narrative technique, Naslund exemplifies the best of historical fiction."
-Publishers Weekly (starred review)

"Naslund's writing is rich with minute details that put the reader into the world of Versailles. A page-turner."
-Birmingham News

"An enthralling work of fiction, one that captures the details of a family reign and a time period long gone."
-Pittsburgh Post-Gazette

"The portrait that emerges is sympathetic but realistic...Absorbing."
-Columbus Dispatch

"ABUNDANCE is intelligent, beautifully written, and uncomfortably relevant, and Naslund makes her heroine convincing and even sympathetic."
-Boston Globe

"Intimate experiences and thoughts run beautifully rampant through the pages...[a] smart delicious lesson in history."
-Fort Worth Star-Telegram

"Naslund uses her words as if they were a camera to record life in late 18th century France."
-Sunday Denver Post

"Scrupulously researched and vividly presented . . . it's an irresistible story and Naslund handles its big moments with impressive assurance."
-Kirkus Reviews (starred review)

"An absorbing, detailed read."
-Buffalo News

"Readers of serious historical fiction will revel in it."
-Booklist (starred review)

"Lush with description and deep with historical detail...Marvelous."
-Library Journal