Books On Our Site May Not Be Available In-Store
Is This Book In Stock? Be Savvy! Check availability details beneath the blue "Add to Cart" button.
The Forgotten Man: A New History of the Great Depression (Paperback)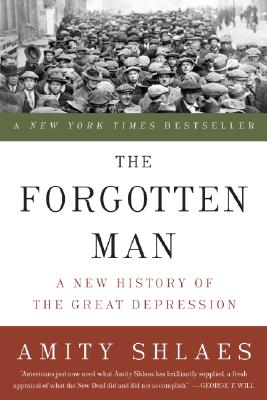 Description
---
In The Forgotten Man, Amity Shlaes, one of the nation's most-respected economic commentators, offers a striking reinterpretation of the Great Depression. She traces the mounting agony of the New Dealers and the moving stories of individual citizens who through their brave perseverance helped establish the steadfast character we recognize as American today.
Praise For…
---
"Amity Shlaes is among the most brilliant of the young writers who are transforming American financial journalism."
-Paul Johnson, author of Modern Times

"I could not put this book down. Ms. Shlaes timely chronicle of a fascinating era reads like a novel and brings a new perspective on political villains and heros—few of whom turn out to be as good or bad as history would have us believe."
-Arthur Levitt

"Americans need what Shlaes has brilliantly supplied, a fresh appraisal of what the New Deal did and did not accomplish."
-George F. Will

"The Forgotten Man is an incisive and controversial history of the Great Depression that challenges much of the received wisdom."
-Harold Evans, author of The American Century and They Made America

"The Forgotten Man offers an understanding of the era's politics and economics that may be unprecedented in its clarity."
-Mark Helprin

"Shlaes's account of The Great Depression goes beyond the familiar arguments of liberals and conservatives."
-William Kristol, Editor of The Weekly Standard

"Amity Shlaes's fast-paced review of the [Depression] helps enormously in putting it all in perspective."
-Paul Volcker

"The Forgotten Man is an epic and wholly original retelling of a dramatic and crucial era. There are many sides to the 1930's story, and this is the one that has largely been lost to history. Thanks to Amity Shlaes, now it's been re-found."
-Peggy Noonan

"Entertaining, illuminating, and exceedingly fair. . . . A rich, wonderfully original, and extremely textured history of an important time.
-The American Spectator

"A well-written and stimulating account of the 1930s and its often dubious orthodoxies. . . . Ms. Shlaes rightly reminds us of the harmful effect of Rooseveltian activism and class-warfare rhetoric."
-The Wall Street Journal

"The finest history of the Great Depression ever written. . . . Shlaes's achievement stands out for the devastating effect of its understated prose and for its wide sweep of characters and themes. It deserves to become the preeminent revisionist history for general readers. . . . Her narrative sparkles."
-National Review

"Captivating. . . . Illuminating. . . . The Forgotten Man is an engaging read and a welcome corrective to the popular view of Roosevelt and his New Deal. . . . A refreshingly critical approach to Franklin Roosevelt's policies."
-Clive Crook, The Financial Times

"Amity Shlaes tells the story of the Depression in splendid detail, rich with events and personalities. . . . Many of Shlaes's descriptions make genuinely delightful reading."
-The New York Review of Books

"The Forgotten Man by Amity Shlaes will forever change how America understands the causes of the Depression and FDR's policies that prolonged it for a decade."
-Grover G. Norquist, The American Spectator