Books On Our Site May Not Be Available In-Store
Is This Book In Stock? Be Savvy! Check availability details beneath the blue "Add to Cart" button.
The Dressmaker of Khair Khana: Five Sisters, One Remarkable Family, and the Woman Who Risked Everything to Keep Them Safe (P.S.) (Paperback)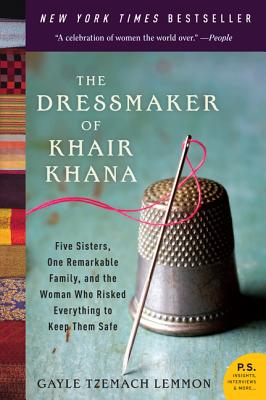 $15.99
Usually Ships in 2-5 Days
Description
---
The New York Times bestseller, written by a former reporter for ABC News, that People magazine called "a transporting, enlightening book" tells the story of a fearless young entrepreneur who brought hope to the lives of dozens of women in war-torn Afghanistan.
Former ABC journalist Gayle Tzemach Lemmon tells the riveting true story of Kamila Sidiqi and other women of Afghanistan in the wake of the Taliban's fearful rise to power. In what Greg Mortenson, author of Three Cups of Tea, calls "one of the most inspiring books I have ever read," Lemmon recounts with novelistic vividness the true story of a fearless young woman who not only reinvented herself as an entrepreneur to save her family but, in the face of ferocious opposition, brought hope to the lives of dozens of women in war-torn Kabul.
Praise For…
---
"Remarkable."
-New Yorker

"[A] transporting, enlightening book. . . The Dressmaker of Khair Khana is a fascinating window on Afghan life under the Taliban and a celebration of women the world over who support their loved ones with tenacity, inventiveness and sheer guts."
-People

"The Dressmaker of Khair Khana is pure inspiration. . . it reveals in acute detail the anxiety of ordinary people trying to fold their lives around the whims and laws of abusive regimes."
-Los Angeles Times

"The Dressmaker of Khair Khana gives voice to many of our world's unsung heroines. Against all odds, these young women created hope and community, and they never gave up. This book is guaranteed to move you—and to show you a side of Afghanistan few ever see."
-Angelina Jolie

"An Afghan family finds a way to survive in Kabul under Taliban rule in this awe-inspiring true story. Fans of Three Cups of Tea are sure to embrace this powerful and humbling book."
-Parade

"Gayle Tzemach Lemmon tells a true, inspiring story of courageous women and quiet heroism at work in Taliban-era Afghanistan."
-Christian Science Monitor

"Gayle Tzemach Lemmon embroiders the life of The Dressmaker of Khair Khana, the remarkable story of an ingenious young Afghan woman who, under the Taliban's rule, created jobs for 100 women."
-Vanity Fair

"A riveting and important book."
-Fast Company

"A courageous Afghan woman and her sisters success as unlikely entrepreneurs in this inspiring true story."
-O, The Oprah Magazine

"Gayle Lemmon's riveting portrait of Kamila, told with grace, elegance and passion, captures the extraordinary tenacity and ingenuity of one woman. A powerful read that serves as a reminder that Afghanistan can never thrive until it embraces the active involvement of women in its leadership and future."
-Tina Brown

"A fascinating story that touches on family, gender, business, and politics and offers inspiration through the resourceful, determined woman at its heart."
-Publishers Weekly

"An inspiring story of courageous community building. . . . [Lemmon] pays scrupulous attention to detail. . . [and] convincingly evokes the atmosphere of Taliban-era Kabul."
-Kirkus Reviews

"Lemmon tells the riveting true story of Kamila Sidiqi and other women of Afghanistan in the wake of the Taliban's rise to power."
-Business Insider

"Rarely has an author been so successful in turning on-the-ground reportage into a dramatic and yet deeply informative story. The Dressmaker of Khair Khana reads like great fiction and yet it is all true. It is a must read."
-Mohamed El-Erian, author of When Markets Collide

"[Kamila Sidiqi] picked up a needle and thread, a whole lot of courage and became an entrepreneur with her own dressmaking business. She offered work to 100 other local women, forging bonds among oppressed women and creating a real community in very trying times."
-New York Post

"The Dressmaker of Khair Khana is a heart-wrenching, heartwarming story about the courageous women of war-ravaged Afghanistan."
-Washington Times

"Lemmon's reporting is superb. . . . The Dressmaker of Khair Khana verges on required reading."
-Christian Science Monitor

"An inspiring, uplifting story about one woman's extraordinary courage and ingenuity in the face of adversity."
-Booklist

"A revealing work that contributes to the literature on women under Afghanistan's Taliban regime."
-Library Journal

"A truly uplifting and very true story of how one woman set out to start a business and ended up preserving the dignity of so many women; opened up possibilities for hundreds more; and inspired thousands."
-Huffington Post

"The Dressmaker of Khair Khana shows us a side of Afghanistan that is so different from what we have seen so far. I recommend this book to anyone who has ever had an idea or a business plan. Kamila's story is engrossing, and her courage truly inspiring."
-TheStreet.com

"Rebel Chic: The Dressmaker of Khair Khana is Gayle Tzemach Lemmon's real-life tale of a seamstress under the Taliban."
-Harper's Bazaar

"The Dressmaker of Khair Khana is one of those books you pick up to read and never forget: an emotional event and a reading experience about a dynamic woman of courage. Lemmon captivates readers with wonder as she relates how one woman refuses to be a victim."
-Blogcritics.org

"Nothing short of amazing . . . definitely a must-read!"
-MSN Glo

"By sharing these women's courageously tenacious stories, Lemmon provides readers convincing proof to believe, as well."
-BookDragon

"Lemmon's storytelling is her strength–the way the book is organized is captivating. Make no mistake that The Dressmaker of Khair Khana has solid journalistic chops and remains based in fact. It is a feel-good, pleasurable read at the crossroads between journalism and novel."
-Muslim Media Watch Blog

"The Dressmaker of Khair Khana is a most remarkable tale."
-Pittsburgh Post-Gazette

"Kamia's story is a truly inspiring one and a testament to the ingenuity and resiliency of the human spirit."
-BurdaStyle

"The Dressmaker of Khair Khana is a captivating war-time adventure story, but it is also a lesson in tenacity and courage."
-Acton Institute