SIGNED BOOKS BY AUSTIN AUTHORS!
Austin Kleon will SIGN & PERSONALIZE all books ordered from BookPeople!
BookPeople will ship for you!
To Order A Signed, Personalized Copy of This Book:
Add the book to your cart.
In the comments field during check out, indicate the name of the person to whom you would like the book signed.
Complete check out.
We Ship Worldwide!
Newspaper Blackout (Paperback)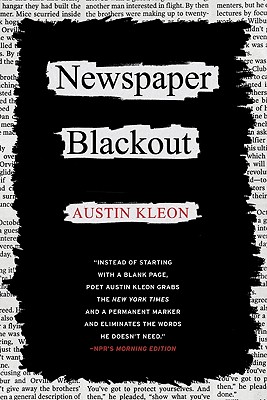 Description
---
From the New York Times bestselling author of Steal Like An Artist
"Some of the results are hilarious, some are profound and even unsettling, but they are never bland or boring."
— Ephermerist
Newspaper article + sharpie = Newspaper Blackout Poetry: Instead of starting with a blank page, poet Austin Kleon grabs a newspaper and a permanent marker and eliminates the words he doesn't need. Fans of Not Quite What I Was Planning and Post Secret will love these unique and compelling poems culled from Austin's popular website.
About the Author
---
Austin Kleon is the New York Times bestselling author of three illustrated books: Newspaper Blackout, Steal Like An Artist, and Show Your Work! His latest release is The Steal Like An Artist Journal: A Notebook For Creative Kleptomaniacs. His work has been translated into over twenty languages and featured on NPR's Morning Edition, PBS Newshour, and in The New York Times and The Wall Street Journal. New York Magazine called his work "brilliant," The Atlantic called him "positively one of the most interesting people on the Internet," and The New Yorker said his poems "resurrect the newspaper when everybody else is declaring it dead." He speaks about creativity in the digital age for organizations such as Pixar, Google, SXSW, TEDx, and The Economist. He grew up in the cornfields of Ohio, but now he lives in Austin, Texas, with his wife and sons. Visit him online at www.austinkleon.com
Praise For…
---
Instead of starting with a blank page, poet Austin Kleon grabs the New York Times and a permanent marker and eliminates the words he doesn't need.
— NPR's Morning Edition

One can imagine taking up blackout poetry on their daily bus commute in place of sudoku or the crossword puzzle.
— Toronto's National Post

Sort of like Michelangelo carving away the marble that imprisoned what he saw within.
— Cleveland Plain Dealer

"…a kind of Rorschach approach to reading newspapers…"
— Wall Street Journal

"[A] sense of play infuses the poems—short pieces that touch on first sex and outer space, in a voice that slips from funny to elegiac…"
— Austin Chronicle

"…hidden bits of Zen lite that occasionally bump up against brilliance….Kleon manages to turn the paper of record into visually stark nuggets of poetry and wit. All the Muse That's Fit to Print, you might say."
— Texas Monthly

"Highbrow/brilliant…It's better than it sounds."
— New York magazine

"Part 'writing with constrictions,' part happy accident, part found art, part design challenge...the collection...gives a well rounded and consistent view into a guy most of us would want to buy a beer."
— Radio Exile

"[The poems] resurrect the newspaper when everyone else is declaring it dead…like a cross between magnetic refrigerator poetry and enigmatic ransom notes, funny and zen-like, collages of found art…"
— The New Yorker

"Some of the results are hilarious, some are profound and even unsettling, but they are never bland or boring."
— The Ephemerist