Black Water Rising: A Novel (Hardcover)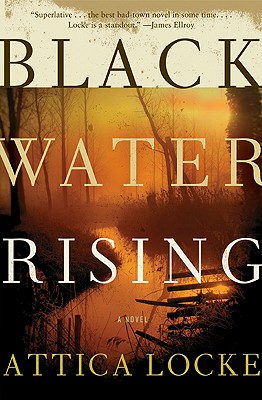 Staff Reviews
---
A dazzling debut by Locke, she brings black noir to 1980s Houston through her protagonist Jay Porter who stumbles into a murder investigation while trying to run from his past.

— Hopeton Hay
July 2009 Indie Next List
---
"Debut author Attica Locke has written a riveting novel set in Houston in the early 1980s, as two former civil rights activists find themselves in a new fight for justice for laborers in the big oil industry of Texas."
— Sarah Bagby, Watermark Books, Wichita, KS
Description
---
Attica Locke—a writer and producer of FOX's Empire—delivers an engrossing, complex, and cinematic thriller about crime and racial justice
Los Angeles Times Book Prize Finalist (Mystery/Thriller)
Edgar Award Nominee (Best First Novel)
The Orange Prize for Fiction (Shortlist)
Jay Porter is hardly the lawyer he set out to be. His most promising client is a low-rent call girl, and he runs his fledgling law practice out of a dingy strip mall. But he's long since made peace with his path to the American Dream, carefully tucking away his darkest sins: the guns, the FBI file, the trial that nearly destroyed him.
Houston, Texas, 1981. It's here that Jay believes he can make a fresh start. That is, until the night he impulsively saves a drowning woman's life – and opens a Pandora's Box. Her secrets put Jay in danger, ensnaring him in a murder investigation that could cost him his practice, his family, and even his life. But before he can get to the bottom of a tangled mystery that reaches into the upper echelons of Houston's corporate powerbrokers, Jay must confront the demons of his past.
"A near-perfect balance of trenchant social commentary, rich characterizations, and action-oriented plot.... Attica Locke [is] a writer wise beyond her years."?— Los Angeles Times
"Atmospheric… deeply nuanced... akin to George Pelecanos or Dennis Lehane....  Subtle and compelling."?— New York Times
About the Author
---
Attica Locke is the author of Black Water Rising, which was nominated for an Edgar Award, an NAACP Image Award, and a Los Angeles Times Book Prize, and was short-listed for the UK's Orange Prize, and also the national bestseller The Cutting Season, which won an Ernest Gaines Award for Literary Excellence. She is a producer and writer on the Fox drama Empire. She is on the board of directors for the Library Foundation of Los Angeles, where she lives.
Praise For…
---
"Attica Locke's first novel, Black Water Rising, which Janet Maslin called 'subtle and compelling' in The New York Times, is an even better book than its author had in mind...The book cleverly replaces the kind of cold-war paranoia that used to animate thrillers with racial paranoia instead."
— New York Times

"Black Water Rising reads like a hard-boiled thriller, but the real trick resides in Locke's ability to personalize an overlooked part of American history and show how far-reaching, how entrenched, it is in today's social, political, and cultural fabric."
— San Francisco Bay Guardian

"First-novelist Locke presents a searing portrait of a man struggling to reconcile the bitterness of his life experiences with the idealism of his convictions. Like Dennis Lehane, she skillfully deploys the conventions of the thriller while also presenting biting social commentary, a sure sense of place, and soulful characters."
— Booklist (starred review)

"Attica Locke is a vivid storyteller. . . .Without pretence, she provides an engaging story about one man's enduring struggle for justice and equality. It's a must for your summer reading list."
— Lisa Ko, author of The Leavers

"Locke shines . . . this is a rare occasion where the hype is deserved. . . . Locke seamlessly weaves history, suspense, and passion in this promising tale that will linger long after this season."
— Essence

"Locke expertly etches a portrait of her anxiety-ridden protagonist, and she animates the complex plot with the assurance of a practiced screenwriter."
— Kirkus Reviews

"Locke, a screenwriter with both film and TV credits (including a forthcoming HBO miniseries about the civil rights movement) steers a gritty drama to a satisfying end . . . Locke remains an author to watch."
— Publishers Weekly

"Locke's debut thriller ends in a satisfying whirlwind of drama."
— Library Journal

"This debut thriller charges out of the gate, boldly establishing Locke as a name to look out for in years to come."
— Sarah Weinman, National Post

"Locke gives readers a well-paced suspense tale. . . . Let's hope Locke has more novels in her. Any author who can make readers actually like a low-rent lawyer has talent to spare."
— St. Louis Post-Dispatch

"A crackling thriller from Attica Locke. . . . Locke's writing is sharp and authentic; you can practically hear the Southern drawl emanating off the page . . . a writer we'll need to keep an eye on"
— Sacramento Book Review

"What a ride! Black Water Rising is a superlative debut; a wonderful treatise on the Texas 1980s; the best bad town novel in some time. Attica Locke is a stand-out in every imperative-young-writer way."
— James Ellroy, author of American Tabloid and L.A. Confidential

"Black Water Rising is a stylish, involving literary thriller with a strong emphasis on human politics and character. An auspicious debut from Attica Locke."
— George Pelecanos, author of The Turnaround

"Locke deftly moves between past and present action . . . [putting] her in the company of master thriller writers such as Dennis Lehane or Scott Turow. . . . Attica Locke [is] a writer wise beyond her years."
— Los Angeles Times

"[A] deeply nuanced story . . . As Scott Turow has done, Ms. Locke uses small, incremental deceptions to draw her main character into big and dangerous mistakes . . . Subtle and compelling."
— New York Times

"Black Water Rising [is] a strong and whip-smart debut from Attica Locke. Set in the author's native Houston, it's both a compelling mystery and a sharp, literate portrait of the social layers within that city's black community."
— Seattle Times

"Locke flawlessly melds social commentary into an action-packed crime fiction, never allowing the briskly paced Black Water Rising to be bogged down by her scintillating look at racism…. Locke proves herself an author to watch with Black Water Rising, clearly one of the year's best debuts."
— South Florida Sun Sentinel

"A crackling good Houston-based mystery that captures the spirit of the boomtown era of the early 1980s . . . Intriguing . . . In the guise of a summer mystery, [Locke] subtly examines the history of race relations and the transition to an integrated America."
— West University Examiner

"This is the first novel by Locke, a screenwriter; it is, Charles McGrath said in The Times, 'even better' than the slick book its author set out to write."
— New York Times, Paperback Row

"Black Water Rising is an excellent book by any measure, but as a debut, it is nothing short of astonishing."
— BookPage

"An astonishingly accomplished debut . . . It's a completely absorbing, gorgeously written early 1980s story . . . Locke will earn well-deserved comparisons to Dennis Lehane for this work . . . This author is destined for literary stardom."
— Dallas Morning News

"[An] extraordinary debut. . . . This kind of racial authenticity and insight is rarely seen in the genre outside of Walter Mosley and Dennis Lehane. Plus, [Locke] really knows how to build suspense."
— Milwaukee Journal Sentinel

"Publishers like to pepper their hypewithwords like 'superlative,' 'auspicious,' 'universal,' and 'dazzling' (all used about this book), claims that are usually ignored. This time, though, they're absolutely right. If you only read one suspense novel this summer, make it Black Water Rising."
— Mystery Scene Magazine