P.S. Be Eleven (Hardcover)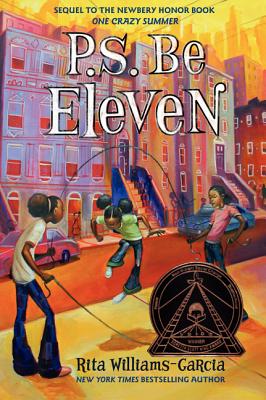 $16.99
Out of Stock; Usually Arrives in 2-5 Days
Description
---
The Gaither sisters are at it again! A sequel to the Newbery Honor Book One Crazy Summer, this Coretta Scott King Award-winning novel will find a home in the hearts of readers who loved Brown Girl Dreaming and As Brave as You.
After spending the summer in Oakland, California, with their mother and the Black Panthers, Delphine, Vonetta, and Fern arrive home with a newfound streak of independence. That doesn't sit well with Big Ma, who doesn't like the way things are changing.
Neither does Delphine. Pa has a new girlfriend. Uncle Darnell comes home from Vietnam, but he's not the same. And her new sixth-grade teacher isn't the fun, stylish Miss Honeywell—it's Mr. Mwila, a stern exchange teacher from Zambia.
But the one thing that doesn't change during this turbulent year is the advice that Delphine receives from her mother, who reminds her not to grow up too fast. To be eleven while she can.
About the Author
---
Rita Williams-Garcia's Newbery Honor-winning novel, One Crazy Summer, was a winner of the Coretta Scott King Award, a National Book Award finalist, the recipient of the Scott O'Dell Award for Historical Fiction, and a New York Times bestseller. The sequel, P.S. Be Eleven, was also a Coretta Scott King Award winner and an ALA Notable Children's Book for Middle Readers. She is also the author of six distinguished novels for young adults: Jumped, a National Book Award finalist; No Laughter Here, Every Time a Rainbow Dies (a Publishers Weekly Best Children's Book), and Fast Talk on a Slow Track (all ALA Best Books for Young Adults); Blue Tights; and Like Sisters on the Homefront, a Coretta Scott King Honor Book. Rita Williams-Garcia lives in Jamaica, New York, is on the faculty at the Vermont College of Fine Arts in the Writing for Children & Young Adults Program, and has two adult daughters, Stephanie and Michelle, and a son-in-law, Adam.
Praise For…
---
"This thoughtful story, told with humor and heart, rings with the rhythms and the dilemmas of the '60s through characters real enough to touch."
— Kirkus Reviews (starred review)

"Funny, wise, poignant, and thought-provoking, this will leave readers wanting more about Delphine and her sisters."
— Horn Book (starred review)

"..the Gaither sisters are an irresistible trio. Williams-Garcia excels at conveying defining moments of American society from their point of view—this is historical fiction that's as full of heart as it is of heartbreak."
— Publishers Weekly (starred review)

"P.S. Be Eleven is a must-read for fans of the first book, but it can also stand alone as an engrossing novel that will leave readers pondering important issues of race, gender, and identity."
— School Library Journal (starred review)

PRAISE FOR ONE CRAZY SUMMER: "In One Crazy Summer Williams-Garcia presents a child's-eye view of the Black Panther movement within a powerful and affecting story of sisterhood and motherhood.
— Monica Edinger, writing in The New York Times

PRAISE FOR ONE CRAZY SUMMER: "One Crazy Summer is a genuine rarity: a book that is both important in its contents and utterly engaging in its characters…with the tremendous bonus of being beautifully written."
— Linda Sue Park, Newbery Medal–winning author of A Single Shard

Praise for P.S. BE ELEVEN: "P.S. Be Eleven is a must-read for fans of the first book, but it can also stand alone as an engrossing novel that will leave readers pondering important issues of race, gender, and identity."
— School Library Journal (starred review)

PRAISE FOR ONE CRAZY SUMMER: "Delphine is the pitch-perfect older sister, wise beyond her years, an expert at handling her siblings...while the girls are caught up in the difficulties of adults, their resilience is celebrated and energetically told with writing that snaps off the page"
— Kirkus Reviews (starred review)

PRAISE FOR ONE CRAZY SUMMER: "Regimented, responsible, strong-willed Delphine narrates in an unforgettable voice, but each of the sisters emerges as a distinct, memorable character, whose hard-won, tenuous connections with their mother build to an aching, triumphant conclusion."
— Booklist (starred review)

PRAISE FOR ONE CRAZY SUMMER: "The setting and time period are as vividly realized as the characters, and readers will want to know more about Delphine and her sisters after they return to Brooklyn..."
— Horn Book (starred review)