Books On Our Site May Not Be Available In-Store
Is This Book In Stock? Be Savvy! Check availability details beneath the blue "Add to Cart" button.
The Given Day (Paperback)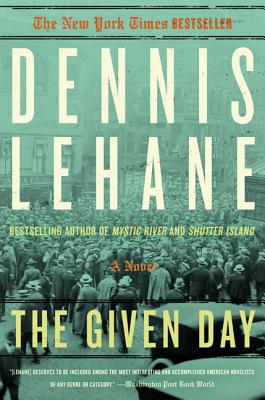 $16.99
Usually Ships in 2-5 Days
Description
---
Dennis Lehane, the New York Times bestselling author of Live by Night--now a Warner Bros. movie starring Ben Affleck--offers an unflinching family epic that captures the political unrest of a nation caught between a well-patterned past and an unpredictable future. This beautifully written novel of American history tells the story of two families--one black, one white--swept up in a maelstrom of revolutionaries and anarchists, immigrants and ward bosses, Brahmins and ordinary citizens, all engaged in a battle for survival and power at the end of World War I.
Praise For…
---
"[Lehane] deserves to be included among the most interesting and accomplished American novelists of any genre or category. . . . A powerful moment in history, and Lehane makes the most of it. . . . Heartfelt and moving."
-Washington Post Book World

"This may be Lehane's finest work. . . . But The Given Day is more than a history lesson. . . . Lehane captures the essence of being American in a fast-changing society that eerily reflects our own."
-USA Today

"The Given Day is a vast historical novel. . . . Spectacular details. . . . Finely thought-out. . . . . Many stunningly managed scenes."
-Boston Globe

"Steeped in history but wearing its research lightly, The Given Day is a meaty, rich, old-fashioned and satisfying tale. I'd call it Lehane's masterpiece."
-Seattle Times

"Superbly written, meticulously researched. . . . A thoughtful, provocative exploration of race, fame, power, and political corruption in American culture. . . . The Given Day places [Lehane] in the first rank of modern American novelists."
-Associated Press

"Gut-wrenching force. . . . A majestic, fiery epic. . . . The Given Day is a huge, impassioned, intensively researched book that brings history alive."
-New York Times

"[A] work of admirable ambition and scope. . . . Lehane is as much like contemporaries George Pelecanos and Richard Price as he is like the bygone Boston-based John P. Marquand, the Pulitzer Prize-winning novelist."
-Los Angeles Times Book Review

"One of the fall's biggest books—and not just because it's 704 pages. It's Lehane's most ambitious and literary work."
-USA Today

"A splendid flowering of the talent previously demonstrated in his crime fiction. . . . A vision of redemption and a triumph of the human spirit. In short, this nail-biter carries serious moral gravity."
-Publishers Weekly (starred review)

"Brilliantly constructed. . . . Like E. L. Doctorow in Ragtime, Lehane captures the sense of a country coming of age, vividly dramatizing how the conflicting emotions and tortured dreams that drive individual human lives also send a nation roiling forward."
-Booklist (starred review)

"Lehane's first historical novel is a clear winner. . . . As good as it gets."
-Library Journal (starred review)

"A historical epic that is easily the most ambitious work of Dennis Lehane's career. . . . THE GIVEN DAY aspires to be nothing less than the Great American Novel. . . . If Lehane was ever a singles hitter, now he's swinging for the fences."
-Kirkus Reviews

"The problem falls to readers to find something—anything—that doesn't pale in comparison once they've closed the covers on this 720-page masterpiece. Quite simply, THE GIVEN DAY is about as close to the great American novel as we're likely to read until … well, until Lehane writes another."
-BookPage

"If you're swinging for the fences, it only makes sense that your novel begin with a lengthy, and very tasty, story about Babe Ruth. That Dennis Lehane sustains that level of play . . . is what gives THE GIVEN DAY a kind of greatness. . . . Lehane dazzles."
-Chicago Sun-Times

"Here's one way to get people excited about the nation's past: Get Dennis Lehane to write the history books. . . . A meticulously researched tale that in the hands of this master storyteller jumps right off the page and hollers."
-St. Petersburg Times

"As much a thriller as any of Lehane's previous work. Even beyond the historical events, THE GIVEN DAY qualifies as a sprawling, sweeping epic. . . . Lehane's masterful packing and precise prose make the story speed by."
-Orlando Sentinel

"Packed with dramatic turning points. . . . Lehane has tried to capture the zeitgeist of an era even nuttier and more tumultuous than our own, and succeeded.""
-Entertainment Weekly

"A gripping historical novel. . . . Infused with the same dark drama that set apart his earlier books."
-Parade

"Rollicking, brawling, gritty, political, and always completely absorbing, THE GIVEN DAY is a rich and satisfying epic. Readers, get ready to feast. This is a big book you won't want to put down."
-Stewart O'Nan, author of Last Night at the Lobster, A Prayer for the Dying, and Snow Angels

"A brawling, brawny, muscular epic—exactly what great mainstream novels used to be."
-Lee Child