I Am Not a Slut: Slut-Shaming in the Age of the Internet (Paperback)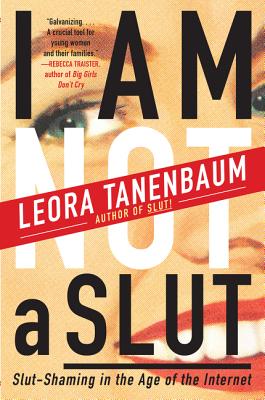 $16.99
Out of Stock; Usually Arrives in 2-5 Days
Staff Reviews
---
"Reading Leora Tanenbaum's I Am Not a Slut is like watching a documentary – it's complex, extensively researched, sometimes hard to get through, and important for precisely the reasons that make it so. I Am Not a Slut is the result of Tanenbaum's decade-long investigation of young women and how they come of age in an increasingly hyper-connected world. This book is a follow-up to Slut!: Growing Up Female with a Bad Reputation, the author's late-90s exposé on the same topic, just before the advent of the Internet as a ubiquitous, inescapable force. What this book offers that its predecessor didn't is an extensive look at how the Internet has exploded the boundaries of judgment and pressures placed on teens and pre-teens. With brisk, intelligent, feeling prose, Tanenbaum presents a dire situation and tells us that one place to start solving it is in the words we use, even among friends. I Am Not a Slut is, in several desperately needed ways, a game-changer."
— Katie P.
Description
---
The author of the groundbreaking work Slut! explores the phenomenon of slut-shaming in the age of sexting, tweeting, and "liking." She shows that the sexual double standard is more dangerous than ever before and offers wisdom and strategies for alleviating its destructive effects on young women's lives.
Young women are encouraged to express themselves sexually. Yet when they do, they are derided as "sluts." Caught in a double bind of mixed sexual messages, young women are confused. To fulfill the contradictory roles of being sexy but not slutty, they create an "experienced" identity on social media-even if they are not sexually active—while ironically referring to themselves and their friends as "sluts."
But this strategy can become a weapon used against young women in the hands of peers who circulate rumors and innuendo—elevating age-old slut-shaming to deadly levels, with suicide among bullied teenage girls becoming increasingly common. Now, Leora Tanenbaum revisits her influential work on sexual stereotyping to offer fresh insight into the digital and face-to-face worlds contemporary young women inhabit. She shares her new research, involving interviews with a wide range of teenage girls and young women from a variety of backgrounds as well as parents, educators, and academics. Tanenbaum analyzes the coping mechanisms young women currently use and points them in a new direction to eradicate slut-shaming for good.
About the Author
---
Leora Tanenbaum is the author of Slut! Growing Up Female with a Bad Reputation and a rising young talent of journalism today. She has written for Newsday, Seventeen, Ms., and The Nation, among others, and appears regularly on a variety of national television programs. She lives in New York City with her husband and two children.
Praise For…
---
"This brilliant, thoughtful, and compelling investigation of young womanhood commands the reader's attention from beginning to end."
— Booklist (starred review)

"Gives a generation of tweeting young women some thoughtful and well-researched advice about how to conduct their digital lives . . . Feminists young and old: this book is for you."
— Bookish

"What are girls to do when the same culture that encourages them to express their sexuality calls them sluts for doing just that? It's a big, important question, and Tanenbaum is up to the task of exploring it."
— Book Riot

"A significant, spirited analysis sure to be embraced by feminists and deserving of wide attention."
— Kirkus Reviews

"Timely [and] provocative."
— Publishers Weekly

"Sure to be widely embraced by those interested in gender and sexual inequalities."
— Library Journal

"This thoroughly researched, galvanizing book will serve as a crucial tool for young women and their families. Tanenbaum navigates the perilous waters young women are swimming . . . and offers them a guide to make it safely to shore."
— Rebecca Traister, author of Big Girls Don't Cry

"I recommend this book to anyone who cares about girls and young women and wants to understand the heartbreaking challenges they face as they grow into their sexuality."
— Aisha Tyler, Comedian, Actress, Author

"Profoundly eye-opening book about the dangerous world young women are forced to negotiate and the blind-eye all too often turned toward it by their peers, adults, and even the media. It should be required reading."
— Elissa Schappell, author of Blueprints for Building Better Girls

"Absolutely crucial read . . .Tanenbaum's empathetic look at how today's expectations of performative identity can undermine real, healthy sexuality is heartbreaking. With any luck, it will also galvanize a much-needed shift, challenging each of us to consider how we participate in creating the world these girls navigate."
— Andi Zeisler, cofounder and editorial director, Bitch Media

"I Am Not a Slut offers both a wake-up call about the dangerous impact of the word 'slut' and a path forward to talk about sex and sexuality in an open, positive, and nonjudgmental way."
— Cecile Richards, President, Planned Parenthood Federation of America