Books On Our Site May Not Be Available In-Store
Is This Book In Stock? Be Savvy! Check availability details beneath the blue "Add to Cart" button.
Cross Her Heart: A Novel (Hardcover)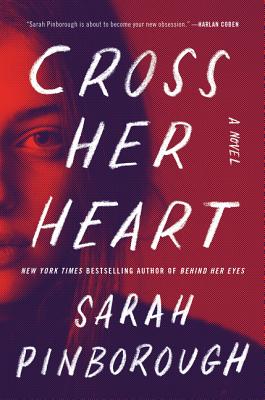 Description
---
"Sarah Pinborough is about to become your new obsession."—Harlan Coben
Lisa is living a lie and everyone is about to find out.
Lisa lives for her daughter Ava, her job and her best friend Marilyn.
But when a handsome client shows an interest in her, Lisa starts daydreaming about sharing her life with him, too. Maybe she's ready now. Maybe she can trust again. Maybe it's time to let her terrifying secret past go.
But when her daughter rescues a boy from drowning and their pictures are all over the news for everyone to see, Lisa's world explodes.
As she finds everything she has built threatened, and not knowing who she can trust, it's up to Lisa to face her past in order to save what she holds dear.
But someone has been pulling all their strings. And that someone is determined that both Lisa and Ava must suffer.
Because long ago Lisa broke a promise. And some promises aren't meant to be broken.
About the Author
---
Sarah Pinborough is the number one Sunday Times and New York Times bestselling author of the psychological thriller Behind Her Eyes, and more than twenty other novels and novellas, including The Death House and a young adult thriller, 13 Minutes. She has also written for the BBC. She lives in England. sarahpinborough.com
Praise For…
---
"Swift and entertaining… Cross Her Heart has a welcome sisterhood-is-powerful vibe; it's a novel that defines women by their relationships with one another, even as their creator is ruthlessly shoving them into position for the next twist."
— New York Times Book Review

"The amazing Sarah Pinborough has done it again with this brilliant, pacy story of lies and deceit."
— B.A. Paris, author of Behind Closed Doors

"The past decade of crime fiction has been remarkable for the huge number of novels… featuring women... Some have been excellent, but most have been indistinguishable... Critics have spent much time searching for well-written, original examples. Sarah Pinborough passes the test. She… is adept at conjuring the unexpected."
— Times (London)

"The plotting in Cross Her Heart is calm, cool and beautifully orchestrated—until, WHAM, you marvel at what Pinborough has just tossed in your lap. There are plenty of I-can't-believe-she-just-did-that moments that will have you sitting straight up in your chair. What a terrific ride."
— Meg Gardiner, author of Unsub

"As the narrative weaves among these three… characters, readers are pulled deeper into their connected webs of secrets and lies… Fans of Pinborough's smash debut, Behind Her Eyes, won't be disappointed… [This is] a fast-paced, twisty thriller... Devotees of B.A. Paris and Ruth Ware will be fascinated."
— Library Journal (starred review)

"[A] tension-driven page-turner… The anxiety builds relentlessly... Cross Her Heart is unapologetically feminist, driven by the strong relationships between women, for better or worse. This will be an easy sell for fans of all domestic suspense… especially fans of Liane Moriarty and Megan Abbott."
— Booklist

"The one element that sets Pinborough's novel apart from similar thrillers is the emphasis on female empowerment and the power of female relationships.… Fans of Gillian Flynn and Paula Hawkins will find this comfortingly familiar despite (or maybe because of?) the shocks and turns along the way."
— Kirkus Reviews

"[Pinborough's] work invariably possesses a surreal, dreamlike quality... The juggling of multiple viewpoints shows great elan, and the author's storytelling is as sure-footed as ever."
— The Guardian

"A masterclass in artful misdirection… brilliantly rendered and utterly harrowing. To say any more would be to give Pinborough's high stakes game away: suffice to say those twists keep coming, each one a perfectly controlled explosion, right to the mesmerising final pages."
— Irish Times

"The first act lays the groundwork… But then Pinborough…puts her foot down, and throws more twists and turns into the road than Switzerland's Grimsel Pass. Once the first reveal hits you in the face, you'll be lucky if you can put the book down to go to bed."
— Independent (UK)

"Dark, unflinching and disturbing… Heart-breaking in places, twisty as hell. I'd like to claim that I guessed the ending but Sarah stayed one step ahead of me all the way through. Pacy, unnerving, addictive read with a dark, dark heart."
— C. L. Taylor, author of The Missing

"Cross Her Heart cements [Pinborough's] reputation as a storyteller of immense power… As the plot unfolds, twists and shocks jump out unexpectedly, making this a page turning thriller difficult to put down… An addictive read. You'll be hooked from the first chapter."
— CrimeSquad.com

"A pacy, twisty thriller that will hook you with its first few pages."
— Stylist (UK)

"Sarah Pinborough does it again with this disturbing descent into a heart of darkness. Highly recommended."
— Cass Hunter, author of The After Wife

"A dark and compulsive read."
— Woman and Home (UK)

"Behind Her Eyes is a cunning puzzle-box of a novel, a masterfully engineered thriller that brings to mind Hitchcock at his most uncanny, and Rendell at her most relentless. Lean and mean, dark and disturbing, this is the kind of novel that takes over your life. Sarah Pinborough slays." 
— Joe Hill, #1 New York Times bestselling author of The Fireman

"Behind Her Eyes is a dark, electrifying page-turner with a corker of an ending. Sarah Pinborough is about to become your new obsession."
— Harlan Coben, #1 New York Times bestselling author of Fool Me Once

"You should read Behind Her Eyes…It's bloody brilliant." 
— Stephen King

"Pinborough shrewdly transforms a romantic suspense novel into an eerie thriller calculated to creep you out…Pinborough keeps us guessing about just who's manipulating whom – until the ending reveals that we've been wholly complicit in this terrifying mind game."
— New York Times Book Review on Behind Her Eyes

"The season's twistiest thriller…Like all powerful over-the-counter drugs, Behind Her Eyes deserves its own warning label... mindblowing, genre-bending, breakthroughpsychological thriller…avoid any contact with the growing buzz concerning the novel's ingenious, to-die-for twist."
— BookPage

"A masterpiece of suspense...A rare joy...Creates a sense of disorientation and dread that is highly satisfying. But it is with the plot, so tight and yet also intricate, that Pinborough shines. No detail or character is extraneous."
— Booklist (starred review) on Behind Her Eyes

"The strongest, most unsettling thriller of the year, with a final twist destined to provoke arguments for years to come. Read it now before someone spoils the ending for you."
— John Connolly, #1 New York Times bestselling author of the Charlie Parker novels

"Behind Her Eyes is as twisty as a steep mountain road, and just as nerve-wracking. The shocks just keep coming around those blind curves."
— Charlaine Harris, #1 New York Times bestselling author of the Sookie Stackhouse series

"Twisty psychological thriller…Pinborough will keep even veteran genre readers guessing."
— Publishers Weekly on Behind Her Eyes

"A deliciously dark love story that will keep you guessing. Shocking, gleeful, and thrilling, welcome to the world of Sarah Pinborough."
— Sarah Langan, three-time Bran Stoker Award winning novelist on Behind Her Eyes

"If Behind Her Eyes isn't the thriller of the year, there is no justice. Hugely entertaining, utterly compelling and the ending will leave you reeling."
— Sarah Lotz, author of The Three

"The second twist turns the creepy factor up to 11 and is a total wrong-footer. #WTFthatending indeed – the sort that makes you go back to the beginning to check if it all pans out. And it does."
— The Guardian on Behind Her Eyes