Escaping Exodus: A Novel (Paperback)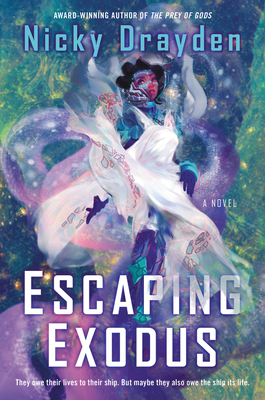 Staff Reviews
---
From local Austin author Nicky Drayden comes her third, and possibly weirdest, novel! In the far future, humanity fled Earth and for centuries has been living as parasites in incomprehensibly gargantuan spacefaring beasts. The idealistic and naïve Seske is being groomed to become the next matriarch, while her best friend and forbidden love, Adalla, is destined to work in the depths of the beast to keep it alive. But things take a turn for the worse when tremors start to spasm through the newly-caught beast, and politics and duty drive a wedge between Seske and Adalla. With strong themes of love and loss, duty and morality, family and compromise, and a diverse cast of LGBT characters, Escaping Exodus is a wild, wacked-out, unpredictable, and unforgettable space opera. If you're in for a far-out adventure, this is for you!
— Willow
Description
---
"Don't be alarmed - that dizzy pleasurable sensation you're experiencing is just your brain slowly exploding from all the wild magnificent worldbuilding in Nicky Drayden's Escaping Exodus. I loved these characters and this story, and so will you."
 - Sam J. Miller, Nebula-Award-winning author of The Art of Starving and Blackfish City

The Compton Crook award–winning author of The Prey of Gods and Temper returns with a dazzling stand-alone novel, set in deep space, in which the fate of humanity rests on the slender shoulders of an idealistic and untested young woman—a blend of science fiction, dark humor, and magical realism that will appeal to fans of Charlie Jane Anders, Jeff VanderMeer, and Nnedi Okorafor.

Earth is a distant memory. Habitable extrasolar planets are still out of reach. For generations, humanity has been clinging to survival by establishing colonies within enormous vacuum-breathing space beasts and mining their resources to the point of depletion.
Rash, dreamy, and unconventional, Seske Kaleigh should be preparing for her future role as clan leader, but her people have just culled their latest beast, and she's eager to find the cause of the violent tremors plaguing their new home. Defying social barriers, Seske teams up with her best friend, a beast worker, and ventures into restricted areas for answers to end the mounting fear and rumors. Instead, they discover grim truths about the price of life in the void.
Then, Seske is unexpectedly thrust into the role of clan matriarch, responsible for thousands of lives in a harsh universe where a single mistake can be fatal. Her claim to the throne is challenged by a rival determined to overthrow her and take control—her intelligent, cunning, and confident sister.
Seske may not be a born leader like her sister, yet her unorthodox outlook and incorruptible idealism may be what the clan needs to save themselves and their world.
About the Author
---
Nicky Drayden's short fiction has appeared in publications such as Shimmer and Space and Time. She is a systems analyst and resides in Austin, Texas, where being weird is highly encouraged, if not required. Her debut novel, The Prey of Gods, was a best of the year pick by Book Riot, Vulture, and RT Book Reviews.
Praise For…
---
"Don't be alarmed - that dizzy pleasurable sensation you're experiencing is just your brain slowly exploding from all the wild magnificent worldbuilding in Nicky Drayden's Escaping Exodus. I loved these characters and this story, and so will you."
— Sam J. Miller, Nebula-Award-winning author of The Art of Starving and Blackfish City

"A sweeping, smart, stunning story that dazzles brighter than a star system [...] making Escaping Exodus a true gem to be treasured."

— Booklist (starred review)

"Drayden's new novel builds on the amazing strengths she's shown before. If you can imagine a feminist, Afro-centric, queer Heinlein juvenile, with a strong discussion of class politics, then you might get close to what she's doing here. I don't think I could have imagined such a book before reading this one. This is something I've been missing."
— Locus Magazine

"Everything about the Afrofuturistic worldbuilding is exquisitely imaginative, and the characters are three-dimensional, occasionally offering flashes of dark humor. The spacefaring beast is a marvel, containing a whole ecosystem with microclimates and other organisms living within it alongside humans. Although the relationship between the two young women is perpetually hampered by circumstance, as most good love stories are, it's palpable and vibrant."
— Kirkus Reviews

"Escaping Exodus is another fine entry from a clearly talented writer. Read if you ever wondered what it would be like if the Millennium Falcon decided to live inside that asteroid worm."
— Lightspeed Magazine