The Austin Chronicle Music Anthology (Jack and Doris Smothers Series in Texas History #28) (Paperback)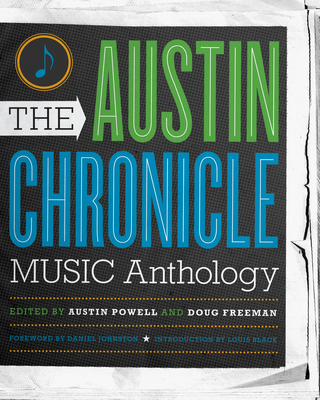 $29.95
It's complicated, and may be unavailable. Place an order and we will contact you with the expected arrival date.
Description
---
"Music saturates the city of Austin, always has, and likely always will," observes Louis Black, the founding editor of the renowned alternative newspaper, The Austin Chronicle. Music is more than simply the sound track of Austin, however; it's a force inseparable from the city's culture, economics, politics, and daily life. The very history of Austin can be drafted upon the frequencies that flood its streets, from legendary clubs--Antone's, Emo's, and the Broken Spoke--to internationally renowned events such as South by Southwest and the Austin City Limits Music Festival. Since publishing its first issue in 1981, The Austin Chronicle has evolved alongside the city's sound to define and give voice to "The Live Music Capital of the World."
In honor of the Chronicle's thirtieth anniversary, this anthology gathers the weekly's best music writing and photography, with introductions to each decade by the paper's principal voices, Margaret Moser, Raoul Hernandez, and Christopher Gray. Through album and live show reviews, stunning portraits, and in-depth articles, the collection traces the roots of Austin's unique sound, featuring seminal artists ranging from Doug Sahm and Stevie Ray Vaughan to the Butthole Surfers and Spoon. With historical pieces that look back at Twelfth Street's blues beginnings, the Sixties' psychedelic origins, and the definitive progressive country scene of the Seventies, the anthology provides an unparalleled sweep of Austin music history, while also shining light on the integral but often overlooked figures of the music scene with a thoroughness and honesty that's hallmark to the Chronicle's style. Framing the work from such esteemed music writers as Chet Flippo, Ed Ward, Dave Marsh, Joe Nick Patoski, John T. Davis, Michael Corcoran, and Peter Blackstock, are now-iconic images from photographers Burton Wilson, Scott Newton, John Carrico, and Todd Wolfson, among others.