Let the People in: The Life and Times of Ann Richards (Paperback)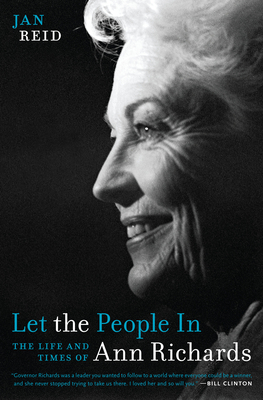 Staff Reviews
---
"For me, Ann Richards was Texas politics. I was born and raised here,
the child of Democrats in a state leaving the party of LBJ in droves for
the party of Nixon and Reagan. I've read a lot of history and political biography. The description
"page turner" is not often applicable. Jan Reid's biography of Ann
Richards is exactly that. From start to finish, it's a compelling read. Let The People In
is a vibrant, full palette portrait of the most important woman in the
history of Texas politics. The Lone Star State has produced more than
its fair share of colorful and influential political figures. This fully
framed and unflinching portrait of Ann Richards' life tells the
remarkable story of how she earned her place among those colorful,
influential folks. I loved this story of Ann. She never chose between her family and her
political career. She chose to have both. She did not always manage it
perfectly. She was a lot of things to a lot of people. Wife, Mother,
Feminist, Friend and Politician, in this book Ann Richards the whole
human gets uncovered. It's not always pretty. It's never boring. You
won't want to put it down."
— Bosco
October 2012 Indie Next List
---
"Let the People In is a rich, engaging look at one of the most exciting political figures of the last 40 years. Reid's biography captures the way Ann Richards thrilled, frustrated, and surprised people across the country again and again. In addition to divulging some of the inner workings of politics in Texas and Washington, Reid provides an in-depth look at Austin in its most formative decades. A great history, a great story, and a great read."
— Sam Ramos, The Book Cellar, Knoxville, TN
Description
---
Winner, Coral Horton Tullis Memorial Prize, Texas State Historical Association, 2012
Liz Carpenter Award for Research in the History of Women, Texas State Historical Association, 2012
When Ann Richards delivered the keynote of the 1988 Democratic National Convention and mocked President George H. W. Bush--"Poor George, he can't help it. He was born with a silver foot in his mouth"--she instantly became a media celebrity and triggered a rivalry that would alter the course of American history. In 1990, Richards won the governorship of Texas, upsetting the GOP's colorful rancher and oilman Clayton Williams. The first ardent feminist elected to high office in America, she opened up public service to women, blacks, Hispanics, Asian Americans, gays, and the disabled. Her progressive achievements and the force of her personality created a lasting legacy that far transcends her rise and fall as governor of Texas.
In Let the People In, Jan Reid draws on his long friendship with Richards, interviews with her family and many of her closest associates, her unpublished correspondence with longtime companion Bud Shrake, and extensive research to tell a very personal, human story of Ann Richards's remarkable rise to power as a liberal Democrat in a conservative Republican state. Reid traces the whole arc of Richards's life, beginning with her youth in Waco, her marriage to attorney David Richards, her frustration and boredom with being a young housewife and mother in Dallas, and her shocking encounters with Lyndon Johnson and Jimmy Carter. He follows Richards to Austin and the wild 1970s scene and describes her painful but successful struggle against alcoholism. He tells the full, inside story of Richards's rise from county office and the state treasurer's office to the governorship, where she championed gun control, prison reform, environmental protection, and school finance reform, and he explains why she lost her reelection bid to George W. Bush, which evened his family's score and launched him toward the presidency. Reid describes Richards's final years as a world traveler, lobbyist, public speaker, and mentor and inspiration to office holders, including Hillary Clinton. His nuanced portrait reveals a complex woman who battled her own frailties and a good-old-boy establishment to claim a place on the national political stage and prove "what can happen in government if we simply open the doors and let the people in."