Books On Our Site May Not Be Available In-Store
Is This Book In Stock? Be Savvy! Check availability details beneath the blue "Add to Cart" button.
Don't Suck, Don't Die: Giving Up Vic Chesnutt (American Music) (Hardcover)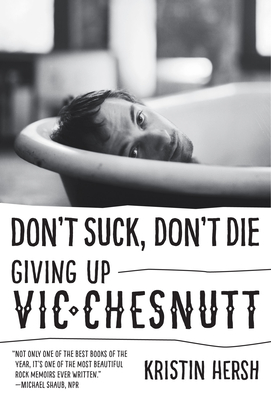 Staff Reviews
---
"Don't Suck, Don't Die is an unforgettable story of love, friendship and music. Kristin Hersh, bestselling author of Rat Girl and founder of the band Throwing Muses, writes her love letter to musician and friend Vic Chesnutt, who passed away in 2009. In raw, poetic prose, Hersh chronicles their friendship, their performances together, and the sometimes difficult, always irresistible character of Vic Chesnutt. I didn't know a thing about Hersh or Chesnutt before reading this book, but I was immediately enthralled by the front row seat I had to their unique, complicated relationship (and now that I'm listening, I hear them both everywhere). Not everyone is easy to love, but sometimes, the love is all the stronger for the challenge. The strength of their connection comes through here. This book lives on my shelf alongside Patti Smith's Just Kids, not only as a poignant story of two artists and friends, but as a unique, must-read piece of music history."
— Julie W.
"This is an amazing memoir from the bestselling author of Rat Girl and founder of the band Throwing Muses. It paints a beautiful portrait of musician Vic Chesnutt, his unique friendship with the author, and the sorrowful broken darkness they each deal with. The language is warm, intimate and poetic; it's like On The Road and Sylvia Plath had a baby. It's so gorgeous it actually hurts to read. I have not been so moved by a piece of art, any art, in years. Even with the inevitable tragic ending, Hersh keeps you hanging on with her delicate and sublime prose. You know you are circling a vortex but the water is so perfect you don't care. This story aches, laughs, stuns, and pulls you into it like a siren song. You will put it down and want more of both Chesnutt and Hersh, and feel all the more brokenhearted at the enormity of the loss."
— Bosco
"Being a newcomer to the work and words of Kristin Hersh, I was unprepared and instantly drawn in to the off-kilter lyricism with which she is able effortlessly to plunge her readers into the grimy hotel rooms and unlit backstages of her time on tour with Vic Chesnutt. In reading Don't Suck, Don't Die, one feels rather uncomfortably the voyeur, glancing through nearly-closed doors, spying through gritty blinds at the inexplicable contradiction of closeness and "lonelyfyingness" between these two artists. And it is true that we've stumbled on a love letter we perhaps were never meant to see, as Hersh writes directly to Chesnutt's ghost, a man who was somehow a ghost even when he was alive. Or alive in a different way than most. This book is a strange time capsule, one that captures the small, humid details of life shared with Chesnutt, and somehow in so doing captures the fullness of the man himself."
— Emily
Description
---
"Friend, asshole, angel, mutant," singer-songwriter Vic Chesnutt "came along and made us gross and broken people seem . . . I dunno, cooler, I guess." A quadriplegic who could play only simple chords on his guitar, Chesnutt recorded seventeen critically acclaimed albums before his death in 2009, including About to Choke, North Star Deserter, and At the Cut. In 2006, NPR placed him in the top five of the ten best living songwriters, along with Bob Dylan, Tom Waits, Paul McCartney, and Bruce Springsteen. Chesnutt's songs have also been covered by many prominent artists, including Madonna, the Smashing Pumpkins, R.E.M., Sparklehorse, Fugazi, and Neutral Milk Hotel.
Kristin Hersh toured with Chesnutt for nearly a decade and they became close friends, bonding over a love of songwriting and mutual struggles with mental health. In Don't Suck, Don't Die, she describes many seemingly small moments they shared, their free-ranging conversations, and his tragic death. More memoir than biography, Hersh's book plumbs the sources of Chesnutt's pain and creativity more deeply than any conventional account of his life and recordings ever could. Chesnutt was difficult to understand and frequently difficult to be with, but, as Hersh reveals him, he was also wickedly funny and painfully perceptive. This intimate memoir is essential reading for anyone interested in the music or the artist.