Culture Crash: The Killing of the Creative Class (Hardcover)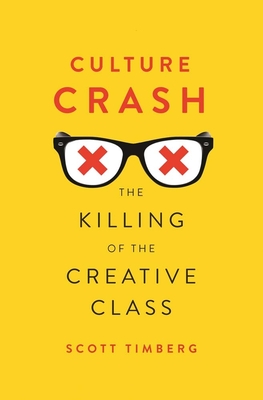 Description
---
When artists and artisans can't make a living, the health of America's culture is at risk

Change is no stranger to us in the twenty-first century. We must constantly adjust to an evolving world, to transformation and innovation. But for many thousands of creative artists, a torrent of recent changes has made it all but impossible to earn a living. A persistent economic recession, social shifts, and technological change have combined to put our artists—from graphic designers to indie-rock musicians, from architects to booksellers—out of work. This important book looks deeply and broadly into the roots of the crisis of the creative class in America and tells us why it matters.
 
Scott Timberg considers the human cost as well as the unintended consequences of shuttered record stores, decimated newspapers, music piracy, and a general attitude of indifference. He identifies social tensions and contradictions—most concerning the artist's place in society—that have plunged the creative class into a fight for survival. Timberg shows how America's now-collapsing middlebrow culture—a culture once derided by intellectuals like Dwight Macdonald—appears, from today's vantage point, to have been at least a Silver Age. Timberg's reporting is essential reading for anyone who works in the world of culture, knows someone who does, or cares about the work creative artists produce.
About the Author
---
Scott Timberg writes on music and culture and contributes to Salon and the New York Times. He runs ArtsJournal's Culture Crash blog and lives in Los Angeles.
Praise For…
---
"Timberg—himself a culture journalist who was a victim of one of the Los Angeles Times's seemingly endless series of layoffs—makes a good case that, as Bob Dylan once put it, 'something there's been lost.'"—Ben Yagoda, New York Times Book Review
— Ben Yagoda
"A quietly radical rethinking of the very nature of art in modern life."—Richard Brody, NewYorker.com
— Richard Brody
"Scott Timberg's Culture Crash is a valuable book because it describes the plight of American arts and culture as an ecological catastrophe, a disaster rooted in the conquest of a trickle-down mentality, intellectual as well as economic . . . This book should be read by anyone in the world of culture who wants to peer beyond the profitable illusions of middle class contentment touted by our various snake oil salesmen, from Richard Florida to universities, the mainstream media, and arts organizations. . . . A passionate look down at the future."—Bill Marx, ArtsFuse
— Bill Marx
"Mr. Timberg succeeds in assembling a large, coherent and troubling mosaic. He writes lucidly but with passion and a kind of bitter wit. And he is impressively well-read . . . . He shows himself to be a gifted synthesizer, weaving all manner of information and opinion into a fluent narrative of cultural decline."—Ben Downing, Wall Street Journal
— Ben Downing
'His part-history, part-analysis provides absorbing detail of the demise of the mid list — the authors, painters, designers, architects and actors who did not become famous but whose contribution to greater good should be celebrated rather than relegated to average annual earnings of under £20,000.'—John Kampfner, The Observer.

— John Kampfner
'Timberg's tale is not a data-rich academic analysis but a revealing narrative based on interviews and observations from the cultural world. . . . An important work and, as you might expect from an arts journalist, a well-written one.'—Ravi Mattu, Financial Times.
— Ravi Mattu
"If you believe that the life of your mind is inseparable from the health of your life, that serious art and artists are an essential component to human nourishment, then you have an obligation, to yourself and your children and us all, to read Timberg's book."—William Giraldi, The New Republic

— William Giraldi
Winner of the 2015, 8th Annual National Arts & Entertainment Journalism Awards in the Non-fiction book category, sponsored by the Los Angeles Press Club.
— National Arts and Entertainment
A 2015 L.A. Weekly Best Book by L.A. Authors
— L.A. Weekly