Books On Our Site May Not Be Available In-Store
Is This Book In Stock? Be Savvy! Check availability details beneath the blue "Add to Cart" button.
Fire and Forget: Short Stories from the Long War (Paperback)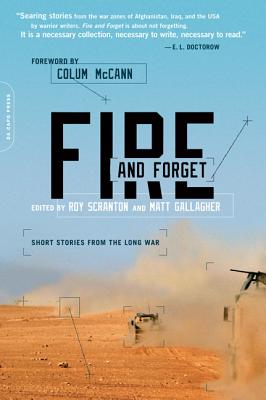 $15.99
Out of Stock; Usually Arrives in 2-5 Days
Description
---
Fire and Forget includes the title story from Redeployment by Phil Klay, 2014 National Book Award Winner in Fiction

These stories aren't pretty and they aren't for the faint of heart. They are realistic, haunting and shocking. And they are all unforgettable. Television reports, movies, newspapers and blogs about the wars in Iraq and Afghanistan have offered images of the fighting there. But this collection offers voices—powerful voices, telling the kind of truth that only fiction can offer.

What makes the collection so remarkable is that all of these stories are written by those who were there, or waited for them at home. The anthology, which features a Foreword by National Book Award winner Colum McCann, includes the best voices of the wars' generation: award-winning author Phil Klay's "Redeployment;" Brian Turner, whose poem "Hurt Locker" was the movie's inspiration; Colby Buzzell, whose book My War resonates with countless veterans; Siobhan Fallon, whose book You Know When the Men Are Gone echoes the joy and pain of the spouses left behind; Matt Gallagher, whose book Kaboom captures the hilarity and horror of the modern military experience; and ten others.

About the Author
---
Contributors include:

Matt Gallagher—co-editor of Fire and Forget and author of Kaboom
Roy Scranton—co-editor of Fire and Forget
Colum McCann—National Book Award winner and best-selling author of Let the Great World Spin
Siobhan Fallon—author of You Know When the Men Are Gone
Colby Buzzell—author of My War
Brian Turner—author of Here, Bullet ("Hurt Locker")
and nine others.
Praise For…
---
"A visceral, all-too-real collection of short stories by veterans of the wars in Iraq and Afghanistan…This is fiction as good as any you'll read anywhere...These pages contain a record of the cost of our excursions abroad that is as illustrative as any culture can produce."
Barnes and Noble Review, 2/15/13
"These rousing 'Short Stories of the Long War' are uniquely resonant."
War on Terror News, 2/13/13
"Probably the best single representation of Iraq and Afghanistan-fiction that's currently available. Novels like
Fobbit
and
The Yellow Birds
have done their part well—but one author's voice can only go so far."
Military Times, 1/6/2014
"You are unlikely to forget this fine fiction by 14 veterans and a veteran's spouse. Known writers…contribute three of the 15 stories in this collection. Their work is solid but Fire also succeeds because of names the book introduces."
Penthouse, February 2014
"The 15 works of fiction in this collection are powerful, poignant, and at times painful tales of the truths of war, written by men and women who were there—and one wife who was left behind."
The Massachusetts Review website, January 2014
"Fire and Forget has lessons we civilians have yet to learn."
Street Roots, 2/28/13
"Representing a new generation of veterans-turned-authors, the contributors in Fire and Forget have returned home, at least physically, and are now sharing their works and sculpting the public's perception of these wars and how they've impacted the warriors…Fire and Forget is an effective cultural text on multiple levels. Not only does it serve as a historical milepost, reminding us that we are waging the longest war in ou
Tottenville Review, 5/22/13
"Every one of the voices in
Fire and Forget
rises to the challenge, and, as each gains in force and measure, the fog of war may clear."
The Millions, 6/4/13
"The best fictional account of the wars of the last decade and the contemporary military experience…Fresh, raw, and vital. It is a rare thing for a book to live up to its blurb, but
E.L. Doctorow
got it right when he called this a 'necessary' collection."
Booklist, 1/1/13

"Captures the messiness of soldiering when the mission and endgame are unclear. Though fiction, each work reads true, filled with tension, fear, and anger. Readers are transported to desert checkpoints, ride along with vehicle convoys, and return home from combat to face an uncertain future."


The Guardian (UK), 1/3/13

"The range of stories in Fire and Forget displays a remarkable depth and breadth of the experience of the Iraq war."


WarOnTerrorNews, 1/3/13
"Like Tim O'Brien's The Things They Carried, most of these 15 stories are so deceptively crafted that the impact sneaks up on the reader in an unexpected way…It seems like we're preconditioned to expect 700-page epic novels, but a 10-page short story can condense all the emotion down to its core essence. The editors have done a remarkable job at maintaining that discipline…It's a powerful collection; for now, probably the best, most comprehensive—fictional—look at the wars that has been written."

The Fighting Leprechaun, 1/10/13

"Powerful… These short stories manage to capture the essence of what service members have experienced… There are a lot of essential truths packed into Fire and Forget. For those of us that have been there, or know people who served in these wars, it is important reading."



Literary Aficionado, 2/22/13
"Penetrating stories from the hands of the damaged who have scribed the tensions, and anguish, the scars, the decimation of personal lives of those who returned home either physically maimed or mentally brutalized or both…These stories are so well edited that there is a variety of types of tales—some humorous, some that show that intense camaraderie that often peaks in a war zone, some about those left behind when the soldiers were fragged to distant lands…Some tattoo on the mind."

New City, 2/26
"Nothing brings the reality of war home like hearing it from the hearts and minds of those who experienced it…Fire and Forget arrives at just the right time, when the last vestiges of conflict fall away…Roy Scranton and Matt Gallagher have not only compiled an excellent diversity of experiences and vantage points into the war, but also a list of accomplished and gifted writers…The stories are by turns gritty and hilarious, poignant and rhapsodic, but there's one thing they all share: they are all imbued with the deep love of their authors. Faced with something as unspeakably harrowing as war, the voices here have salvaged what small beauty they could from the turmoil…At no point is this an easy collection, but it is a necessary one."



Roanoke Times, 3/1
"Gritty with realism…The tales are exceedingly well told. Fiction it may be, but none can deny the ring of truth."

Bookviews, 2/22
"Anyone who served and anyone who wants to know what it was to serve will value this book."

Library Journal, 3/15/13
"With wars come war stories and from those stories evolves literature. Leading this generation of war literature is this collection of short stories written by soldiers and a military spouse whose lives were directly affected by the recent conflicts in Iraq and Afghanistan…The encompassing and humanistic tone is the heart of this work…The honesty and authenticity of the stories are universal…Like Walter Dean Myers's Sunrise Over Fallujah, these tales will appeal to readers of war and historical fiction."



New York Daily News, 3/5/13
"Some of America's greatest works of literature have come from its wars. Be it Stephen Crane, E.L. Doctorow, Ernest Hemingway, Norman Mailer, Joseph Heller, Thomas Pynchon, James Jones or Tim O'Brien, war has been memorialized, glorified, satirized and revealed in all its valor and depredation…Now, as another war comes to a close, a new generation of authors will come forward to define themselves through their own fictional narratives. Among the finest have been enlisted in Fire and Forget…Fire and Forget will not soon be forgotten."

Street Roots, 2/28/13
"Representing a new generation of veterans-turned-authors, the contributors in Fire and Forget have returned home, at least physically, and are now sharing their works and sculpting the public's perception of these wars and how they've impacted the warriors…Fire and Forget is an effective cultural text on multiple levels. Not only does it serve as a historical milepost, reminding us that we are waging the longest war in ou

Michigan War Studies Review, 5/30/13
"Covers an array of subjects, from the intensity of combat to the difficulties of reintegration back home…Fire and Forget will give readers a better understanding of America's twenty-first-century wars and their aftermath…For teachers, Fire and Forget will be an invaluable supplement to the more conventional historical narratives, journal articles, and documentaries on the wars in Iraq and Afghanistan, by vividly personalizing the war in a way that nonfiction cannot."

WomanAroundTown.com, 6/9/13
"These 15 tales convey a truth that very few of us can even imagine."

John Shelton Ivany Top 21
"These stories aren't pretty and they aren't for the faint of heart. They are realistic, haunting and shocking. And they are all unforgettable…What makes the collection so remarkable is that all of these stories are written by those who were there, or waited for them at home."

Columbia Journalism Review (website), 6/25/13
"There are moments of truth in these stories."

Philadelphia Tribune, 6/16/13
"Provides a new perspective…Remarkable."

BiteTheBook.com, 7/1/13
"[A] powerful collection of short fiction."



Acolytes of War, 1/21/13

 "Whether portraying the fantastical or the banal, the in-theater tales feature grunts' eye perspectives on deployment, far from the sterile perspectives recounted in more official histories, memoirs, journalism, and government pronouncements…Hat's off to all the Fire and Forget authors and editors."

ForeWord, Spring 2013

"Deeply insightful…The writing is vivid and compelling, artfully selected by the editors…An important book…This collection deserves to be read."


Internet Review of Books, 1/25/13

"As might be expected, these stories are intense; it's hard to read many of them in a single session. Yet contrary to expectations there's not much sameness in the telling. Each man or woman has his/her own story, each one unique. These are voices we all need to hear."


East Bay Express, 2/5/13
"[A] remarkable collection…Not for the faint of heart, they are realistic, haunting, shocking, and unforgettable…This collection offers voices—powerful voices, telling the kind of truth that only fiction can offer."

Joyce Carol Oates, Twitter.com, 2/9/13

"Brilliant intro by Colum McCann. Devastating stories."


Daily Beast, 2/11/13



Word & Film, 2/5/15
"Offer[s] diverse experiences of those affected by—and fighting—the Global War on Terror."

The Rumpus, 9/26/16
"One of the first short story collections of fiction derived from the recent wars."

Military Success Network, 2/12/13
"Its pages feature unique but iconic stories of war, homecoming, and the struggle for meaning in both...This collection paints a startling and bleak picture of Long War veterans and their lives during and after combat…That said, the voices of Fire and Forget ring true in their cynicism, pain, and humor. This is an important collection of fiction, not only because of its current-day relevancy, but also because of the strength of its diverse voices, all engaged in a search for truth among the desert sands of fiction and memory. It should not be missed by anyone with an interest in modern war or the veteran experience."


Coverage from NPR