The Monster at the End of This Book (Sesame Street) (Little Golden Book) (Hardcover)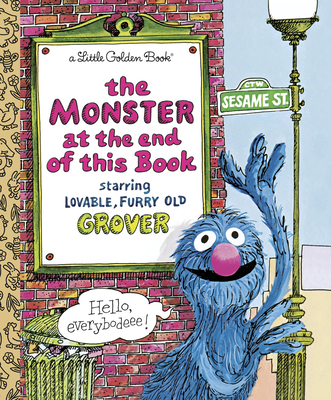 Staff Reviews
---
This book is something else. I'm almost done, but Grover has built a
brick wall to keep me from finishing. He's gone chicken on me because
there's supposed to be a monster at the end of the book. I mean, I know
it's the title, but it could be a literary device for all we know. Or,
maybe I'd be able to tame it a la Maurice Sendak. I'm a BookPeople
employee after all. Besides, there's only one way to find out, right?
Anyway, I was strong enough to keep going when he boarded up the page
with wood, but the brick wall is a whole new deal. I've been using some
nutrition and exercise books to get my strength up and I think I'll be
able to turn the page by the end of the week. I'll let everyone know how
it goes once I do.
— Ben
Description
---
By all accounts, this book is a favorite among toddlers and adults alike. Generations will recall their first time reading along as lovable, furry old Grover begs the reader not to turn the page . . . for a monster is at the end of the book! But, of course, the monster is none other than Grover himself.

A classic, not to be missed.
About the Author
---
Jon Stone was the first head writer for Sesame Street, and was one of the show's principal directors and producers for more than 24 years. He died in 1997.

Michael Smollin is an illustrator. His books include Another Monster at the End of This Book and The Alligator's A. B. C.