Books On Our Site May Not Be Available In-Store
Is This Book In Stock? Be Savvy! Check availability details beneath the blue "Add to Cart" button.
Americanah (Hardcover)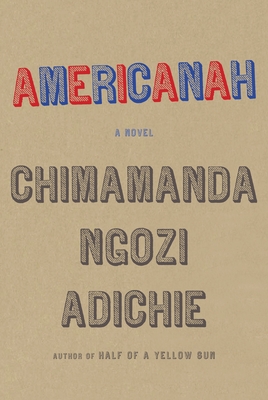 $28.95
Usually Ships in 2-5 Days
Staff Reviews
---
"In physical therapy, there are two kinds of pain: the kind where you're actually causing yourself an injury, and the kind that means good work is being done. Americanah is painful in the second way -- under Chimamanda Ngozi Adiche's incomparably observant, intelligent eye, the U.S.'s fraught relationship to race and racism is thrown into harsh relief by a self-described "Non-American Black," Ifemelu, who writes a blog about her experiences moving Stateside and becoming, as her friends in Nigeria say, an Americanah. Adiche is akin to a modern-day Jane Austen, with her razor-sharp social commentary that somehow manages to avoid judgment, and her sense of absurdity and comedy, even in the most serious of situations. Required reading for everyone living in a country that claims to be "post-racial."
— Katie P.
Americanah
is SUCH A GREAT BOOK. The story of two friends growing up in
Nigeria, moving to the UK and US, and ultimately finding each other
again in Africa, Adichie is a master at tellang a great story with
compelling characters as well as causing a reader to think. She's
one of the best writers working today.
— Randomhouse Liz
Description
---
One of The New York Times Book Review's Ten Best Books of the Year

LONGLISTED 2015 - International IMPAC Dublin Literary Award

From the award-winning author of Half of a Yellow Sun, a dazzling new novel: a story of love and race centered around a young man and woman from Nigeria who face difficult choices and challenges in the countries they come to call home.
As teenagers in a Lagos secondary school, Ifemelu and Obinze fall in love. Their Nigeria is under military dictatorship, and people are leaving the country if they can. Ifemelu--beautiful, self-assured--departs for America to study. She suffers defeats and triumphs, finds and loses relationships and friendships, all the while feeling the weight of something she never thought of back home: race. Obinze--the quiet, thoughtful son of a professor--had hoped to join her, but post-9/11 America will not let him in, and he plunges into a dangerous, undocumented life in London. Years later, Obinze is a wealthy man in a newly democratic Nigeria, while Ifemelu has achieved success as a writer of an eye-opening blog about race in America. But when Ifemelu returns to Nigeria, and she and Obinze reignite their shared passion--for their homeland and for each other--they will face the toughest decisions of their lives.
Fearless, gripping, at once darkly funny and tender, spanning three continents and numerous lives,
Americanah
is a richly told story set in today's globalized world: Chimamanda Ngozi Adichie's most powerful and astonishing novel yet.
About the Author
---
Chimamanda Ngozi Adichie grew up in Nigeria. Her work has been translated into thirty languages and has appeared in various publications, including The New Yorker, Granta, The O. Henry Prize Stories, the Financial Times, and Zoetrope: All-Story. She is the author of the novels Purple Hibiscus, which won the Commonwealth Writers' Prize and the Hurston/Wright Legacy Award, and Half of a Yellow Sun, which won the Orange Prize and was a National Book Critics Circle Award Finalist, a New York Times Notable Book, and a People and Black Issues Book Review Best Book of the Year; and, most recently, the story collection The Thing Around Your Neck. A recipient of a MacArthur Fellowship, she divides her time between the United States and Nigeria.
Praise For…
---
"What's as American as the invention of race? Self-invention. So we are reminded by Adichie's engaging third novel . . . Adichie is uniquely positioned to compare racial hierarchies in the United States to social striving in her native Nigeria. She does so in this new work with a ruthless honesty about the ugly and beautiful sides of both nations. Americanah is social satire masquerading as romantic comedy. . . . Beyond race, the book is about the immigrant's quest: self-invention, which is the American subject. Americanah is unique among the booming canon of immigrant literature of the last generation (including writers Junot Díaz, Jhumpa Lahiri, Gary Shteyngart, Chang-rae Lee, Dinaw Mengestu and Susan Choi). Its ultimate concern isn't the challenge of becoming American or the hyphenation that requires, but the challenge of going back home. . . . Affecting." —Emily Raboteau, The Washington Post
 
"Adichie's brave, sprawling novel tackles the U.S. race complex with a directness and brio no U.S. writer of any color would risk. . . . There's no question on this or any novel's resolving [our] race sickness. If it's so hard to say or do the right thing, what is to be done? [But] Americanah brings a cleansing frankness to a scab on the face of the Republic." —John Timpane, Philadelphia Inquirer
 
"Big, moving, deeply provocative . . . A tiny pinprick in the giant balloon of hot air that has swollen around the subject of race in post-civil-rights-era America. Adichie's finely observed new book, which combines perfectly calibrated social satire and heartfelt emotion, stands with Invisible Man and The Bluest Eye as a defining work about the experience of being black in America. More than race, Americanah is about all the ways people form their identities: what we put on and what we take off, the things we accumulate and those we discard along the way. . . . Adichie is as precise on the details of contemporary American life as Updike or Franzen . . . [Her] remarkable powers of observation drive this novel. Every detail feels relevant, because they all work as markers of what the novel calls 'costume': the mannerisms and affectations that we use to create an image of ourselves in the eyes of others, and even ourselves. . . . Americanah shrugs off pretense and speaks the truth about how hard it is to live a life divided, whether between two people or two countries. . . . It is rare to come upon a novel that genuinely alters one's view of the world. For me, Americanah was one of those books, because it forced me to confront so many things that I myself have glossed over or pretended not to notice. I understand Obinze's story, and others in this book, through the force of Adichie's talent." —Ruth Franklin, Bookforum
 
"[Americanah] is propelled by Adichie's clean, attractive prose. . . . An epic love story . . . A book full of passion." —Michael Shank, Baltimore City Paper
 
"Adichie's new novel is part love story, part social critique, and one of the best you'll read this year. These characters are richly drawn, as are even those who make fleeting appearances, from the ladies at Ifemelu's braid shop to Obinze's boss in England. . . . Adichie digs in deeply, finding a way to make them fresh." —Carolyn Kellogg, Los Angeles Times
 
"Epic . . . A near-flawless novel—one whose language beautifully captures the surreal experience of an African becoming an American . . . Americanah is both intellectually expansive and urgently intimate, a story about the crushing experience of finding your way in a new land—and the physical and emotional lengths one goes to to feel whole again. Ifemelu—smart, pretty, brutally honest, often hilariously so—will steal your heart." —Tyrone Beason, The Seattle Times
 
"A thrilling and risky piece of writing that takes on taboos, shatters pieties, and combines forthright prose, subversive humor, and a ripping good story. . . . Americanah feels ruthlessly of this moment . . . [It] homes in on and complicates the single story of the immigrant." —Parul Sehgal, Tin House

"Adichie is an extraordinarily self-aware thinker and writer . . . Americanah [is] a deep-seated discussion of race [that is] also a steady-handed dissection of the universal human experience. Trenchant and hugely empathetic, both worldly and geographically precise, [it] holds the realities of our times fearlessly before us, [and] never feels false." —Mike Peed, The New York Times Book Review

"Winning . . . Adichie is a writer of copious gifts—breath[ing] life into characters whose fates absorb us. . . . Her gaze is broad enough to take in the frictions between black Americans and Africans, and among Africans themselves. . . . One of the ironies of immigration, Adichie shows, is that it leaves you a stranger in your native land, too. . . . Americanah not only makes Nigeria and Nigerians viscerally real to U.S. readers; she shows us ourselves through new eyes." —Tom Beer, Newsday

"With this new book Adichie has scaled up, traversing three genres (romance, comedy of manners, novel of ideas) three nations, and within each, a broad swath of social spectrums. It is a book about identity, nationality, race, difference, loneliness, aspiration, and love. On top of [a] familiar narrative scaffolding, a love story, Adichie builds an altogether different tale: one about all the ways we humans fail to love each other. . . . Adichie notices nearly everything, from how we socialize to what we eat to what we say. Adichie has a keen inner ear. She is uncommonly sensitive to the space between people, the way it ripples with all kinds of invisible forces: physical beauty, economic discrepancy, sexual attraction, intellectual appraisal, guilt, resentment, envy, need. In America, she recognizes, the most potent of all the invisible strings—the strong nuclear force of our social physics—is race. Adichie's analysis of that force is specific, damning, clarifying, and comprehensive. She is merciless about white liberal attitudes toward race, with their prevailing mix of awkward self-consciousness, contented ignorance, self-satisfaction, and submerged fear.  But she is equally caustic about everyone else's anxious racial jostling. I found myself laughing—ruefully, from recognizing myself and my country, but also delightedly, from recognizing an echo. . . . In Americanah, Adichie is to blackness what Philip Roth is to Jewishness: its most obsessive taxonomist, its staunchest defender, and its fiercest critic.  Stories of immigrants adjusting to the United States are as central to American literature as they are to the American Dream. But Americanah [is] a new kind of migration story: a Great Global Novel." —Kathryn Schulz, New York Magazine

"A gorgeous, sprawling book, with honed prose, striking observations, sensory details that bring its many settings to life, wry humor and fully imagined characters. It is decidedly not about any one thing. . . . Still, for all the significant subjects that Adichie tackles, Americanah's structure is an old-fashioned, deeply satisfying one: a love story about two people who are meant to be together, but life contrives to keep apart. . . . Americanah is a bright, bold book with unforgettable swagger that proves it sometimes takes a newcomer to show Americans to ourselves." —Jenny Shank, Dallas News

"Scintillating, funny, and heartfelt. Ifemelu, a Nigerian transplant whose 13-year tenure as a resident of the United States has come to an end, is a complex and unforgettable character. . . . A portion of the narrative is told from the perspective of Ifemelu's first love, Obinze. The journeys of these characters, their brush-ups with race, class, politics, literature, family on three continents result in an utterly transfixing epic. . . . Among its many strengths, Americanah is superlative at making clear just how isolating it can be to live far away from home. . . . Affecting." —Eugenia Williamson, The Boston Globe
 
"Adichie's dazzling and thought-provoking new novel is a wonder: It begins with a Nigerian immigrant waiting to board a train from Princeton to Trenton to have her hair braided, and opens out into a much larger story that ranges over decades, continents and a multitude of social issues with breathtaking grace. . . . In a book where so much is shown to be difficult—where both wealth and poverty leave characters shackled to lives they don't want, and the path to adulthood is fraught with betrayal, disillusionment and loss of identity—one of the great joys is the charm of Ifemelu's romance with Obinze. . . . With great technical dexterity, Adichie weaves the love story in and out of the other stories the characters make of their lives. Multiple narratives are seamlessly intertwined, and the book moves easily from Nigeria to America and England and back again. These separate pieces feel both self-contained and in conversation with one another, most notably Ifemelu's blog posts, [which] are by turns knowing and witty and filled with outrage, and add a surprising layer of depth by contextualizing Ifemelu's experiences within a larger framework of the immigrant and minority experience. It is a rare pleasure to be guided through this dangerous territory by a narrator of such fierce intelligence as she deconstructs America's rules of race and class, and exposes the kinds of constraints that often remain invisible and unacknowledged. . . . Adichie is so smart about so many things that I found myself quoting her book over the past several weeks in a wide range of conversations with friends about everything from love and family, to power and beauty and hair. She is so funny and defiant, and simultaneously so wise, that Americanah is an exhilarating, mind-expanding pleasure of a read. It is a brilliant treatise on race, class and globalization, and also a deep, clear-eyed story about love —and how it can both demand and make possible the struggle to become our most authentic selves." —Catherine Chung, San Francisco Chronicle
 
"[The] fleeting, often romantic notion of 'home' is just one of many themes in Adichie's brilliant new novel . . . While Adichie provides an exciting and emotional plot, she also holds nothing back regarding the personal struggles, questions and failings of her characters, making for an emotionally-engaging and intellectually-stimulating read. . . . Feelings of uncertainty are common for Adichie's characters, providing great moments of reflection about race, economics, love and aging. In this way Adichie shows that the road home is never easy, and what changes most along the journey—for better or for worse—is us." —Laura Farmer, The Gazette

"Americanah is one of the freshest pieces of fiction of the year, easily on par with George Saunders's Tenth of December, and the fact that its subject isn't instantly recognizable does not make it any less of an engrossing, all-encompassing read. Americanah is quite explicitly a book about race and African identity, but there are many moments when it transcends these themes. Adichie's style of writing is familiar and personal, and her depiction of the African diaspora scathingly casts many of her main characters as a particularly loathsome type of East Coast intellectual. . . . Her success comes at the level of sentences, the way she can bring a character to life on the strength of a few words . . . This book is absolutely essential." —Drew Grant, New York Observer
 
"Adichie has written a big knockout of a novel about immigration, American dreams, the power of first love, and the shifting meanings of skin color . . . Americanah is a sweeping story that derives its power as much from Adichie's witty and fluid writing style as it does from keen social commentary. . . . Americanah works in so many different genres—coming-of-age novel, romance, comic novel of social manners, up-to-the-minute meditation on race, as well as the aforementioned immigrant saga—that I'm shortchanging its bounty by only mentioning some of the main characters' adventures here. Like Ifemelu's hairdo, Adichie's novel tightly braids together multiple ideas and storylines. It's a marvel of skilled construction and imagination." —Maureen Corrigan, NPR
 
"Powerful . . . If you think racism expired when President Obama was elected, this is perhaps not—or absolutely is—the book for you. [Americanah] is a story of relocation, far-flung love and life as an alien, spread across three continents. It's also about the lonely but privileged perspective a stranger gains by entering a new culture. Ifemelu experiences America both as a black woman and as an African woman. In the U.S., those two identities combine, for experiences dark and light that Adichie skillfully renders in gray scale. . . . Adichie's evocative power, transporting my imagination while keeping my feet firmly on the ground, has me looking forward to [her] books for years to come." —Rosecrans Baldwin, NPR
 
"Witty, wry, and observant, Adichie is a marvelous storyteller who writes passionately about the difficulty of assimilation and the love that binds a man, a woman, and their homeland. Her work should be read by anyone clutching at the belief that we're living in a post-racial United States." —Sally Bissell, Library Journal (starred review)
 
"Adichie goes abroad for her new book, Americanah. The author's fiercely clever Ifemelu follows the racial indignities she encounters as a college-educated African immigrant in the U.S. with an uneasy return to Nigeria and her old flame, Obinze, now married and wealthy yet unfulfilled. Spanning the borders and histories between these two outsiders, Adichie defines the sum of disparate cultures with new clarity, while questions of identity and love remain elusive as ever." —Joseph Klarl, Interview
 
"Americanah is Adichie's best work. In a career devoid of blemish, with four truly terrific and diverse literary gems under her belt, that's no small accomplishment. Ifemelu, one of the more interesting and complex female protagonists I've encountered in recent fiction, is a marvelous creation. . . . Though the novel is incredibly compelling, its richness and rewards are best savored slowly. It's a big book, full of travel, considerations of heady subjects, and more, but it's a wonderful read. Americanah is a book full of things worth waiting for, things that gradually illuminate the work and the reader's understanding in exciting ways. . . . Like the book itself, there is no shortage of details offered, emotions evoked or thought provoked. For a book focused so thoughtfully on the black and white, it's those ambiguous grays that end up most alluring." —Josh Zajdman, Bookslut
 
"Adichie's new novel takes root in the vagaries and murmured promises of a love story like much of her other work. . . . Her writing hits a nerve. [She] doesn't hold back on criticizing [Nigeria's] culture that fosters widespread government corruption. Or what she perceives as the excessive, neutered politeness of 'political-correct language' in the U.S." —Jon Gambrell, The Philadelphia Sunday Sun/Associated Press
 
"Superb . . . Americanah is that rare thing in contemporary literary fiction: a lush, bighearted love story that also happens to be a piercingly funny social critique. . . . Adichie writes with insight. A scene in a braiding salon, which unfolds over the course of the book, has more to say about the politics of self-image than any novel in recent memory. . . . Both for Adichie and [Ifemelu], her alter ego, coming in to oneself is ultimately about coming home, and to the place that—and to the person who—understands you, no explanation required. And love remains the last great hope for solving America's complicated relationship with race. . . . A love story for our time." —Megan O'Grady, Vogue
 
"Glorious . . . a saga of a young couple's efforts to escape their troubled homeland and seek their fortune abroad that bears comparison to the classical canon of the social novel. . . . Americanah  provides Adichie with a fictional vehicle for pithy, sharply sensible commentary on race and culture—and us with a symphonic, polyphonic, full-immersion opportunity to think outside the American box and commune with the wholly global sensibility of Adichie, an author who truly contains multitudes." —Ben Dickinson, Elle
 
"Elegantly written, emotionally believable . . . A sensitive portrayal of distant love, broken affinities and culture clash . . . A fine, adult love story with locations both exotic and familiar." —Kirkus Reviews
 
"Compelling and important . . . An unflinching but compassionate observer, Adichie writes a vibrant tale about love, betrayal, and destiny; about racism; and about a society in which honest is extinct and cynicism is the national philosophy. She broadens her canvas to include both America and England, where she illuminates the precarious tightrope existence of culturally and racially displaced immigrants. . . . [A] touching love story and an illuminating portrait of a country still in political turmoil." —Publishers Weekly (boxed and starred review)
 
"MacArthur fellow Adichie is a word-by-word virtuoso with a sure grasp of social conundrums in Nigeria, East Coast America, and England; an omnivorous eye for resonant detail; a gift for authentic characters; pyrotechnic wit; and deep humanitarianism. Americanah is a courageous, world-class novel about independence, integrity, community, and love—and what it takes to become a 'full human being.'" —Donna Seaman, Booklist (starred review)
 
"An incredibly readable and rich tapestry of Nigerian and American life, and the ways a handful of vivid characters—so vivid they feel like family—try to live in both worlds simultaneously. As she did so masterfully with Half of a Yellow Sun, Adichie paints on a grand canvas, boldly and confidently, equally adept at conveying the complicated political backdrop of Lagos as she is in bringing us into the day-to-day lives of her many new Americans—a single mom, a student, a hairdresser. This is a very funny, very warm and moving intergenerational epic that confirms Adichie's virtuosity, boundless empathy and searing social acuity." —Dave Eggers, author of A Hologram for the King
 
"Adichie's great gift is that she has always brought us into the territory of the previously unexplored. She writes about that which others have kept silent. Americanah is no exception. This is not just a story that unfolds across three different continents, it is also a keenly observed examination of race, identity and belonging in the global landscapes of Africans and Americans. If Joyce had silence, exile and cunning for his defense, Adichie has flair, loss and longing. And Adichie is brave enough to allow the story to unfold with a distinct straightforward simplicity that never loses its edgy intellect." —Colum McCann, author of Let the Great World Spin
 
 
 
 
 
Coverage from NPR