The Two-Bear Mambo: A Hap and Leonard Novel (3) (Hap and Leonard Series #3) (Paperback)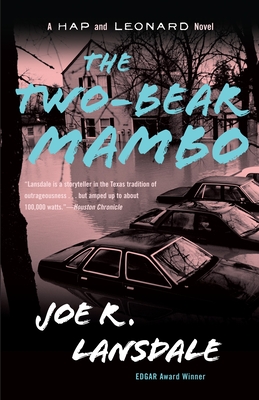 Other Books in Series
This is book number 3 in the Hap and Leonard Series series.
Description
---
The basis for the third season of the new Sundance TV series Hap and Leonard coming Spring 2018. 

Full of savage humor, heart-stopping suspense, and a cast of characters so tough they could chew the bumper off a pickup truck, The Two Bear Mambo is classic country noir.

In this rollicking, rollercoaster ride of a novel, Hap Collins and Leonard Pine take a break from their day jobs to search for Florida Grange, Leonard's drop-dead gorgeous lawyer and Hap's former lover, who has vanished in the Klan-infested East Texas town of Grovetown. Before she disappeared, Florida was digging up some dirt behind the mysterious jailhouse death of a legendary bluesman's son, who was in possession of some priceless merchandise. To Hap and Leonard, something don't smell right. With murder on their minds, Hap and Leonard set out to investigate as only they now how . . . chaotically.
About the Author
---
Joe R. Lansdale is the author of over thirty novels and numerous short stories. His work has appeared in national anthologies, magazines, and collections, as well as numerous foreign publications. He has written for comics, television, film, newspapers, and Internet sites. His work has been collected in eighteen short-story collections, and he has edited or co-edited over a dozen anthologies.

Lansdale has received the Edgar Award, eight Bram Stoker Awards, the Horror Writers Association Lifetime Achievement Award, the British Fantasy Award, the Grinzani Cavour Prize for Literature, the Herodotus Historical Fiction Award, the Inkpot Award for Contributions to Science Fiction and Fantasy, and many others.

A major motion picture based on Lansdale's crime thriller Cold in July was released in May 2014, starring Michael C. Hall (Dexter), Sam Shepard (Black Hawk Down), and Don Johnson (Miami Vice). His novella Bubba Hotep was adapted to film by Don Coscarelli, starring Bruce Campbell and Ossie Davis. His story "Incident On and Off a Mountain Road" was adapted to film for Showtime's "Masters of Horror." He is currently co-producing a TV series, "Hap and Leonard" for the Sundance Channel and films including The Bottoms, based on his Edgar Award-winning novel, with Bill Paxton and Brad Wyman, and The Drive-In, with Greg Nicotero.

Lansdale is the founder of the martial arts system Shen Chuan: Martial Science and its affiliate, Shen Chuan Family System. He is a member of both the United States and International Martial Arts Halls of Fame. He lives in Nacogdoches, Texas with his wife, dog, and two cats.
www.joerlansdale.com
Praise For…
---
"Lansdale is a storyteller in the Texas tradition of outrageousness . . . but amped up to about 100,000 watts."—Houston Chronicle "Lansdale is an exceptional storyteller."—Rocky Mountain News"Lansdale has a zest for storytelling and a gimlet eye for detail."—Entertainment Weekly"Lansdale's prose, both laconic and sarcastic, is so thick with slang and regional accent that it's as tasty as a well-cured piece of beef jerky. Readers will want to savor each bite."—Milwaukee Journal Sentinel