Books On Our Site May Not Be Available In-Store
Is This Book In Stock? Be Savvy! Check availability details beneath the blue "Add to Cart" button.
Pit Bull: The Battle over an American Icon (Hardcover)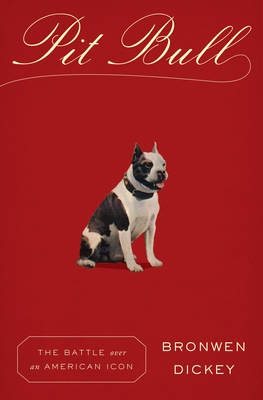 $26.95
Out of Stock; Usually Arrives in 2-5 Days
Staff Reviews
---
"Bronwen Dickey blew my mind with Pit Bull, weaving social and cultural history, personal interviews, and pop culture into a book that reveals that what we call a 'pit bull' doesn't even really exist. I am no longer comfortable identifying any dog by its breed, even my own, much less judging them."
— Claire
Bronwen delivers a well balanced, superlatively researched treatise on the much maligned and beloved pit bull (whatever that is)... she really does not try to convince anyone to feel one way or the other (much to her detractor's disbelief), letting the reader come to their own conclusion. a great read about a misunderstood breed...yay dogs!
— Jason M.
Description
---
The hugely illuminating story of how a popular breed of dog became the most demonized and supposedly the most dangerous of dogs—and what role humans have played in the transformation.  

When Bronwen Dickey brought her new dog home, she saw no traces of the infamous viciousness in her affectionate, timid pit bull. Which made her wonder: How had the breed—beloved by Teddy Roosevelt, Helen Keller, and Hollywood's "Little Rascals"—come to be known as a brutal fighter?

Her search for answers takes her from nineteenth-century New York City dogfighting pits—the cruelty of which drew the attention of the recently formed ASPCA—to early twentieth‑century movie sets, where pit bulls cavorted with Fatty Arbuckle and Buster Keaton; from the battlefields of Gettysburg and the Marne, where pit bulls earned presidential recognition, to desolate urban neighborhoods where the dogs were loved, prized—and sometimes brutalized.

Whether through love or fear, hatred or devotion, humans are bound to the history of the pit bull. With unfailing thoughtfulness, compassion, and a firm grasp of scientific fact, Dickey offers us a clear-eyed portrait of this extraordinary breed, and an insightful view of Americans' relationship with their dogs.
About the Author
---
BRONWEN DICKEY is an essayist and journalist who writes regularly for the Oxford American. Her work has also appeared in The New York Times, Slate, The Best American Travel Writing 2009, Newsweek, and Outside, among other publications. In 2009 she received a first-place Lowell Thomas Travel Journalism Award and a MacDowell Colony residency grant. She lives in North Carolina.
Praise For…
---
An NPR Best Book of 2016
A Boston Globe Best Book of 2016

"This is a very good book… Ms. Dickey has earned her reputation as a first-rate reporter." —The Wall Street Journal

"Terrific... [Dickey] does more than simply dispel the many myths around pit bulls; she strives to explore what those myths can tell us about ourselves. This beautifully written, heartbreaking book is not just for dog lovers — it's for anyone interested in race, class, history and the complexity of media narratives." —NPR

"Ms. Dickey not only writes about the ebb and flow of public fear and loathing, she takes the reader on a thoroughly comprehensible tour of genetics and behavioral science to explain why breeding never guarantees an individual dog's personality, and shouldn't be used to condemn it.... Picking out one breed to blame is neither warranted nor effective, and a reader of her book will be hard put to disagree." —The New York Times

"Brilliant… A powerful and disturbing book that shows how the rise of the killer-pit bull narrative reflects many broader American anxieties and pathologies surrounding race, class, and poverty… A remarkable study of our capacities for cruelty and compassion toward dogs and other humans, and an eloquent argument for abandoning the fears and prejudices that have made pit bulls in particular the victims of mistreatment." —Christian Science Monitor

"Like the pit bull itself, this book is sturdy, complicated and resists easy categorization… As Dickey exhaustively demonstrates, there is no 'aggression gene' and no such thing as a dangerous breed." —The New York Times Book Review

"In covering a subject that evokes strong, deep-seated emotions, Dickey herself refrains from making sweeping judgments about the pit-bull temperament. She neither condemns nor exalts these dogs. The story of the pit bull is complex, and at times heartbreaking. It's fraught with cruelty and poverty, but also compassion, generosity, and, occasionally, clear-headed thinking. Somehow, Dickey manages to find hope for the future of this dog and its reputation." —LA Review of Books

"Assiduously researched... Dickey is relentless in exposing the brutal racism and classism at the heart of the pit bull scare. For that reason alone, her book is an invaluable resource for those who want and need a counter-narrative to the usual stereotyping of animals. Pit Bull is an important study of how one animal and its context can reveal everything about the link between race, class, and 'animality'... Dickey is clearly a superb journalist." —Current Affairs

"Sustained and heavily researched… Pit Bull is very good at framing and contextualizing the swirl of fear and aversion these dogs induced… Informative, keenly argued and engaging." —San Francisco Chronicle

"A tremendous contribution to our understanding not only of these dogs but also of our human relationships with them. There's been too much hysteria about pit bulls, and Dickey shows that we've let myth and stereotype run wild when it comes to our thinking about these dogs." —Wayne Pacelle, CEO of the Humane Society of the United States

"A tour de force; the most comprehensive, thoughtful, and dispassionate treatment of this topic ever undertaken... Dickey's book—a combination of exhaustive research, the presentation of impartial facts, the perceptive sense of social and political context and the addition of a rich and detailed historical framework—is an enormously valuable contribution." —Rick Bernthal, board chairman, Humane Society of the United States

"Fascinating." —World

"Judiciously filled with data, anecdotes, illustrations and a self-deprecating, canny sense of humor, Pit Bull is a constantly surprising compendium of dog lore, human foible and social prejudice… The much-maligned pit bull finds redemption in Bronwen Dickey's entertaining, thoughtful and well-researched study of this noble canine." —Shelf Awareness

"This is more than a 'dog book.' Dickey has written a book that is part sociology, part history; it is an exploration of our relationship with dogs and how we view them in context with our relationship with each other; it is a look at the media and social media and how they fan the flames and spread falsehoods (on all sides of an issue); and it is a scientific view of dogs, including genetics." —Everyday eBook

"[Dickey] repeatedly draws parallels between treatment of poor and disenfranchised humans and their dogs, and it's damning testimony… With Dickey's thorough reporting on a provocative topic, Pit Bull shows how the human need for something to blame can put innocent victims in the crosshairs." —BookPage

"As appealing to readers of history and social science as it is to dog enthusiasts… With able writing, in tightly packed and thorough chapters, Dickey shares much food for thought… Dickey's broad scope will leave readers affected and pondering." —Booklist

"A thoughtful examination of pit bulls and an intense look at ourselves and society. Dickey adeptly scrutinizes the science used to condemn pit bulls to separate fact from fiction and thus weaves a narrative that artfully relays both the hard science and the emotion of the pit bull issue… This exceptional, thoroughly researched, and expertly written work is a must." —Library Journal (starred review)

"An appealing look at how our relationships with man's best friend provides a mirror of cultural mores." —Kirkus Reviews

"[Dickey] illuminates many of the facts and exposes many of the myths surrounding pit bulls and dogs in general... Dickey's immersive and illuminating work deserves a wide audience." —Publishers Weekly

"I can't stress enough how highly I recommend Pit Bull: The Battle over an American Icon. I believe it is easily among the three 'must read' books for anyone in animal welfare—or for anyone making policy decisions about animals. It is one of the most thoroughly researched books I've ever read about dogs, and presented in a very readable, entertaining fashion. And whether you are a newcomer to animal welfare, or a relative old-timer, or if you make policy decisions about animal welfare, this book will make you smarter, and make you question many of the things you think you know about dogs—and the people who own them."  —Kansas City Dog Blog

"The 'pit bull' is a legend, a fear, an exaggeration, a bête noire. Bronwen Dickey does this misunderstood animal the great service of looking beyond the myth. What she finds are dogs who deserve better than we've been giving them." —Alexandra Horowitz, author, Inside of a Dog

"Bronwen Dickey set out to write about a single dog breed, but by investigating what happened to pit bulls she ended up writing about our whole crazy culture. Her quest began almost accidentally, when she acquired a pit bull that was nothing like its vicious stereotype. Curious, she discovered that the breed had once been an American favorite. Remember the RCA Victrola dog? It was a pit bull. So was the lovable mascot Pete the Pup in the immensely popular Our Gang movies in the 1930s. How had this symbol of friendliness and reliability become so feared that people fled when she walked her dog on the street? This beautifully assembled tale of how the pit bull was transformed into a demon perfectly captures a disquieting strain of hysteria in our national life. It's the rare dog story that tells us as much about people as about dogs." —Charles C. Mann, author, 1491

"Bronwen Dickey's book is a marvelously compelling read, both perfectly modulated and passionate without being strident, and completely eye-opening. She is a damn good writer, and the book is full of eloquent, sharp, clear, knowledge-bearing sentences that convinced me while they also broke down my easy and long-held assumptions. An impressive debut." —Richard Bausch, author, Wives and Lovers

"Pit Bull tells how 'America's Dog' morphed into 'America's nightmare.' Ms. Dickey's scrupulous, encyclopedic research pretty well proves that harmless pets have been scapegoated to feed our fears. Pit Bull is a fascinating, complex story of canine genetics, media missteps and an appalling national willingness to kill poor peoples' dogs." —Donald McCaig, author, Mr. and Mrs. Dog

"Bronwen Dickey writes so well, with such understated elegance. I spent a lifetime afraid of pit bulls, hating creatures that came to me through newspapers and the media, until I read this book." —Pat Conroy, author, The Prince of Tides

"The pit bull is truly America's Dog, and few breeds are surrounded with as much mythology, fear and misinformation. Bronwen Dickey has written the first comprehensive explanation of how the bull terrier of the gentry transformed nearly overnight into the chained-up hellhound of the underclass. This book gets to the cultural roots of the 'demon dog' fantasy and helps us understand that the stories we tell about pit bulls are really stories about violence, class and repressed rage. Dickey is a consummate reporter and a brilliant incisive writer who has given us a book about far more than dogs." —Tom Zoellner, author, Train: Riding the Rails that Created the Modern World

"This is one of the best dog books you will ever read. But, it is also about the big stuff – the moral status of animals, the science of nature and nurture, the role of race in our culture.  In Pit Bull, Bronwen Dickey weaves a tale in which the most divisive of animal issues becomes a metaphor for deep-seated conflicts in American society." —Hal Herzog, author, Some We Love, Some We Hate, Some We Eat


Coverage from NPR