The Blonde: A Thriller (Paperback)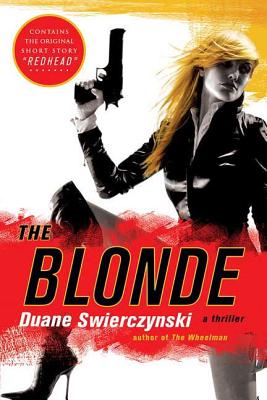 $20.99
Out of Stock; Usually Arrives in 2-5 Days
Description
---
The night before a big meeting, Jack Eisley is sitting in an airport bar in Philadelphia, chatting up a pretty young blonde. Sure, Jack has a wife and daughter at home, but this is just a little harmless flirting. Harmless, that is, until the blonde leans forward and says, "I poisoned your drink."
She tells Jack that unless she can keep someone within ten feet of her at all times, she'll die. And if he wants the antidote, he'll have to take her back to his hotel room and promise to stay by her side.
Jack thinks: psycho. But as the violent night wears on, and he encounters a relentless government assassin, a threatening voice on a cell phone, a deadly waitress, dirty cops, and shady cab drivers . . .
He begins to believe her... in Duane Swierczynski's thrilling The Blonde.
About the Author
---
DUANE SWIERCZYNSKI is the author of The Wheelman, The Blonde, Severance Package, and Expiration Date, and writes for Marvel Comics. The Wheelman was nominated for the Gumshoe Award and was optioned for film. He lives in Philadelphia.
Praise For…
---
"Lean as a starving model, mean as a snake, and fast as a jet. This guy has got to be the hottest new thing in crime fiction, and THE BLONDE is one of the best crime reads I've had in some time." —Joe R. Lansdale, Edgar-winning author of SUNSET AND SAWDUST
"Duane Swierczynski's new novel, THE BLONDE, is as lean as a starving model, mean as a snake, and fast as a jet. It's also one hell of fine read. This guy has got to be the hottest new thing in crime fiction, and THE BLONDE is one of the best crime reads I've had in some time." —Joe R. Lansdale, bestselling author of THE BOTTOMS
"THE BLONDE is a shot of pure noir adrenaline for the 21st. Century. It left me battered, bruised, bleeding, dazed, confused, and downright goofy. And all I did was read it! Think how the poor characters must feel. Duane Swierczynski makes the Marquis de Sade look like a rank amateur when it comes to the business of torturing his characters and the readers who grow to care about them. He writes the way Sam Peckinpah used to direct: with a mad passion to awaken the slumbering masses and energize them with his enthusiasm for the material at hand. THE BLONDE rocks!" —Terrill Lee Lankford, author of EARTHQUAKE WEATHER and BLONDE LIGHTNING
"Insanely inventive. This inspired high-concept thriller rockets from climax to climax with an intensity that will leave you breathless. It's like the movie 'Speed' -- only with brains." —Charles Ardai, editor of the Hard Case Crime series
"I got whiplash from turning these pages so fast. The cleverest, wittiest and most relentless novel I've read in a long, long time. A dazzling piece of work." —Ed Gorman
"A wild ride. Swierczynski knows how to make a book move and the pages fly—and he has a terrific ear for dialogue. The Blonde is wonderful, risky and very funny." —Sandra Scoppettone, award-winning author of THIS DAME FOR HIRE and TOO DARN HOT