A Bad Day for Sorry: A Crime Novel (Hardcover)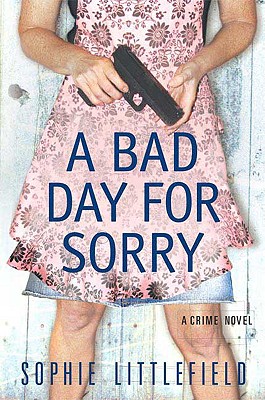 $24.99
It's complicated, and may be unavailable. Place an order and we will contact you with the expected arrival date.
Description
---
Winner of the Anthony Award for Best First Novel!
Stella Hardesty dispatched her abusive husband with a wrench shortly before her fiftieth birthday. A few years later, she's so busy delivering home-style justice on her days off, helping other women deal with their own abusive husbands and boyfriends, that she barely has time to run her sewing shop in her rural Missouri hometown. Some men need more convincing than others, but it's usually nothing a little light bondage or old-fashioned whuppin' can't fix. Since Stella works outside of the law, she's free to do whatever it takes to get the job done---as long as she keeps her distance from the handsome devil of a local sheriff, Goat Jones.
When young mother Chrissy Shaw asks Stella for help with her no-good husband, Roy Dean, it looks like an easy case. Until Roy Dean disappears with Chrissy's two-year-old son, Tucker. Stella quickly learns that Roy Dean was involved with some very scary men, as she tries to sort out who's hiding information and who's merely trying to kill her. It's going to take a hell of a fight to get the little boy back home to his mama, but if anyone can do it, it's Stella Hardesty.


A Bad Day for Sorry won an Anthony Award for Best First Novel and an RT Book Award for Best First Mystery. It was also shortlisted for Edgar, Barry, Crimespree, and Macavity Awards, and it was named to lists of the year's best mystery debuts by the Chicago Sun-Times and South Florida Sun-Sentinel.
About the Author
---
Sophie Littlefield is an Anthony and RT Book Award winner. She lives with her family near San Francisco, California.
Praise For…
---
"A Bad Day for Sorry is another of the year's best debuts, a standout mystery distinguished by its charming protagonist and her compelling voice. We don't get many characters like Stella in mystery fiction, but we should. She's fresh and sassy and an awful lot of fun to read about."--David J. Montgomery, Chicago Sun-Times
"In her debut novel, Sophie Littlefield shows considerable skills for delving into the depths of her characters and complex plotting as she disarms the reader.….Littlefield keeps the plot churning with realistic action that doesn't let up. She also allows the moral ambiguity of vigilante justice to enhance this story….Littlefield's exciting debut should be the start of an even more exciting series."—South Florida Sun Sentinel

"Ass-whuppin' 50-year-old Stella is nothing if not inventive….Littlefield puts a new spin on middle-age sleuths in this rollicking, rip-roaring debut."--Booklist
"Expect the unexpected with Stella Hardesty, who's quite the intriguing character....From Stella's opening remark...the reader can't help but be drawn into her world and wonder where it all will lead."--Romantic Times BOOKreviews (4 Stars)
Try to picture a more pacific view of small-town Americana than this: a 50-year-old widow who runs a sewing-machine shop in Missouri.
But Stella Hardesty will make you change your mind. Sure, she knows about sewing, but she also knows how to bring a cheating, abusive man to his knees -- or to the hospital.
Such is the premise of Sophie Littlefield's first mystery, A Bad Day for Sorry (288 pages, Minotaur Books, $24.95), and it's markedly original. In this initial outing, Stella, who runs a vigilante service for abused women (she was one, herself) is approached by Chrissy Shaw, who tells her that her no-account husband, Roy Dean Shaw, has taken off with Tucker, Chrissy's toddler son from a previous relationship. As Stella sets out to retrieve Tucker and bring Roy Dean down a notch or four, she finds her own life in peril.
Littlefield uses words, not drawings, but this is as graphic a crime novel as you'll find this side of the thriller subgenre. The story's compelling, the dialogue p
-Jay Strafford
Vigilante justice is getting a workout in crime fiction.
The sleuth who takes the law into her own hands in Sophie Littlefield's debut novel, "A Bad Day for Sorry,'' is Stella Hardesty. Having dispatched her own abusive husband with the business end of a wrench, Stella takes tough and ornery to new levels. She has developed a "justice-delivering career,'' her business driven through word of mouth from satisfied customers. She rides through the rural Missouri countryside in her husband's beloved Jeep ("a sweet little green Liberty with chrome aluminum wheels and a sunroof'') to strains of Emmy Lou Harris, stalking recalcitrant abusers and monitoring her "parolees.''
Stella takes her Johnny Walker straight up, and she'd rather not have to use the yoke and spreader bar with restraint cuffs, or the electric shock baton, or that little Raven .25 "she took off a cheating son-of-a-bitch in Kansas City,'' but some spousal abusers just won't stay "whupped.'' Still, her average quarry is an an
-Hallie Ephron
The Story She owns a sewing shop, but what fiftysomething badass Stella Hardesty really does is dispense justice to abusive husbands and boyfriends, having discovered that 'whuppin' ass wasn't so hard.' TV Pitch Put Cagney or Lacey in rural Missouri. Lowdown Crime fiction hasn't seen a character as scrappy, mean, and incredibly appealing as Stella in a long time. A-