Books On Our Site May Not Be Available In-Store
Is This Book In Stock? Be Savvy! Check availability details beneath the blue "Add to Cart" button.
Edge of Dark Water (Hardcover)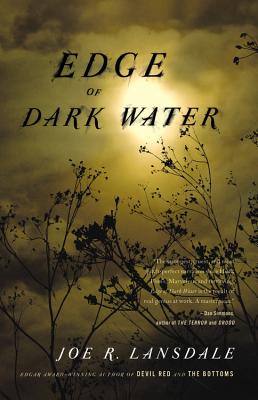 Description
---
Mark Twain meets classic Stephen King--a bold new direction for widely acclaimed Edgar Award winner Joe R. Lansdale.

May Lynn was once a pretty girl who dreamed of becoming a Hollywood star. Now she's dead, her body dredged up from the Sabine River.

Sue Ellen, May Lynn's strong-willed teenage friend, sets out to dig up May Lynn's body, burn it to ash, and take those ashes to Hollywood to spread around. If May Lynn can't become a star, then at least her ashes will end up in the land of her dreams.

Along with her friends Terry and Jinx and her alcoholic mother, Sue Ellen steals a raft and heads downriver to carry May Lynn's remains to Hollywood.

Only problem is, Sue Ellen has some stolen money that her enemies will do anything to get back. And what looks like a prime opportunity to escape from a worthless life will instead lead to disastrous consequences. In the end, Sue Ellen will learn a harsh lesson on just how hard growing up can really be.
About the Author
---
Joe R. Lansdale is the author of more than a dozen novels, including The Bottoms, A Fine Dark Line, and Leather Maiden. He has received the British Fantasy Award, the American Mystery Award, the Edgar Award, the Grinzane Cavour Prize for Literature, and eight Bram Stoker Awards. He lives with his family in Nacogdoches, Texas.

Praise For…
---
"A cast of unforgettable characters....a terrific read. From its pages waft memories of Huckleberry Finn, To Kill A Mockingbird, and even As I Lay Dying with its journey to lay a soul to rest. When I reached the final page, something happened that I can't remember ever happening with a book I've read for a review. I wanted to read it again."—Boston Globe

"A charming Gothic tale...as funny and frightening as anything that could have been dreamed up by the Brothers Grimm--or Mark Twain."—New York Times Book Review

"Reading Joe Lansdale is like listening to a favorite uncle who just happens to be a fabulous storyteller. This book deals with dark and strange material, but it is hugely appealing as narrated in the first person by young Sue Ellen, who shines."—Dean Koontz

"A doozy of a read, the kind of book we call an 'all nighter'...It's that kind of great, and it's pure-blood Lansdale, crammed to bursting with plot twists that recall the snaky bends of the Sabine River...This sucker moves...It's our favorite book of the year so far, and one of Lansdale's best, ever."—Austin Chronicle

"The strongest, truest, and most pitch-perfect narration since Huck Finn's. Marvelous and terrifying, EDGE OF DARK WATER is the result of real genius at work. A masterpiece."—Dan Simmons, author of The Terror and Drood

"An ambitious, quietly grieving portrait of racism in Texas in the 1930s."—New York Times

"For those new to Lansdale's work, this novel will serve as a good intro: entertaining, eerie and soaked with the East Texas period atmosphere Lansdale owns like no other writer....Along the river chase, readers will pick up on nods to homer, Dickey, Twain and others, but the brooding East Texas atmosphere is all Lansdale: the specter of Skunk is like something out of a horror movie; man and nature both provide plenty of thrills and chills; the mystery of who killed May Lynn is given just enough attention; and Sue Ellen's precocious teen wisdom and bumpkin delivery provides the laughs....Joe R. Lansdale could fall into the Sabine River at its filthiest point and still come up dripping nothing but storytelling mojo."—The Dallas Morning News

"EDGE OF DARK WATER describes a trip downriver that is one-half Huck Finn, one-half Deliverance, and entirely Joe Lansdale. If you aren't familiar with the work of this true American original, and master of hillbilly noir, climb in the boat and hang on for dear life: the water is rough."—Joe Hill, author of the New York Times bestsellers Horns and Heart-Shaped Box

"Joe Lansdale has long been one of our finest and most difficult to classify writers. You can call his writing supernatural, horror, crime, or plain Southern, as long as you remember to call it great. Always a generous storyteller, in EDGE OF DARK WATER he offers a beautifully spun tale of life in the sticks, friendship and mortality, and tells it with the wit, humor and pure-dee power we've come to expect of him."—Daniel Woodrell, author of Winter's Bone

"Nonstop adventures that edify, terrify and deepen the bond between Sue Ellen and Jinx. A highly entertaining tour de force."—Kirkus Reviews

"Edgar-winner Lansdale channels Mark Twain in this chillingly atmospheric stand-alone set in Depression-era East Texas...Lansdale's perfect ear for regional dialogue and ability to create palpable suspense lift this above the pack."—The Washington Examiner

"Joe Lansdale always transports me. In EDGE OF DARK WATER, he takes me to the mysterious brooding landscape of Twain and Faulkner, with a compelling twist that is all Lansdale."—David Morrell, New York Times bestselling author of First Blood and Creepers

"A coming of age story peopled with original and fascinating blood-and-bones characters. A chillingly atmospheric tale of good and evil and adolescent angst. EDGE OF DARK WATER has all the potential of becoming a classic, read by generations to come."—New York Journal of Books

"Joe Lansdale is one of the dark kings of modern mystery fiction, a master of the genre. His name deserves to be whispered with the greats."—John Connolly

"Joe R. Lansdale's fellow Texans would call Joe a 'straight shooter.' That's what makes his writing so good-no BS involved. Joe's work is alternately scary, funny as hell, disturbing, but always (and most importantly) memorable."—Bruce Campbell

"A storyteller in the great American tradition of Ambrose Bierce and Mark Twain."—Boston Globe

"Joe R. Lansdale has a folklorist's eye for telling detail and a front-porch raconteur's sense of pace."—The New York Times Book Review

"One of the greatest yarn spinners of his generation: fearless, earthy, original, manic and dreadfully funny."—Dallas Morning News