Books On Our Site May Not Be Available In-Store
Is This Book In Stock? Be Savvy! Check availability details beneath the blue "Add to Cart" button.
Angel Baby: A Novel (Hardcover)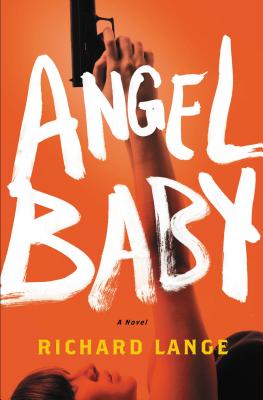 Description
---
**Winner of the International Association of Crime Writers' Dashiell Hammett Award**A woman goes on the run in this intense and cinematic thriller by an award-winning writer.
To escape the awful life she has descended into, Luz plans carefully. She takes only the clothes on her back, a Colt .45, and all the money in her husband's safe. The corpses in the hallway weren't part of her plan.

Luz needs to find the daughter she left behind years earlier, but she knows she may die trying. Her husband is El Principe, a key player in a high-powered drug cartel, a business he runs with the same violence he has used to keep Luz his perfect, obedient wife.

With the pace and relentless force of a Scorsese film, ANGEL BABY is the newest masterpiece from one of the most ambitious and talented crime novelists at work today.
About the Author
---
Richard Lange is the author of the story collection Dead Boys, which received an award from the American Academy of Arts and Letters, and the novel This Wicked World. He is the recipient of a Guggenheim Fellowship, and his fiction has appeared in Best American Mystery Stories 2004 and 2011. He lives in Los Angeles.
Praise For…
---
"When you find yourself rooting for the killer in a grisly crime novel, you know you're in the hands of a real writer. Every character in Richard Lange's Angel Baby feels like flesh and bone, even the ones who show up just to be killed.... The plot explodes after Luz kicks her habit, cleans out her husband's safe, shoots her bodyguards, and heads for the border ....As vividly as the other [character]s are drawn, I'd throw them all under the bus for Jerónimo, the morally conflicted killer who becomes the beating heart of the story."
---Marilyn Stasio, New York Times Book Review

"Angel Baby, a lean novel that leaps and signs with hard-boiled intuition, is Lange's third book, and it's his best work yet.... If Angel Baby starts out at a gallop, it pretty quickly settles into a full-on sprint.... Luz is the hero of this story, a queen among highly corruptible pawns."
---William Boyle, Los Angeles Review of Books

"There are books-like Cormac McCarthy's No Country for Old Men and Nic Pizzolatto's Galveston-that open with a trigger-snap of trouble and blast forward with the propulsive force of a bullet and never stop moving. Angel Baby is one of them....This novel about an escape is the perfect summer escape. Lange has proved his poetic grit with Dead Boys and This Wicked World, but Angel Baby puts him in a new category: crime boss."
---Benjamin Percy, Esquire

"Strong and relentless....Beautifully paced, deftly written, Angel Baby is a book about moral compromise, in which we have empathy for everyone (or almost everyone) and no one at once.... As with life, Angel Baby offers a story in which motivations are murky and every act is weighted, and the best we can hope for is that the means will be justified by the results....A book that does so much so well. Angel Baby is taut and vicious, unfurling like a rumba of rattlesnakes."
---David L. Ulin, Los Angeles Times

"The story is thrilling and cinematic, told as one long chase scene....Lange inhabits his novel's characters. There's no pure black and white to them, only varying and unexpected shades of gray.... Intense, extreme and definitely grimy and readers will find that's a good thing."
---Christian DuChateau, CNN

"Almost every character in Lange's latest crime novel is made desperate by personal demons, and this struggle creates a fast-paced thrill ride.... A Tarantino-like vortex of mayhem and violence."
---Cameron Martin, Daily Beast

"This is one lean, tough novel. Lange's prose is sharp throughout and his pacing moves with the momentum of rolling thunder.... No one is good in this superb portrait of wrecked lives, but no one is entirely evil either. Everyone is painfully human and recognizable in his or her suffering....It's a truly great read."
---Derek Hill, Mystery Scene

"A rising star.... Lange embraces classic noir in all its violence, bleakness, and dark humor. He makes readers care about his flawed characters and appreciate the odds that were stacked against them by the circumstances of their upbringing. A film waiting to happen, this book boasts memorable characters, evocative settings, and a suspenseful plot."
---Kirkus

"He's writing about the outcasts and fringe dwellers, and doing so with grace and beauty...This thriller keeps the tension building from the opening scene through the heart-wrenching conclusion...This is a novel full of thrills, grit and often sadness - a novel that should be at the top of any thriller or crime fan's reading list this summer. Lange's the real deal, whatever label you choose for him."—The Omaha World-Herald