Books On Our Site May Not Be Available In-Store
Is This Book In Stock? Be Savvy! Check availability details beneath the blue "Add to Cart" button.
California: A Novel (Hardcover)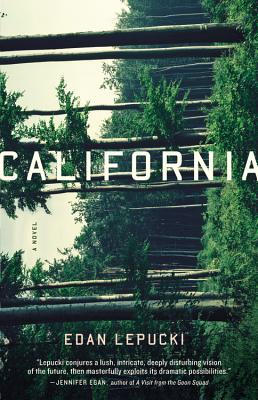 Staff Reviews
---
"As a member of the End of the World Book Club here at BookPeople, I've read a lot of apocalyptic fiction over the last 16 months. A lot. From atomic fallout to zombie hoards, we have covered a whole slew of catastrophes that could spell the end for mankind. Lepucki manages to craft a rather low-key resolution that somehow feels more solid and pertinent than it could have in other hands. It definitely speaks to how many books I have read in the genre that build into eruptions to resolve the conflicts, featuring epic brawls or massive explosions, that I was surprised by this ending. I want to give credit to the author for resisting the temptation to wrap up everything she had built with a neat little bow or overplay the inherent drama being played out on the page by tacking on some grand finale. All the dynamic relationships between friends and families are earned by communicating, in confessions and boasts and admitting fears, so California stays true through its bittersweet ending. I was left wanting more, until I looked outside and remembered how close it comes to being so real."Read Alex's review. 
Description
---
"In her arresting debut novel, Edan Lepucki conjures a lush, intricate, deeply disturbing vision of the future, then masterfully exploits its dramatic possibilities." ---Jennifer Egan, author of A Visit from the Goon Squad

The world Cal and Frida have always known is gone, and they've left the crumbling city of Los Angeles far behind them. They now live in a shack in the wilderness, working side-by-side to make their days tolerable in the face of hardship and isolation. Mourning a past they can't reclaim, they seek solace in each other. But the tentative existence they've built for themselves is thrown into doubt when Frida finds out she's pregnant.

Terrified of the unknown and unsure of their ability to raise a child alone, Cal and Frida set out for the nearest settlement, a guarded and paranoid community with dark secrets. These people can offer them security, but Cal and Frida soon realize this community poses dangers of its own. In this unfamiliar world, where everything and everyone can be perceived as a threat, the couple must quickly decide whom to trust.

A gripping and provocative debut novel by a stunning new talent, California imagines a frighteningly realistic near future, in which clashes between mankind's dark nature and deep-seated resilience force us to question how far we will go to protect the ones we love.
About the Author
---
Edan Lepucki is a graduate of the Iowa Writers' Workshop and a staff writer for The Millions. Her short fiction has been published in McSweeney's and Narrative magazine, among other publications, and she is the founder and director of Writing Workshops Los Angeles. This is her first novel.
Praise For…
---
An NPR Best Book of 2014
"Rewarding....[One of] 30 books you NEED to read in 2014." ---Huffington Post

"Edan Lepucki's first novel comes steeped in Southern California literary tradition....One thinks of Steve Erickson or Cynthia Kadohata, or Carolyn See, whose 1987 novel Golden Days ends with the nuclear holocaust." ---David L. Ulin, Los Angeles Times

"Noteworthy....Lepucki's debut is an inventive take on the post-apocalyptic novel, about a couple who moves from an isolated existence in the wilderness to a guarded community that, they soon realize, harbors terrifying secrets and unforseen dangers." ---Laura Pearson, Time Out Chicago

"In her arresting debut novel, Edan Lepucki conjures a lush, intricate, deeply disturbing vision of the future, then masterfully exploits its dramatic possibilities." ---Jennifer Egan, author of A Visit from the Goon Squad

"An expansive, full-bodied and masterful narrative of humans caught in the most extreme situations, with all of our virtues and failings on full display: courage, cowardice, trust, betrayal, honor and expedience. The final eighty pages of this book gripped me as much as any fictional denouement I've encountered in recent years....I firmly believe that Edan Lepucki is on the cusp of a long, strong career in American letters." ---Ben Fountain, author of Billy Lynn's Long Halftime Walk

"Stunning and brilliant novel, which is a wholly original take on the post-apocalypse genre, an end-of-the-world we've never seen before and yet is uncomfortably believable and recognizable. By turns funny and heartbreaking, scary and tender, beautifully written and compulsively page-turning, this is a book that will haunt me, and that I'll be thankful to return to in the years to come. It left me speechless. Read it, and prepare yourself." ---Dan Chaon, author of Await Your Reply

"This thrilling and thoughtful debut novel by Edan Lepucki follows a young married couple navigating dangers both physical and emotional in a wild, mysterious post-collapse America. It's a vivid, believable picture of a not-so-distant future and the timeless negotiation of young marriage, handled with suspense and psychological acuity." ---Janet Fitch, author of Paint it Black

"Edan Lepucki is the very best kind of writer: simultaneously generous and precise. I am long been an admirer of her prose, but this book---this book, this massive, brilliant book---is a four alarm fire, the ambitious and rich introduction that a writer of her caliber deserves. I can't wait for the world to know what I have known for so many years, that Edan Lepucki is the real thing, and that we will all be bowing at her feet before long." ---Emma Straub, author of Laura Lamont's Life in Pictures

"It's tempting to call this novel post-apocalyptic, but really, it's about an apocalypse in progress, an apocalypse that might already be happening, one that doesn't so much break life into before and after as unravel it bit by bit. Edan Lepucki tells her tale with preternatural clarity and total believability, in large part by focusing on the relationships -- between husband and wife, brother and sister, parent and child -- that are, it turns out, apocalypse-proof. Post-nothing. California is timeless." ---Robin Sloan, author of Mr. Penumbra's 24-Hour Bookstore

"California is a wonder: a big, gripping and inventive story built on quiet, precise human moments. Edan Lepucki's eerie near future is vividly and persuasively imagined. She is a fierce new presence in American fiction." ---Dana Spiotta, author of Stone Arabia

"There's been no shortage of apocalyptic scenarios in our recent literature. What makes Edan Lepucki's novel so stunning is that her survivors don't merely resemble us, they are us, in their emotional particularity and dilemmas. The result is a book as terse and terrifying as the best of Shirley Jackson, on the one hand, and as clear-eyed and profound a portrait of a marriage as Evan Connell's Mrs. Bridge, on the other. California is superb." ---Matthew Specktor, author of The American Dream Machine

"In her remarkable debut California, Edan Lepucki has conjured a post-apocalyptic vision that is honest, frightening, and altogether too realistic. At times disturbing and often heartbreaking, California is an original examination of the limitations of family and loyalty in a world on the verge of collapse." ---Ivy Pochoda, author of Visitation Street

"Edan Lepucki's novel California kept me up for five nights. This was a problem. However, I was not just tired, but often worried for the characters, for our world, and then astonished and laughing at her skill with humor and lyricism even in the fearful landscape. It's a ruined place, yes, but the bonds of family, and the betrayal of blood, are as true as every in her surprising imagery and her complicated humans, who could be any of us." ---Susan Straight, author of A Million Nightingales

"Breathtakingly original, fearless and inventive, pitch perfect in its portrayal of the intimacies and tiny betrayals of marriage, so utterly gripping it demands to be read in one sitting: Edan Lepucki's California is the novel you have been waiting for, the novel that perfectly captures the hopes and anxieties of contemporary America. This is a novel that resonates on every level, a novel that stays with you for a lifetime. Read it now." ---Joanna Rakoff, author of A Fortunate Age

"California is carefully drawn and beautifully textured. It's a pleasure to watch love and family transform in this dark, strange forest." ---Ramona Ausubel, author of A Guide to Being Born and No One is Here Except All of Us

"When the world ends, not with a bang, but a whimper, you want a guide whose insight into the subtle revolutions of the heart are as nuanced as her perceptions about the broken world are astute. In prose witty, seductive, and exacting, Lepucki reminds us that, in the after-life of social collapse, it's not only the strongest willed, but the most compassionate among us, who must rebuild. California is an epic of interiors." ---Shya Scanlon, author of Forecast
Coverage from NPR