Books On Our Site May Not Be Available In-Store
Is This Book In Stock? Be Savvy! Check availability details beneath the blue "Add to Cart" button.
Miracle Creek: A Novel (Hardcover)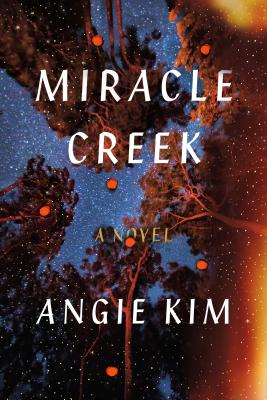 May 2019 Indie Next List
---
"Miracle Creek is a courtroom drama with impeccable pacing, an original plot, and stellar writing. It's also a remarkably empathetic book, exploring the ripple effects of causality and the urgent need to do right by each other in big and small ways, recognizing that even the best of us will fail once in a while. It is a lovely reminder that even when doing the right thing feels like swimming upstream, we never know what harm may be prevented and what good might come from our actions. Agreat read that deserves broad success."
— Sara Hinckley, Hudson Booksellers, Marietta, GA
Description
---
A thrilling debut novel for fans of Liane Moriarty and Celeste Ng about how far we'll go to protect our families—and our deepest secrets

My husband asked me to lie. Not a big lie. He probably didn't even consider it a lie, and neither did I, at first . . .
In rural Virginia, Young and Pak Yoo run an experimental medical treatment device known as the Miracle Submarine—a pressurized oxygen chamber that patients enter for therapeutic "dives" with the hopes of curing issues like autism or infertility. But when the Miracle Submarine mysteriously explodes, killing two people, a dramatic murder trial upends the Yoos' small community.
Who or what caused the explosion? Was it the mother of one of the patients, who claimed to be sick that day but was smoking down by the creek? Or was it Young and Pak themselves, hoping to cash in on a big insurance payment and send their daughter to college? The ensuing trial uncovers unimaginable secrets from that night—trysts in the woods, mysterious notes, child-abuse charges—as well as tense rivalries and alliances among a group of people driven to extraordinary degrees of desperation and sacrifice.
Angie Kim's Miracle Creek is a thoroughly contemporary take on the courtroom drama, drawing on the author's own life as a Korean immigrant, former trial lawyer, and mother of a real-life "submarine" patient. Both a compelling page-turner and an excavation of identity and the desire for connection, Miracle Creek is a brilliant, empathetic debut from an exciting new voice.
About the Author
---
Angie Kim moved as a preteen from Seoul, South Korea to the suburbs of Baltimore. She attended Stanford University and Harvard Law School, where she was an editor of the Harvard Law Review, then practiced as a trial lawyer at Williams & Connolly. Her stories have won the Glamour Essay Contest and the Wabash Prize for Fiction, and appeared in numerous publications including The New York Times, Salon, Slate, The Southern Review, Sycamore Review, Asian American Literary Review, and PANK. Kim lives in Northern Virginia with her husband and three sons.
Miracle Creek is Kim's debut novel.
Praise For…
---
In the Amazon Top 20 Best Books of the Year So Far
A Washington Post Bestseller
An IndieNext Pick
An April 2019 LibraryReads Selection
An April 2019 Book of the Month Club Selection
A Best New Book at People Magazine
A Best Fiction Book of 2019 (so far) at Time Magazine
A Best Book of Spring 2019 at Southern Living

A Most Anticipated Book of 2019: BuzzFeed, Refinery29, CrimeReads, Electric Literature, Nylon, The Millions, BookRiot and more. Featured in Refinery29, Harper's BAZAAR, The Saturday Evening Post, The Telegraph, and the Reading Women Podcast.
"[A] thought-provoking journey of ideas [and] a fascinating study of the malleability of truth in the courtroom . . . Miracle Creek is a brave novel that challenges assumptions of reality."
—Krys Lee, The New York Times Book Review

"A deeply moving story about parents and the lengths they will go for their children . . . Readers will be riveted by the book's genre-bending structure and superb pace. Miracle Creek is a stunning debut about parents, children and the unwavering hope of a better life, even when all hope seems lost."
—Jung Yun, The Washington Post
"A twisty courtroom drama that starts with a bang . . . Recommended for those who love a good thriller."
—Jennifer Weiner for Good Morning America
"[A] mesmerizing debut . . . [Angie Kim] shows an enormous amount of empathy for her characters, infusing them with such intense humanity that I sat weeping for them in an airplane middle seat, between two strangers, for several minutes after I finished the book. With clear, assured prose and penetrating emotional intelligence, she takes us deep into their inner lives . . . The plotting is deliberate and detailed and marvelously done."
—Steph Cha, Los Angeles Times
"Gripping . . . Although the plot of Miracle Creek is propelled by a murder trial . . . the book shines when the characters involved open up about what it's like to make intense sacrifices for the people they love. From the immigrants who ran the facility to the single mother of the child who was killed, Kim makes a case for compassion that surpasses the suspense of her page-turner."
—Annabel Gutterman, Time Magazine
"Miracle Creek is a quick-paced murder mystery that plumbs the power and perils of community."
—Trish Bendix, O: The Oprah Magazine

"Take the taut pace of a police procedural drama and infuse it with the deftly wrought relationships of a Celeste Ng novel, and you'll get Miracle Creek . . . A page-turner backed up by big ideas about family and what we'd do for them."
—Elena Nicolau, Refinery29
"Clear your calendars, put your phones on airplane mode, and get ready to hear the sounds of your heartstrings being plucked! This stunning debut is a family drama, courtroom thriller, and a mystery, all of which add up to one of the most incredible novels of 2019 . . . My two-word review: Jaw. Dropping. I was absolutely floored by this book! Reading it felt like opening a present I had been hiding in my heart."
—Liberty Hardy, Book of the Month Club

"[Miracle Creek] is a gripping page-turner, but what I loved most was Kim's thoughtful, honest exploration of parents of children with special needs, and immigrants. Perfectly paced, filled with wisdom and compassion, this is a book you don't want to miss."
—Jean Kwok, Bustle
"I was immediately drawn in by Kim's vivid, horrifying opening chapter, building a tension that doesn't let up until the book's final pages . . . [Miracle Creek] powerfully, and at times painfully, interrogates the inner lives of women who are the primary caregivers for children with chronic, debilitating medical conditions . . . Even as the courtroom plot unspools, Kim also encourages readers to look at the uncomfortable truths that might remain unspoken or barely whispered, as she lays bare her characters' deepest vulnerabilities and darkest moments."
—Norah Piehl, BookReporter
"A rigorous character study, touching on themes of immigration and motherhood."
—Entertainment Weekly
"Although the case seems open-and-shut, nothing is quite so simple in Kim's compulsively readable debut."
—The Washington Post

"Kim has an expert knack for feeding readers clues like breadcrumbs . . . Perhaps one of the most interesting facets of Miracle Creek is its exploration into the fragility of traditional gender roles . . . Set amidst the U.S. justice system, Kim explores the deepest, darkest and most untamed facets of the human psyche through her riveting tale of murder. Miracle Creek is a thrilling, page-turning story of how even the most well-intentioned white lie can lead to an explosive outcome."
—Mae Hamilton, Character Media

"Miracle Creek is a courtroom drama with impeccable pacing, an original plot, and stellar writing. It's also a remarkably empathetic book, exploring the ripple effects of causality and the urgent need to do right by each other in big and small ways . . . A great read that deserves broad success."
—Sara Hinckley, IndieBound.org
"With so many complications and loose ends, one of the miracles of the novel is that the author ties it all together and arrives at a deeply satisfying—though not easy or sentimental—ending. Intricate plotting and courtroom theatrics, combined with moving insight into parenting special needs children and the psychology of immigrants, make this book both a learning experience and a page-turner. Should be huge."
—Kirkus (starred review)
"This stunning debut by Angie Kim is both an utterly engrossing, nail-biter of a courtroom drama and a sensitive, incisive look into the experiences of immigrant families in America."
—Nylon
"Kim effectively uses her background as a trial lawyer, skillfully crafting her narrative by interweaving the stories of her characters, each of whom speak for themselves as the story progresses toward a surprise ending. With touches of mystery, legal thriller, and character-driven storytelling, where nothing is ever quite as it seems, Kim's promising debut will certainly have readers looking forward to her next offering."
—Library Journal (starred review)
"[A] masterpiece of grief, hope, and recrimination . . . A complex novel of parenting, prejudice, and putting blame where blame's due, this one is not to be missed."
—Crime Reads
"[Miracle Creek] has everything you're looking for in a book."
—Reading Women Podcast

"This courtroom thriller is easily one of my most favorite reads of the year-to-date and the industry buzz is massive. Pre-order this one, so that you can read it before all your friends start talking about it."
—Kristopher Zgorski, Bolo Books
"A stand-out, twisty debut . . . Kim, a former lawyer, clearly knows her stuff . . . a masterfully plotted novel about the joys and pains of motherhood, the trick mirror nature of truth, and the unforgiving nature of justice."
—Publishers Weekly
"Powerful courtroom scenes invite comparisons to Scott Turow, but Kim's nuanced exploration of guilt, resentment, maternal love, and multifaceted justice may have stronger appeal for readers."
—Booklist

"I know this story but have never seen it in a novel—the struggles of the Korean immigrant entrepreneur in America, with a technology that seems like magic, who can go from hero to villain in an instant, now at the center of what is possibly a murder—a bright seam of crisis, mystery, and love emerges in these pages. Kim has written a bold debut novel about science and immigration and the hopes and fears each engenders—unforgettable and true."
—Alexander Chee, author of The Queen of the Night
"Miracle Creek is a marvel, a taut courtroom thriller that ultimately tells the most human story imaginable, a story of good intentions and reckless passions. Compelling, generous, at once empathetic and unsparing. I am wrecked, I am heartened and hopeful, which means, in short, that Miracle Creek is pretty much the perfect novel for these chaotic times in which we live."
—Laura Lippman, author of Sunburn
"Miracle Creek grabbed me hard right from the start. This is a terrific courtroom thriller, a sly whodunit that's beautifully written and also full of heart."
—Scott Turow, author of Testimony
"Miracle Creek is an engrossing puzzle-box of a book: a twisty courtroom drama that also manages to be emotionally astute, culturally perceptive, and deeply empathetic. Angie Kim tackles hot-button subjects with a delicate touch, proving herself a master of both portraiture and storytelling. I loved this novel."
—Janelle Brown, author of the New York Times bestseller Watch Me Disappear
"I love a good courtroom drama, so I love Miracle Creek. But this is more than a good thriller; it is the story of parents with children needing treatment for autism or cerebral palsy; the story of a family of Korean immigrants; the story of myriad marriages and the 'right' way to raise children in a very challenging environment. I loved this book and can't wait to introduce it to book clubs . . . if only so I can have someone to talk about it with."
—Sarah Bagby, Watermark Books & Cafe