Books On Our Site May Not Be Available In-Store
Is This Book In Stock? Be Savvy! Check availability details beneath the blue "Add to Cart" button.
In Hoffa's Shadow: A Stepfather, a Disappearance in Detroit, and My Search for the Truth (Hardcover)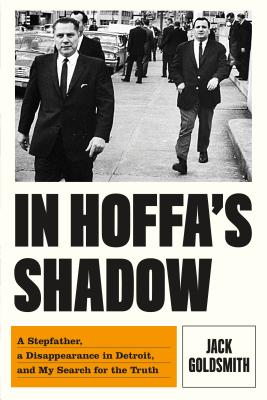 $28.00
Coming Soon - Available for Pre-Order Now
Description
---
As a young man, Jack Goldsmith revered his stepfather, longtime Jimmy Hoffa associate Chuckie O'Brien. But as he grew older and pursued a career in law and government, he came to doubt and distance himself from the man long suspected by the FBI of perpetrating Hoffa's disappearance on behalf of the mob. It was only years later, when Goldsmith was serving as assistant attorney general in the George W. Bush administration and questioning its misuse of surveillance and other powers, that he began to reconsider his stepfather, and to understand Hoffa's true legacy. In Hoffa's Shadow tells the moving story of how Goldsmith reunited with the stepfather he'd disowned and then set out to unravel one of the twentieth century's most persistent mysteries and Chuckie's role in it. Along the way, Goldsmith explores Hoffa's rise and fall and why the golden age of blue-collar America came to an end, while also casting new light on the century-old surveillance state, the architects of Hoffa's disappearance, and the heartrending complexities of love and loyalty.
About the Author
---
Jack Goldsmith is the Henry L. Shattuck Professor of Law at Harvard University. From October 2003 to June 2004 he was assistant attorney general, Office of Legal Counsel. He lives in Newton, Massachusetts.
Praise For…
---
"This is an incredible story, plainly rebutting the clear understanding of many that Charles O'Brien drove Jimmy Hoffa to his death, and offering a profoundly beautiful recognition of the nature of paternal love. This book will make you weep, repeatedly, for the injustice, and for the love." —Lawrence Lessig, professor at Harvard Law School and author of They Don't Represent Us and Republic, Lost
"In Hoffa's Shadow is a masterpiece and a page-turner—I couldn't put it down. Brilliant, suspenseful, and deeply moving, it offers a personal view of one of the greatest unsolved crimes in American history. At the same time, it offers startling insights into organized crime, the labor movement, and the surprising origins of today's surveillance state. Beautifully written and full of unexpected turns, this book is gripping and revelatory from start to finish." —Amy Chua, professor at Yale Law School and author of Battle Hymn of the Tiger Mother and Political Tribes: Group Instinct and the Fate of Nations
"A thrilling, unputdownable story that takes on big subjects—injustice, love, loss, truth, power, murder—and addresses them in sentences of beauty and clarity informed by deep thought and feeling. Goldsmith, one of the finest minds of his generation, has told an insane tale with a storyteller's flair. This is one of the best works of autobiography that I've read in a very, very long time." —Bill Buford, former fiction editor of The New Yorker and author of Heat and Among the Thugs
"I am one of the world's experts on the July 30, 1975, murder of Jimmy Hoffa. And, now, Jack Goldsmith—with his brilliant research and beautiful writing style—comes along and tells me a whole bunch of things I never knew about that day. Satisfying his curiosity about his stepfather's alleged role in the crime and through his own personal integrity, Goldsmith has advanced the state of evidence of this unsolved mystery, bringing us closer to a final resolution." —Dan E. Moldea, author of The Hoffa Wars
"Some people are born into stories and then live them out beyond anyone's wildest
imagination. That's what happened to Jack Goldsmith, one of the era's heroic jurists. His shadow life across fifty years with a mob-connected stepfather tells a larger and essential story about America.
"The century-long sweep of Goldsmith's narrative brilliantly wraps Jimmy Hoffa, Bobby Kennedy, and Bush and Cheney—as well as long-awaited revelations about what happened to the Teamster King, and themes of class, corruption, meritocratic mendacity, workin' man's blues, prosecutorial perfidy, and the Mob—around a heart-song saga of Chuckie and Jack, a dad and son who search for love across the divides that have riven American.
"This is an extraordinary, muscular adventure story about what's happened to our nation and what's possible for its future. A must-read." —Ron Suskind, author of Life, Animated and The One Percent Doctrine