Play It As It Lays: A Novel (FSG Classics) (Paperback)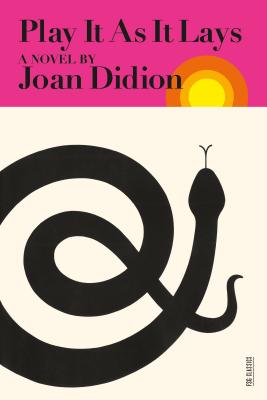 Staff Reviews
---
A tense account of privileged angst in the 1960s, Play It As It Lays
translates shockingly well into the modern mania and neurosis of the
millennial bookseller. This modernist nightmare is as compelling as it
is frightening. That I'm only 30 pages in and I know it's going to
become an often revisited favorite is a good sign.
— Steve(n)
Description
---
A ruthless dissection of American life in the late 1960s, Joan Didion's Play It as It Lays captures the mood of an entire generation, the ennui of contemporary society reflected in spare prose that blisters and haunts the reader. Set in a place beyond good and evil---literally in Hollywood, Las Vegas, and the barren wastes of the Mojave Desert, but figuratively in the landscape of an arid soul---it remains more than three decades after its original publication a profoundly disturbing novel, riveting in its exploration of a woman and a society in crisis and stunning in the still-startling intensity of its prose.
About the Author
---
Joan Didion is the author of many works of fiction and nonfiction, as well as several screenplays written with her late husband, John Gregory Dunne. Her books include The White Album, Play It As It Lays, and Slouching Towards Bethlehem. She lives in New York City.

David Thomson, renowned as one of the great living authorities on the movies, is the author of The New Biographical Dictionary of Film, now in its fifth edition. His books include a biography of Nicole Kidman, The Whole Equation: A History of Hollywood and "Have You Seen . . . ?": A Personal Introduction to 1,000 Films. Born in London in 1941, he now lives in San Francisco.
Praise For…
---
"There hasn't been another American writer of Joan Didion's quality since Nathanel West . . . A terrifying book." —John Leonard, The New York Times
"Simple, restrained, intelligent, well-structured, witty, irresistibly relentless, forthright in diction, and untainted by the sensational, Play It As It Lays is a book of outstanding literary quality." —Library Journal
"[A] scathing novel, distilling venom in tiny drops, revealing devastation in a sneer and fear in a handful of atomic dust." —J. R. Frakes, Book World