The Rule of Thoughts (the Mortality Doctrine, Book Two) (Library Binding)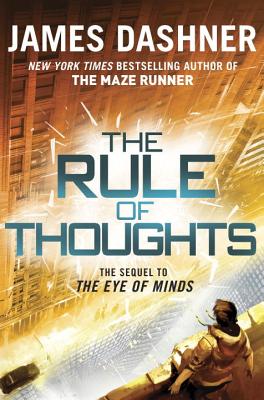 Other Books in Series
Description
---
Reality just became a virtual nightmare in "The Rule of Thoughts" from MAZE RUNNER author James Dashner, the sequel to "The Eye of Minds" and the second book in the edge-of-your-seat MORTALITY DOCTRINE series.
Michael thought he understood the VirtNet, but the truth he discovered is more terrifying than anyone at VirtNet Security could have anticipated.
The cyber terrorist Kaine isn t human. It's a Tangent, a computer program that has become sentient. And Michael just completed the first step in turning Kaine's master plan, the Mortality Doctrine, into a reality. The Mortality Doctrine will populate Earth entirely with human bodies harboring Tangent minds. The VNS would like to pretend the world is perfectly safe, but Michael and his friends know that the takeover has already begun. And if they don t stop Kaine soon, it will be game over for humanity.
From the author who brought you the #1 "New York Times" bestselling MAZE RUNNER series and two #1 movies "The Maze Runner" and "The Scorch Trials" comes an electrifying adventure that takes you into a world of hyperadvanced technology, cyber terrorists, and gaming beyond your wildest dreams . . . and your worst nightmares.
Praise for the Mortality Doctrine Series:
Dashner takes full advantage of the"Matrix"-esque potential for asking what is real. io9.com
Set in a world taken over by virtual reality gaming, the series perfectly capture s] Dashner's hallmarks for inventiveness, teen dialogue and an ability to add twists and turns like no other author. MTV.com
A brilliant, visceral, gamified mash-up of "The Matrix" and "Inception," guaranteed to thrill even the non-gaming crowd. "Christian Science Monitor"
"From the Hardcover edition.
About the Author
---
James Dashner is the author of the #1 "New York Times "bestselling Maze Runner series: "The Maze Runner, The Scorch Trials, The Death Cure, "and "The Kill Order," as well as "The Eye of Minds" and "The Rule of Thoughts," the first two books in the Mortality Doctrine series. Dashner was born and raised in Georgia, but lives and writes in the Rocky Mountains. To learn more about James and his books, visit jamesdashner.com, follow @jamesdashner on Twitter, and find dashnerjames on Instagram. "From the Hardcover edition."