Books On Our Site May Not Be Available In-Store
Is This Book In Stock? Be Savvy! Check availability details beneath the blue "Add to Cart" button.
Shaker: A novel (Hardcover)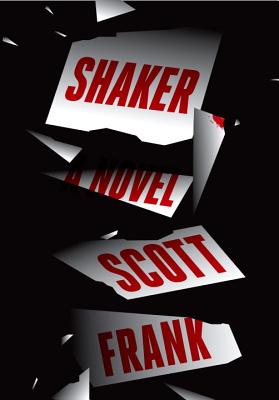 Staff Reviews
---
"Roy Cooper is a button man who is sent to the west coast to take out a problem, and after the job is done, Roy becomes the subject of a viral video that brings nothing but problems. Some gang bangers murder an old man in front of Roy and he is seen as a hero for standing up to them. But attention is the last thing Roy wants because soon the thugs want revenge for their embarrassment, a on-the-outs police detective wants him to answer some important questions about his being in the area of two murders, and an old colleague of Roy's, who was thought to be long dead, surfaces in order to find Roy and pay him back for a long ago wrong. In the background, politicians and people take advantage of the aftershocks to further their own agenda. Full of well developed characters, wickedly plotted and electrifying with twists and turns, this book is a fast read that is like a movie in your head."
— Raul
Description
---
Meet Roy Cooper, stoic, unassuming "errand runner" for various New York criminals. Roy arrives in Los Angeles to shoot a man named Martin Shine a week after a powerful earthquake has knocked out cell service, buckled the freeways, and thrown L.A. into chaos. Roy doesn't know who Shine is or why he has to die, but he does his job and does it well. Except for one thing: after the hit, Roy can't find where he parked his car. Wandering the streets of North Hollywood, he stumbles upon a jogger getting mugged and beaten by four young gangbangers. Despite his attempt to simply put his head down and walk away, Roy winds up in the middle of another killing. Things get more complicated when the murdered jogger turns out to be a controversial mayoral candidate. Roy himself is shot twice, hospitalized in critical condition, and mistaken for a hero when a local resident leaks a video that goes viral. 

Now meet the rest of the cast of characters, including Kelly Maguire, a disgraced LAPD detective with an anger management problem and strange feelings about L.A.'s newest hero; Science, the teenage gangbanger/shooter, who needs to keep Roy quiet about what he's seen; Mayor Miguel Santiago, who finds himself facing accusations that he's just had his opponent whacked; Albert Budin, Roy's onetime mentor and one of the scariest, creepiest characters in recent crime fiction; and myriad criminals, politicians, and cops who all need Roy to disappear—preferably forever.

Finally, meet Scott Frank, who has created not just one of the most entertaining novels of the year but also one of the most surprising. This first novel is fun and funny as well as moving and textured, nuanced and powerful. Shaker is the debut work of fiction by a major new storyteller.
About the Author
---
SCOTT FRANK began his career writing such films as Little Man Tate and Dead Again. His screenplay adaptation for Get Shorty was nominated for a Golden Globe Award and a Writers Guild Award for adapted screenplay. Frank's adaptation Out of Sight received an Academy Award nomination and won a Writers Guild Award. Frank has also written the screenplays for Heaven's Prisoners, Minority Report, The Interpreter, Marley & Me, and The Wolverine. He wrote and made his directorial debut in 2007 with The Lookout, which won the Independent Spirit Award for Best First Feature. Most recently, Frank adapted and directed A Walk Among the Tombstones. Shaker is his first novel.
Praise For…
---
"Frank captures the underbelly of Los Angeles' streets to perfection with sharply written prose and biting dialogue... In Shaker, Frank deftly blends action with flashbacks that allow us to get close to these characters and learn their motivations and flaws. The result is a richly layered crime story that is at times moving, humorous and, more often than not, violently bloody."
    — BookPage

 
"Sometimes you just want to curl up with a mindless thriller about a hit man with a heart of gold. But there's nothing lovable about Roy Cooper, a contract killer who is mistaken for a hero by a nation still in shock in the aftermath of the big California earthquake. And there's nothing mindless about this tale of chicanery in high places, suspicious cops, relentless gangsters, obsessed gangbangers and a stoic killer who just wants everyone to chill out and leave him alone. Read it before author and screenwriter Scott Frank turns it into a classic movie."
    — Pittsburgh Post-Gazette
 

"With its driving narrative, slim chapters and sensational plotline, "Shaker" really moves, and Frank proves himself to be as talented at writing genre fiction as he is at writing entertaining movies, like 1995's 'Get Shorty.' Set against a backdrop of literal seismic upheaval, the novel touches on ideas about politics, justice, race and the powerful bonds of family — both those that we're born into and those that we choose.
 
But this novel's most memorable aspect is its main character, a man who reminds us that in a chaotic world where 'a blade or a bullet didn't have any kind of higher purpose' there's perhaps nothing more dangerous — or more lonely — than 'a man who feels nothing.'"
   —Newsday

 
"SHAKER is a stunning debut novel - a smart thriller that grabs you by the throat from the opening scene and keeps you on edge as it races to the end.  Scott Frank brings an exciting new literary voice to the crime genre - totally unique, with a hint of homage to the great Elmore Leonard."
    — Linda Fairstein
 
 
"Screenwriter Frank's well-plotted first novel will remind readers of Tom Wolfe's novel The Bonfire of the Vanities. Hit man Roy Cooper flies from New York to Los Angeles to kill someone five days after L.A. suffers a major earthquake...Frank integrates Roy's story, complete with flashbacks, with that of Science, one of the young thugs, and of Kelly Maguire, an LAPD officer with a reputation for racism, along the way revealing their inner lives in impressive psychological detail."
    — Publishers Weekly
 
 
"I never give quotes.  But I love thrillers. And SHAKER is the best thriller I've read in years. Someone needed to say that."
    — William Goldman
 
 
"SHAKER is very, very, very good.   Hard core and real in every moment.  Crazy pure characters, instantly alive and unique.  Platinum dialogue – although that was a gimme with Scott Frank – but still.  It's sick and funny and perfectly detailed.   I was even fooled by the end – never saw it coming until I was supposed to.  What's even better is that the title and the seismic device give the whole thing a real weight.  What might've been a deus ex machina is turned on its head, literally.  What are we anyway but pachinko balls just waiting for fate to tap its ash and flip the lever again?   And yeah, it's a page turner."
        — Tony Gilroy, writer and director of  The Bourne Legacy and Michael Clayton
  
 
"The only blurb I've given in the past fifteen years was for BETWEEN THE BRIDGE AND THE RIVER, a brilliant first novel by Craig Ferguson. When some twit called me to task, I told him if he (a) got himself a network TV show and had me on it, and (b) wrote something absolutely dazzling, well, what the hell, I'd give him a blurb, too.
Scott Frank's SHAKER is brilliant and dazzling and everything good. Reading it, it's not hard to believe the author wrote two perfect-pitch adaptations of Elmore Leonard novels. He also wrote and directed a perfect-pitch adaptation of my own A WALK AMONG THE TOMBSTONES, and I figure that's as good as hosting The Late Late Show. This is one hell of a good book, and I can't stop myself from saying so."
—Lawrence Block

 
"'Thriller' is the perfect way to describe SHAKER because it's a rush to read.  It's smart, funny, compelling, and complex.  It's kick ass entertainment."
— Janet Evanovich