Books On Our Site May Not Be Available In-Store
Is This Book In Stock? Be Savvy! Check availability details beneath the blue "Add to Cart" button.
Evel: The High-Flying Life of Evel Knievel: American Showman, Daredevil, and Legend (Hardcover)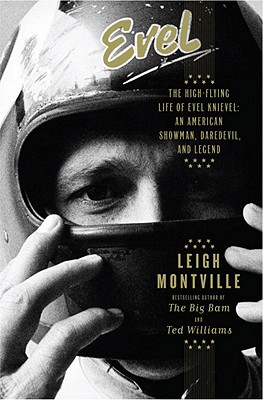 $27.50
It's complicated. Place an order and we will contact you with the expected arrival date.
Staff Reviews
---
"Evel Knievel was an American institution and a living legend for decades, but the reality of the flashy daredevil's life was a disturbing pileup of fear, crime, crushed bones, gasoline, and Wild Turkey. In his academic yet accessible biography, Leigh Montville transcends value judgements to examine the paradox that flew high above the imagination of a generation, as often being blasted to smithereens as emerging from the wreckage."
— Steven
Description
---
From New York Times bestselling author Leigh Montville, this riveting and definitive new biography pulls back the red, white, and blue cape on a cultural icon—and reveals the unknown, complex, and controversial man known to millions around the world as Evel Knievel.

Evel Knievel was a high-flying daredevil, the father of extreme sports, the personification of excitement and dan­ger and showmanship . . . and in the 1970s Knievel repre­sented a unique slice of American culture and patriotism. His jump over the fountains at Caesar's Palace led to a crash unlike anything ever seen on television, and his attempt to rocket over Snake River Canyon in Idaho was something only P. T. Barnum could have orchestrated. The dazzling motorcycles and red-white-and-blue outfits became an integral part of an American decade. Knievel looked like Elvis . . . but on any given Saturday afternoon millions tuned in to the small screen to see this real-life action hero tempt death.

But behind the flash and the frenzy, who was the man? Bestselling author Leigh Montville masterfully explores the life of the complicated man from the small town of Butte, Montana. He delves into Knievel's amazing place in pop culture, as well as his notorious dark side—and his complex and often contradictory relationships with his image, the media, his own family, and his many demons. Evel Knievel's story is an all-American saga, and one that is largely untold. Leigh Montville once again delivers a definitive biography of a one-of-a-kind sports legend.
About the Author
---
Three-time "New York Times "bestselling author LEIGH MONTVILLE is a former columnist at the "Boston Globe "and former senior writer at "Sports Illustrated." He is the author of "The Mysterious Montague," "The Big Bam," "Ted Williams," "At the Altar of Speed," "Manute," and "Why Not Us? "He lives in Boston.
Praise For…
---
"[EVEL] goes beyond the action-figure image, painting Knievel in all his contradictions....Now, in Montville's capable hands, Knievel soars again in all his profane, self-deluded glory." – Sports Illustrated

"In the late 1960s and early 1970s…the coolest man on earth was Evel Knievel….Leigh Montville brings him vividly back in an outlandishly entertaining new biography." New York Post

"If Knievel lived 'as if his pants were on fire,' then his biographer writes like a house on fire…in describing the complex, contradictory stuntman's battles with the demons that would ultimately destroy him, [Montville] pulls out all the stops." – The Free Lance-Star 

"In Evel [Leigh Montville] writes in a florid high style, as if pulling a wheelie across every page. This can be smart, rowdy fun. Mr. Montville tacks the young Knievel to the wall, wonderfully.…He catches the way the wingspans of Knievel's jacket collars were the 'same as a good-size pterodactyl…Evel is never dull." – New York Times

"If you were a young boy, like I was, in the summer of 1974, you talked about two things: Evel Knievel…and Hank Aaron…I hadn't thought much about Evel Knievel in the intervening 35 years until I picked up Leigh Montville's awesome new biography…you'll love Montville's rollicking good tale—told with an Irishman's wink and a nod—of how Knievel blazed across the American consciousness in the late 60's and early 70s….Montville nails it just right." -- The Hollywood Reporter
 
"Montville fully imparts that sense of danger as well as Knievel's mixture of singularly unpleasant personalities—thief, drunkard, brawler, extortionist, womanizer, snake-oil salesman, all-purpose con man—that somehow only enhance the legend. In the end, readers probably will not love or even like Knievel, but they'll know the seamier side of the American dream that much better." Booklist
 
"Bestselling author and veteran sports columnist Montville (The Mysterious Montague: A True Tale of Hollywood, Golf, and Armed Robbery, 2008, etc.) points to the first biography of flamboyant risk-taker Robert Craig Knievel (1938–2007) as a cheaply commissioned, "cockeyed" screenplay (George Hamilton starred, angling for a career revival) based on "a collection of tall tales designed by the man himself to make people perk up and pay attention." It was 1971, and while the film critically tanked, the publicity skyrocketed Knievel's his popularity. Montville's version ably describes his childhood raised by his grandparents in depression-era Butte, Mont., and then as a young, street-educated loner and general troublemaker. Greatly entertaining and anecdotal, the narrative covers the controversial aspects of the high flier's history, tracking Knievel's fearlessness as record-breaking smaller motorcycle tricks gave way to power-tripping death-wish jumps marked by countless broken bones, hospitalizations and even a coma—all observed by wife Linda and their three children. Whether cruising the talk-show circuit in a zebra-striped leisure suit, crashing onto the pavement at Caesar's Palace or serving six months in jail for assaulting an event promoter, Knievel consistently treated his adoring (often aghast) fan base to reckless extravaganzas, increasingly perilous stunts and erratic, unbecoming behavior. Montville confidently narrates Knievel's daredevilry with characteristic panache and presents his subject as a "one man ethical dilemma" who spent the bulk of his career testing the limits of his physical prowess with an unquenchable thirst for fame and fortune. A biography as sensationalist and superior as the daredevil himself." --Kirkus

--Previous Praise for Leigh Montville--

"[Ted Williams is] the complete package—a triumph, unreservedly the best biography of this larger-than-life American."
—Boston Globe
 
"It is unlikely that any reader could view Ted Williams as just a ballplayer ever again."
—New York Times Book Review

"[At the Altar of Speed is]…both a tribute and a candid look at [Dale] Earnhardt. [Montville] has succeeded wonderfully."
—San Antonio Express

"Montville's solid reporting is augmented by a whimsical style that weaves Earnhardt's life, racing career, business ventures, and impact on racing fans into a rich tapestry of racing. The book delivers."
—Times Daily

"[A] vivid, intimate account. Montville's unique voice…makes old yarns seem new."
—Sports Illustrated

"Montville is a wonderful storyteller and Ruth's story, from Baltimore street urchin to international celebrity is indisputably amazing…a fascinating tale, alternately happy and sad, and always artfully written."
—Chicago Tribune