Bats of the Republic: An Illuminated Novel (Hardcover)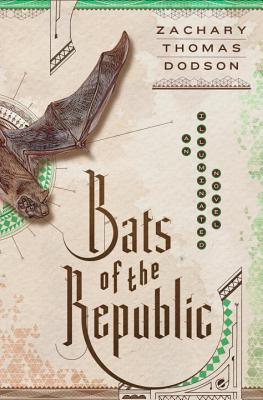 Staff Reviews
---
"A most imaginative book – ambitious in design and presentation! Dodson's literary creation is a fantastic amalgam of mystery, science and historical fiction enhanced by original illustrations. In 1843 in Texas, Zadock Thomas falls in love with the daughter of his employer, Joseph Gray. To keep Zadock from his daughter, Gray him on a quest to deliver a secret letter to a rogue general somewhere in the Republic of Texas. 300 years in the future Republic of Texas, Zeke Thomas must fill the Senate seat left empty after the death of his grandfather, but he is held back by the appearance of an unknown secret letter that may devastate his bloodline. Dodson includes a fictional book within his story, about the Gray family and their uncanny connection to a secretive group of women who dream about the future (that they appear in the Texas of the future with more unearthly powers is a credit to the author's creative genius). Fans of David Mitchell and Mark Z. Danielewski will rejoice at this wondrous work of fiction!"
— Raul
"This book was so fun and refreshing to read. Adventure, romance, science, history - there's something for every reader in this novel that spans from the frontier to the dystopian future. The past and future of the narrative spiral together in a circular motion that is dazzling and impressive."
— Consuelo
— BookPeople
October 2015 Indie Next List
---
"Bats of the Republic is a book connoisseur's dream. It is a propulsive novel -- often a novel within a novel -- that shatters the restraints of genre with brilliance matched only by its complexity and originality. Dodson weaves a story from a past filled with hope and regret with a future rife with promise and dire consequences to keep the reader engaged throughout. Complete with maps and ephemera that make this a singular reading experience, Bats of the Republic is gorgeous, unputdownable, and above all in this day and age, necessary."
— Javier Ramirez, The Book Table, Oak Park, IL
Description
---
"Archetypes of the cowboy story, tropes drawn from sci-fi, love letters, diaries, confessions all abound in this relentlessly engaging tale. Dodson has quite brilliantly exposed the gears and cogs whirring in the novelist's imagination. It is a mad and beautiful thing."
--Keith Donohue, The Washington Post

Winner of Best of Region for the Southwest in PRINT's 2016 Regional Design Awards

Bats of the Republic is an illuminated novel of adventure, featuring hand-drawn maps and natural history illustrations, subversive pamphlets and science-fictional diagrams, and even a nineteenth-century novel-within-a-novel—an intrigue wrapped in innovative design.

     In 1843, fragile naturalist Zadock Thomas must leave his beloved in Chicago to deliver a secret letter to an infamous general on the front lines of the war over Texas. The fate of the volatile republic, along with Zadock's future, depends on his mission. When a cloud of bats leads him off the trail, he happens upon something impossible...
     Three hundred years later, the world has collapsed and the remnants of humanity cling to a strange society of paranoia. Zeke Thomas has inherited a sealed envelope from his grandfather, an esteemed senator. When that letter goes missing, Zeke engages a fomenting rebellion that could free him—if it doesn't destroy his relationship, his family legacy, and the entire republic first.
     As their stories overlap and history itself begins to unravel, a war in time erupts between a lost civilization, a forgotten future, and the chaos of the wild. Bats of the Republic is a masterful novel of adventure and science fiction, of elliptical history and dystopian struggle, and, at its riveting core, of love.
About the Author
---
ZACHARY THOMAS DODSON co-founded featherproof books in 2005 in Chicago. He lives with his wife in Helsinki, Finland.
Praise For…
---
Winner of Best of Region for the Southwest in PRINT's 2016 Regional Design Awards

The Washington Post: Notable Fiction Books of 2015

"Pick up Bats of the Republic and — even before you start reading — you're instantly transfixed. The author, Zachary Thomas Dodson, is a book designer who co-founded Featherproof Books out of Chicago, and his debut novel is a glorious demonstration of what old-fashioned paper can still do in the hands of a creative genius…Bats of the Republic cumulatively becomes a book about the way books are made and the way stories work. Novels, Dodson suggests, are contraptions, jury rigged together with parts of other novels, archived letters, remembered conversations, maps, scraps of info, imagined journeys, and creatures real and strange. Archetypes of the cowboy story, tropes drawn from sci-fi, love letters, diaries, confessions all abound in this relentlessly engaging tale. Dodson has quite brilliantly exposed the gears and cogs whirring in the novelist's imagination. It is a mad and beautiful thing."
--Keith Donohue, The Washington Post
 
"You want a taste of epic Western machinations filtered through epistles and transcripts and stories-within-stories? You want an arcane tapestry of weird fantasy enhanced by transgenerational mysteries and their possible solutions? You want a character-rich and treacherous journey through the ancient Republic of Texas with a reluctant, heartsick emissary from the Museum of Flying, and with his beleaguered blood relative hundreds of years in the mechanically surveilled future? Then you want to experience this thickly threaded wonderment that Doubleday's had the good sense to publish, citizen – you really, really do."
--The Austin Chronicle

"Bats of the Republic is a waking dream of America gone sideways: it's familiar, enchanting, and just pretty damned weird in the most beguiling possible ways. Zachary Thomas Dodson has made a magnificent book."
—Audrey Niffenegger, author of The Time Traveler's Wife

"A richly textured, deeply felt, magical trove of a book."
—Patrick deWitt, author of The Sisters Brothers

"Amazing. Actually amazing. Zachary Thomas Dodson has created a new form to tell his story, and in so doing, he has found a way to fuse adventure to love, weld science fiction to sorrow, and encircle everything in a winsome, mystifying experience of art, illustration, and design.  Like the living secrets its hero finds in the deep, forgotten caves of Texas, Bats of the Republic is itself a hidden, undiscovered beauty."
—Patrick Somerville, author of This Bright River

"In Bats of the Republic, even the surprises are full of surprises."
—Amelia Gray, author of Gutshot and Threats
 
"Incredible … Dodson's vision of American society after the Collapse invokes all our fears of surveillance, nepotism, and discrimination."
—Barnes & Noble Review

"Honestly, this is the most beautiful book I've ever seen."
--Adam Morgan, SF.Signal.com 
 
"Zachary Thomas Dodson's first novel feels destined to make a splash with its sprawling combination of science fiction and mysticism, art and text, western and dystopia … a puzzle box of a novel with beautiful art and astounding breadth of imagination, and the result begs to be opened."
—Shelf Awareness
 
"Dodson's ambitious literary debut combines elements of a Wild West adventure with aspects of a dystopian sci-fi thriller … Extravagant and mesmerizing, Dodson's complex, evocative tale gradually reveals a mythos surrounding love, adventure, and the natural world."
—Booklist
 
"Dodson's debut is a creatively illustrated tale of letters lost and found in the vein of J.J. Abrams and Doug Dorst's S."
—Publishers Weekly
 
"Science fiction, the Old West, a book within a book, and wide-ranging graphics are among the paraphernalia that festoon this tale of bats, bloodlines, witches, and love played out over two centuries."
—Kirkus Reviews
 
"An elaborately designed novel that weaves a 19th-century manuscript into its pages, this story of a future dystopia created through an alternate past (Texas gained independence, for one) is an original and thrilling ride."
—BookPage
 
"A fantastical adventure that stretches from revolutionary-era Texas to twenty-second-century Texas, is festooned with technical diagrams, animal portraiture, and newspaper clippings that somehow never overwhelm the story."
—Texas Monthly
 
"A most imaginative book – ambitious in design and presentation … Fans of David Mitchell and Mark Z. Danielewski will rejoice."
—LitHub
 
"Bats of the Republic is a story that pushes the boundaries of what narrative can do … it invites us into its world as it enters our own."
—The Lit Pub
 
"Zachary Thomas Dodson's novel Bats of the Republic weaves together a pair of narratives, one historical and one science fictional, along with innovative narrative techniques, impressive illustrations, and nestled narrative elements."
—Vol. 1 Brooklyn