My Beautiful Enemy (Heart of Blade #2) (Mass Market)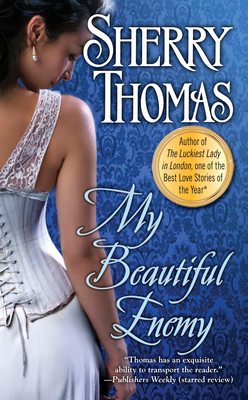 $7.99
It's complicated, and may be unavailable. Place an order and we will contact you with the expected arrival date.
Description
---
In this spellbinding romance by the acclaimed, USA Today bestselling author of The Luckiest Lady in London, a beautiful and cunning woman meets her match in a man just as dangerous and seductive as she is, putting both her heart and her future at risk…  
Hidden beneath Catherine Blade's uncommon beauty is a daring that matches any man's. Although this has taken her far in the world, she still doesn't have the one thing she craves: the freedom to live life as she chooses. Finally given the chance to earn her independence, who should be standing in her way but the only man she's ever loved, the only person to ever betray her.

Despite the scars Catherine left him, Captain Leighton Atwood has never been able to forget the mysterious girl who once so thoroughly captivated him. When she unexpectedly reappears in his life, he refuses to get close to her. But he cannot deny the yearning she reignites in his heart.

Their reunion, however, plunges them into a web of espionage, treachery, and deadly foes. With everything at stake, Leighton and Catherine are forced to work together to find a way out. If they are ever to find safety and happiness, they must first forgive and learn to trust each other again…
About the Author
---
The USA Today bestselling Sherry Thomas is one of the most acclaimed historical romance authors writing today, winning the RITA Award two years running, and appearing on innumerable "Best of the Year" lists, including those of Publishers Weekly, Kirkus Reviews, Library Journal, Dear Author, and All About Romance. She lives in Austin, Texas, with her husband and sons.
Praise For…
---
Praise for My Beautiful Enemy:
"VERDICT With incisive character development, deft pacing, and lyrical, nearly poetic prose, Thomas transports readers....A gripping, mesmerizing romance that is one of Thomas's most unforgettable yet."
--Library Journal (starred review)
"Finding her new book (
My Beautiful Enemy,
Berkley Sensation, Aug.) was like running into an old friend. Thomas has honed her craft to a fine edge, penning exquisite stories of depth and emotion.... I see another RWA RITA Award in Thomas's future."
--Library Journal (BEA pick)
"Fun and beguiling....In Thomas' talented hands, the complex plot flows smoothly...while also exploring ideas of identity, loyalty and love." --
Kirkus Reviews
"I loved this book!
....
Sherry Thomas could have added 200 more pages to this book and I would have kept reading well into the night for a chance to spend a few more hours with this delicious couple." --
All About Romance

~Chosen by NPR as one of their Great Reads of 2014~~Chosen as one of Library Journal's Best Romances of 2014~Praise for Sherry Thomas's previous novel The Luckiest Lady in London:
~Chosen as One of 2013's Best Romances by Library Journal and Kirkus Reviews
~Chosen as One of 2013's Best Love Stories by NPR
"Thomas is known for a lush style…[and] transporting prose even as [she] delivers on heat and emotion and a well-earned happily ever after."  --
The New York Times Book Review 
"A masterpiece...A beautifully written, exquisitely seductive, powerfully romantic gem of a romance."—
Kirkus Reviews (starred review)
"Stellar....Thomas's characters are intelligent and multidimensional, and each scene is espertly crafted and rich in details.  Readers will be immersed in the story from the very first page until the breathtaking conclusion."—
Publishers Weekly (starred review)
"Thomas continues to be a refreshing voice in the genre with her lively plots, witty dialogue and intelligent characters. She compels readers to think, feel, laugh – and, ultimately, heave a deep sigh of satisfaction."—
RT Book Reviews  (Top Pick)Further praise for the novels of Sherry Thomas
"ONE OF THE RISING STARS OF HISTORICAL ROMANCE." —
Booklist 
"THOMAS…HAS MADE A NAME FOR HERSELF WITH HER EXQUISITE USE OF LANGUAGE." —
Library Journal 
"Sherry Thomas…is a rebel, a rule-breaker, and, above all, a romantic…[Her] writing is nothing short of a revelation."—Lisa Kleypas, 
New York Times 
bestselling author
"Ravishingly sinful, intelligent, and addictive. An amazing debut."—Eloisa James, 
New York Times
 bestselling author
"Enchanting…An extraordinary, unputdownable love story."—Jane Feather, 
New York Times 
bestselling author
"Sublime…An irresistible literary treat."—
Chicago Tribune
"Sherry Thomas's captivating debut novel will leave readers breathless. Intelligent, witty, sexy, and peopled with wonderful characters…and sharp, clever dialogue."—
The Romance Reader 
"Thomas makes a dazzling debut with a beautifully written, sizzling, captivating love story...Her compelling tale of love betrayed and then reborn will make you sigh with pleasure."—
RT Book Reviews
"Deft plotting and sparkling characters…Steamy and smart."—
Publishers Weekly
 (starred review)
"Thomas tantalizes readers…An enchanting, thought-provoking story of love lost and ultimately reclaimed. Lively banter, electric sexual tension, and an unusual premise make this stunning debut all the more refreshing."—
Library Journal 
(starred review)
"Historical romance the way I love it."—
All About Romance 
"Big, dramatic, and romantic."—
Dear Author

Sherry Thomas's accolades for her previous novels include:
Best Romances of 2010, Kirkus Reviews 
Best Romances of 2012, Library Journal 
# 10 in Top Romances Since 1970 List Dear Author 
Top Read of 2009, All About Romance