The Sacrifice Box (Hardcover)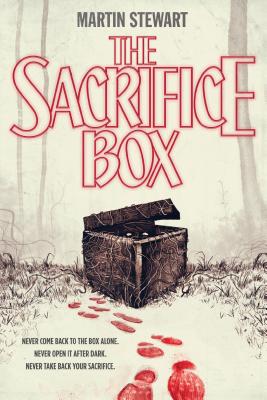 Description
---
A horror story about friendship, growing up, and finding a place in the world: Gremlins meets The Breakfast Club by way of Stephen King and Stranger Things.
In the summer of 1982, five friends discover an ancient stone box hidden deep in the woods. They seal inside of it treasured objects from their childhoods, and they make a vow:
Never come to the box alone. 
Never open it after dark. 
Never take back your sacrifice. 
Four years later, a series of strange and terrifying events begin to unfold: mirrors inexplicably shattering, inanimate beings coming to life, otherworldly crows thirsting for blood. Someone broke the rules of the box, and now everyone has to pay.
But how much are they willing to sacrifice?
About the Author
---
Martin Stewart has previously worked as an English teacher, university lecturer, barman, recycling technician, and golf caddy. A native of Glasgow, he now lives on Scotland's west coast with his wife, baby daughter, and a very big dog. He enjoys cooking with eggs, running on the beach, re-watching his favourite films, and buying books to feed his to-be-read pile. Follow him on Twitter @martinjstewart and Instagram @martin_j_stewart.
Praise For…
---
Praise for The Sacrifice Box:

* "Atmospheric...with brilliantly executed elements of horror and comic relief."--Publishers Weekly, starred review

"Moody and atmospheric, with sardonic humor; a meaty slice of horror."--Kirkus Reviews

"Stewart's lyrical writing is at its best when describing visceral, gruesome horror. . . Cinematic pacing will keep the pagesturning for fans of the genre" --Booklist

"This is an intense, descriptive, and intellectual thriller that will appeal to older teenagers who enjoy horror and suspense novels." --School Library Journal


Praise for Martin Stewart's Riverkeep:

* "Filled with wild adventure and hilarious dialogue, this vivid, engrossing fantasy will delight readers."--Publishers Weekly, starred review

* "An intense bildungsroman as darkly comical as it is terrifying and violent . . . A rich debut: Huck Finn meets Moby-Dick."--Kirkus Reviews, starred review

* "This is a rare work that feels like a sophisticated, gritty folktale, full of impossibilities and dramatic tension, and it is both hilarious and tragic in equal measure."-BCCB, starred review