Beauty Queens (Paperback)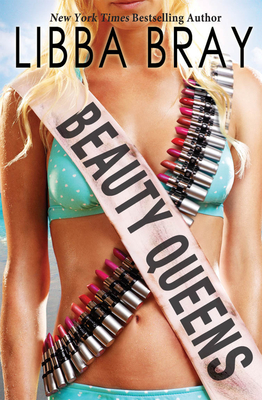 Staff Reviews
---
"In this hilarious novel about identity and survival, Bray examines some of the cultural pressures faced by teen girls in America while satirizing pop culture, politics, and conventional ideas of beauty. This is one of the most original YA titles I've read in a while, and I must confess that while reading it I often laughed so hard I snorted."
— Helen
"With her latest novel, Beauty Queens, staff favorite (and New York Times bestseller) Libba Bray
has wowed us with a satire of our hyper-commercialized image-conscious
modern culture that's wickedly smart, truly funny, and shockingly
relatable. But
the heart of the story truly lies with the beauty queens themselves, whose
isolation on the island (where pageant practice has no meaning) spurs
great surges of self-discovery and self-reliance. Wildly inventive and
surprisingly genuine, this novel deftly tackles some pretty big issues
of identity and culture with a vengeance."
— Meghan G.
Summer 2011 Kids' Next List
---
"Bray's newest novel deserves far more than a simple 'Gilligan's Island meets Lord of the Flies' comparison. Yes it's funny, and yes, it's scary. And of course, you won't be able to put it down until you've read the last page. But this social-comedy adventure is also a masterfully written, inspiring story about being true to yourself, no matter what."
— Ellen Klein, Hooray for Books!, Alexandria, VA
Description
---
From bestselling, Printz Award-winning author Libba Bray, a desert island classic.

Survival. Of the fittest.

The fifty contestants in the Miss Teen Dream Pageant thought this was going to be a fun trip to the beach, where they could parade in their state-appropriate costumes and compete in front of the cameras. But sadly, their airplane had another idea, crashing on a desert island and leaving the survivors stranded with little food, little water, and practically no eyeliner.
What's a beauty queen to do? Continue to practice for the talent portion of the program - or wrestle snakes to the ground? Get a perfect tan - or learn to run wild? And what should happen when the sexy pirates show up?
Welcome to the heart of non-exfoliated darkness. Your tour guide? None other than Libba Bray, the hilarious, sensational, Printz Award-winning author of A Great and Terrible Beauty and Going Bovine. The result is a novel that will make you laugh, make you think, and make you never see beauty the same way again.

About the Author
---
Libba Bray is the author of the 2010 Printz Award winning Going Bovine, and the acclaimed Gemma Doyle trilogy. She lives in Brooklyn, New York.
Praise For…
---
Praise for Beauty Queens:

"'Beauty Queens' is a madcap surrealist satire of the world in which her readers have come of age – reality TV, corporate sponsorship, product placement, beauty obsession – but ultimately, it's a story of empowering self-discovery." – New York Times Book Review

* "Readers will come for the twisted fun and walk away with a whole banquet of questions." – Bulletin of the Center for Children's Books, starred review

* "Whip-smart social commentary, surreal plot elements, and feminist themes come together in this bizarre and brilliant story…. The empowering theme of self-acceptance and the affirming message that women should not underestimate themselves or others makes this novel a potentially life-changing book for budding feminists." – School Library Journal, starred review

"Though the jokes fly thick as unplucked brows, Bray also goes deeper into each character to show how our culture's insidious focus on female perfection keeps girls from being who they are. … Escaping civilization–the best thing that could happen to a teenage girl? Sure looks that way." – Horn Book

"Bray spins this hilarious romp into an examination of femininity and feminism, sex and sexuality." – Booklist