Healthy Child Healthy World: Creating a Cleaner, Greener, Safer Home (Paperback)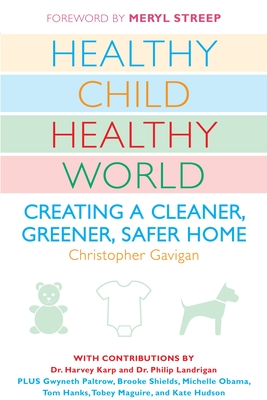 $16.00
It's complicated, and may be unavailable. Place an order and we will contact you with the expected arrival date.
Description
---
Learn how to create a cleaner, greener, safer home with Christopher Gavigan and the trusted experts at Healthy Child Healthy World.

Healthy Child Healthy World is the essential guide for parents! All parents want a happy and healthy child in a safe home, but where do they start? It starts with the small steps to creating a healthier, less toxic, and more environmentally sound home, and this is the definitive book to get you there.

Unfortunately, tens of millions of Americans, overwhelmingly children, now face chronic disease and illnesses including cancer, autism, asthma, allergies, birth defects, ADD/ADHD, obesity/diabetes, and learning and developmental disabilities. The number gets higher each year and more parents ask WHY? Scientific evidence increasingly finds chemicals in everyday products like cleaning supplies, beauty care and cosmetics, home furnishings, plastics, food, and even toys that are contributors to these ailments.

The good news is that you can something to protect your children with a few simple changes!

Inside, you'll find practical, inexpensive, and easy lifestyle advice for every stage of parenting including:

*Advice on preparing a nontoxic nursery for a new baby
*What every expectant mom needs to do to have a safer pregnancy
*Clarifying which plastics and baby products to avoid and the healthier solutions
*Tips to take to the grocery store, including the most and least pesticide-laden fruits and vegetables and the best healthy kid-approved snacks
*Which beauty care / cosmetic products pose the biggest risk to health
*The best recipes for healthy snacks, low-cost and safe homemade cleaners, and non-toxic art supplies
*How to easily minimize allergens, dust, and lead
*A greener garden, yard, and outdoor spaces
*Tips to keep your pets healthy, and the unwanted pests out naturally
*Renovation ideas, naturally fresher indoor air, and safer sleeping options,
*An 27 page extensive shopper's guide to most trusted and best products every home needs

Inside is also packed with over 40 featured contributions from renowned doctors, environmental scientists, and public-health experts like Dr. Harvey Karp, Dr Philip Landrigan, and William McDonough, as well as many celebrity parents like Gwyneth Paltrow, Tobey Maguire, Sheryl Crow, Erin Brockovich and Tom Hanks. A special featured contribution from First Lady Michelle Obama on her best ways of coping with her daughter's asthma.
About the Author
---
For over a decade, Christopher Gavigan has been dedicated to improving the lives of children and families. Gavigan's academic efforts focused on environmental science and geography, and graduate work in both education and child psychology. He has worked as an ecology and sciences professor in the Bay Area and Los Angeles and a child and family holistic interventionist, aswell as founding Pinnacle Expeditions—an outdoor leadership program.

Gavigan currently serves as the Chief Executive Office/Executive Director of Healthy Child Healthy World, the leading nationalnon-profit dedicated to protecting the heath and well-being of children from harmful environmental exposures. Under hisleadership, Gavigan has launched impactful public awareness campaigns reaching millions, has executed a new strategic vision for the organization and has successfully established values-based messaging and collaborative relationships with over 30 social and environmentally driven business partners. He lives in the Los Angeles area with his wife, Jessica Capshaw, and their young son.
Praise For…
---
"Healthy Child Healthy World emphasizes the healthful solutions, the positive, easy-to-follow steps you can take for your family, your home, yourself."—Meryl Streep
 
"This is a book that every single parent needs to read… before they read the What to Expect books or even Dr. Sears' books."—NatureMoms.com