Books On Our Site May Not Be Available In-Store
Is This Book In Stock? Be Savvy! Check availability details beneath the blue "Add to Cart" button.
The Names of Our Tears: An Amish-Country Mystery (Paperback)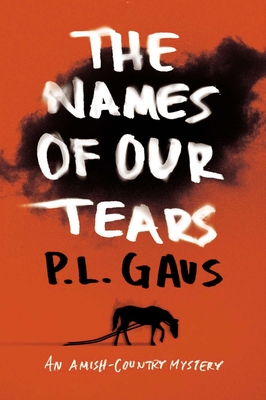 $15.00
Out of Stock; Usually Arrives in 2-5 Days
Description
---
Book 8 of the Amish-Country Mysteries

Ruth Zook returns home to Holmes County, Ohio, carrying a heavy suitcase and a heavier heart. Coerced into becoming a drug mule, Ruth retaliates by destroying her illicit burden and pays for it with her life. When Fannie Helmuth confesses that she was similarly coerced, Sheriff Bruce Robertson realizes that the drug dealers' operation reaches all the way to Florida's Pinecraft Amish community. He immediately moves the investigation South, where more innocent lives are in jeopardy.

Like the bestselling books in Craig Johnson's Walt Longmire series, The Names of Our Tears is a riveting mystery loaded with the page-turning thrills and suspense that readers love.
About the Author
---
Paul Louis Gaus lives with his wife, Madonna, in Wooster, Ohio, just a few miles north of Holmes County, home to the world's largest settlement of Amish and Mennonite people.
Praise For…
---
Praise for P.L. Gaus' Amish-Country Mysteries

"A sensitively observed series."—Marilyn Stasio, New York Times

"Gaus's Amish-Country Mysteries examine the ethical, moral and scriptural nuances of the Amish, and the challenges their community faces co-existing with technology and temptations of the modern world."—Sharon Short, Dayton Daily News (Ohio)

Praise for Clouds without Rain

"Of all the dastardly crimes that might spark a good whodunit, a buggy robbery doesn't seem very promising—unless the author is P. L. Gaus, who writes a discerning series set among the Old Order Amish sects of Holmes County, Ohio... Gaus is a sensitive storyteller who matches his cadences to the measured pace of Amish life, catching the tensions among the village's religious factions."—Marilyn Stasio, New York Times

Praise for Cast a Blue Shadow

"An interesting who-dunit read, keeping me guessing in addition to providing insight into a unique way of life... This insightful novel will satisfy your hunger for a good murder mystery while it subtly educates you on the beliefs and values of a facet of society most know little about."—Bonnie Papenfuss, The Sahuarita Sun (Arizona)

Praise for Harmless as Doves

"For more than a decade, P. L. Gaus has been writing quietly spellbinding mysteries about one such group, the conservative Old Order Amish of Holmes County, Ohio... [A] sensitive account of the impact on this community when outsiders (that is, the cops) descend to deal with an Amish youth who has confessed to the murder of his fiancee's older, richer and very persistent admirer."—Marilyn Stasio, New York Times

"Gaus spins a fine mystery with a strong background of Amish faith and plenty of detail on the difficulties the Amish face in the modern age."—Michele Leber, Booklist

"What makes this book stand out as exceptional is the method in which Gaus describes events. There is intrigue, tenderness, religion, and much conflict... Blending of old-world culture with modern detective work makes this continuation of the same characters in key roles with different murders a true mystery series... If you like good mysteries, without salacious sex or mayhem, and adash of religion mixed in, you will want to read this book... A four star book and is highly recommended."—Clark Isaacs, Reviewer's Bookwatch

Praise for The Names of Our Tears

"Series regulars Professor Michael Branden, in Pinecraft, and Pastor Cal Troyer provide comfort and continuity in this eighth Amish-country mystery. Loose ends in the murder case lend realism and augur well for the next installment."—Michele Leber, Booklist

Praise for Separate from the World

"With each new mystery, P. L. Gaus treats us to yet another view of life among the Old Order Amish in Wayne County, Ohio... [H]e has great admiration for the Amish themselves, writing with quiet gravity about aspects of their lives rarely shown to strangers."—Marilyn Stasio, New York Times

"The latest in this too-little-known series again combines a fascinating, realistic look at an Amish community in Ohio with a gently satiric take on academic life."—Barbara Bibel, Booklist