Books On Our Site May Not Be Available In-Store
Is This Book In Stock? Be Savvy! Check availability details beneath the blue "Add to Cart" button.
Until She Comes Home (Hardcover)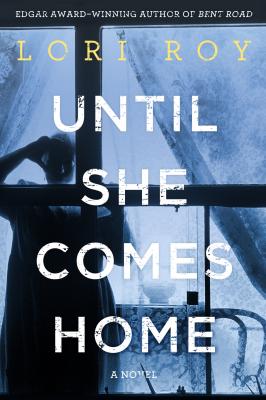 Description
---
Winner of an Edgar Award for Best First Novel for "Bent Road," Lori Roy returns with "Until She Comes Home," a tale of spellbinding suspense in which a pair of seemingly unrelated murders crumbles the facade of a changing Detroit neighborhood.
In 1958 Detroit, on Alder Avenue, neighbors struggle to care for neighbors amid a city ripe with conflicts that threaten their peaceful street.
Grace, Alder's only expectant mother, eagerly awaits her first born. Best friend Julia prepares to welcome twin nieces. And Malina sets the tone with her stylish dresses, tasteful home, and ironfisted stewardship of St. Alban's bake sale.
Life erupts when childlike Elizabeth disappears while in the care of Grace and Julia. All the ladies fear the recent murder of a black woman at the factory on Willingham Avenue where their husbands work may warn of what has become of Elizabeth, and they worry what is yet to become of Julia the last to see Elizabeth alive.
The men mount an around-the-clock search, leaving their families vulnerable to sinister elements hidden in plain sight. Only Grace knows what happened, but her mother warns her not to tell. No man wants to know this about his wife. Ashamed that her silence puts loved ones in harm's way, Grace gravitates toward the women of Willingham Avenue, who recognize her suffering as their own. Through their acceptance, Grace conquers her fear and dares to act.
On Alder Avenue, vicious secrets bind friends, neighbors, and spouses. For the wicked among them, the walk home will be long.
About the Author
---
LORIROY lives with her family in west central Florida. She is the author of the Edgar(r)-Award winning novel "Bent Road.""
Praise For…
---
Praise for Until She Comes Home

"A quietly shocking novel." - The New York Times Book Review 

"Roy makes every detail count as she builds her characters and gently but inexorably leads them to reexamine their own lives. What seems to begin in the glowing warmth of a homey kitchen transforms into a probing emotional drama that speaks powerfully to women about family, prejudice, power...and secrets." - Booklist (starred review)

"Lori Roy has entered the arena of great American authors shared by Williams, Faulkner and Lee." - Bookreporter

"A beautifully written, at times lyrical, study" - Kirkus (starred review)

"Roy's troubling novel leaves readers guessing until the end." -Library Journal

"Roy has created a tour-de-force of mood and suspense...Seeing the marvels she can create with words, we can only hope she'll continue to share her talent with readers." - Bookpage

"This is a superb, tense suspense tale that's one of the year's best crime novels." - Lansing State Journal

"Roy delivers a timeless story that gives shape to those secrets and tragedies from which some people never recover." – Sun Sentinel

"I was blown away by Ms. Roy's writing style. Days after finishing this novel, I'm still thinking about how well l she brought the setting and characters to life." – Booking Mama (Blog)

"Roy's language pulses with so much subtle tension…Days after finishing this, the lives of these women still haunted me." – Milwaukee Journal Sentinel

"[Roy] is not suffering from sophomore slump — Until She Comes Home is a suspenseful, atmospheric work of crime fiction as well as a clear-eyed look at relationships between the sexes and the races in mid 20th century America." – Tampa Bay Times

Meg Gardiner, Edgar Award Winning author of The Shadow Tracer, Interviews Lori Roy

Meg: In your novels secrets are rife, and corrosive. Blame, guilt, and shame eat at your characters. Much of the suspense arises from wondering who deserves that blame—for awful, desperate crimes—and whose secrets will be exposed. Who's going to suffer, who's going to punish others, and how violent will it be? The books have a thrumming, nerve-tightening tension, a sense that confrontations are inevitably building toward explosion. My question: How do you tighten the screws so effectively? What's your secret?

The only thing I can say with certainty is that I have no secret. As you know, as every writer knows, it's all about putting our fingers to our keyboards. I do believe the most crucial ingredient to great suspense is building great characters. I work hard to create well-rounded characters who will linger with the reader. The more attached we are to the characters in the books we read, the more we will be invested in what happens to them and the greater the suspense.

Death and the threat of violent destruction haunt the families in your novels. But—especially in Until She Comes Home—the police are a marginal presence. Their appearance in a neighborhood signals fear and disruption. Is there a reason you keep the cops at the edge of the story?

Many great writers are out there writing novels that are focused on the investigation, and I know that structure is not in my strike zone. As my plotlines unfold, in a slow and messy fashion, I find myself more interested in the struggles of the people impacted by the crime and less interested in the investigation. I am drawn to writing about good people, average people who are thrown into an extraordinary event. It's through these events that I force my characters to make decisions and take actions that will define them. This is what interests me as a writer and what will hold my attention for the many months and years I spend with a novel.

Until She Comes Home is set in 1958. Your Edgar-winning debut, Bent Road, is set in 1967. What drew you to write about those times?

I always struggle to answer this question. The obvious advantages to setting a story in the past are that a writer avoids the technology of today, but that's not what draws me to the past. While many things have changed over the years, the significant things have not. I am fascinated as I write my stories to find that those who lived long struggled with the same things we struggle with today. People fell in love then as they do today. They argued, reconciled, felt loneliness, felt joy, felt fear, just as they do today. As a writer, seeing this bridge across the decades reinforces that despite our differences—be it the era in which we live, where we live, our sex, our race, our wealth—we're not so different after all.

Why Detroit? Bent Road features a family that has fled the city for the supposed sanctuary of the Kansas family farm. Until She Comes Home takes place in Detroit a decade earlier, when social earthquakes are beginning to shift the ground beneath the story's middle class, white, mostly blue collar neighborhood. You're from Kansas, and live in Florida. What drew you to write about the Motor City?

All my work begins with setting. It's the first thing that inspires me. I like a gritty setting that will press down on my characters and add to their struggles. When researching Bent Road, which features a family who flees Detroit in the wake of the 1967 riots, I did a great deal of research about Detroit and immediately fell in love with the city. Even before finishing Bent Road, I knew my next novel would be set in Detroit.

Your novels bring the '50s and '60s vibrantly alive, almost as though those decades are right here, just within reach. You're clearly too young to have grown up in those times—how did you bring them to life?

I do quite a bit of research before I begin writing a novel, but not the type of research that includes dates and names and places, although I do some of that, too. I spend time soaking up the era through vintage catalogs, newspapers, cook books, home movies and novels written during the time. These types of sources give great insight into the language and tone of whatever year I am exploring. I found the cook books and catalogs of particular help in writing Until She Comes Home because the novel features three women who place great importance on their home and their appearance. While browsing the pages of a catalog, I could imagine one of my characters slipping her feet into the sensible pumps with the two-inch heels pictured on page 194 of the 1958 Sears Catalog or grinding her meat with the cast-iron meat grinder found on page 1180. I believe these small things, these common items, bring an era to life and at the same time, build character.

Where did the idea for Until She Comes Home originate? How did you develop your initial thoughts into such a suspenseful story, set in such richly drawn world?

Other than the city of Detroit, a pair of white gloves first inspired me. I imagined a world where, if a handbag hung from a woman's arm, she wore a pair of white gloves. I imagined a woman who boarded a bus one morning along with all the other ladies. The woman realized she had forgotten her gloves. Something tragic had happened that made her forget. As she rode the bus to Willingham Avenue where she would do her daily shopping, the woman was ashamed, hid her hands in her lap. What had happened to this woman to make her forget her white gloves?

Your novels are complex—they're as much about family, community, and social strictures as they are about catching murderers. Did you always want to write crime/mystery/suspense? As you wrote Until She Comes Home, did you even think of it as writing a mystery?

As I work, I think primarily about writing the book I want to read and not so much about the genre. I want to read a book that has great characters, an engaging voice, subtle themes and haunting settings, but I also want a plot that will make me turn the pages late into the night. I find myself writing to uncover what happened as opposed to deciding what will happen. It's a frustrating process that is often derailed by my characters so that I must cut, rewrite, reorganize, and try again.

You were once an accountant. How did you make the transition to writing? Do you ever miss adding for a living?

Let me first say that I do not miss adding for a living. At a cocktail party, no one wants to talk to the accountant. (My apologies to the accountants as I would be happy to talk with you.) I left the corporate world when my first child was about three years old. I wanted to stay home with him and I also wanted to continue to build a career for myself. This is when I started writing. I worked on my own for several years, attended a few writers conferences where I met some writer friends, and after writing for about eight years, I sat down to write Bent Road. It's worth saying again…I do not miss adding for a living.

The night you won the Edgar for Best First Novel, you were gracious and eloquent, but looked like you'd been jabbed with a stun gun. What do you recall from that evening? How have things changed for you in the last year?

The Edgars was a lovely event. I shared it with my editor, Denise Roy, my agent, Jenny Bent, many fine folks from Dutton and with you and your husband. I remember shaking hands with Mary Higgins Clark as she handed me the Edgar. I remember hoping my hose didn't run. I remember the champagne was pink. But mostly I remember slipping on my Levis and Converse after the festivities were over, walking the streets of Manhattan with my husband and buying a hot dog from a street vendor. It was the greatest hot dog ever. As to how life has changed…I'm a bit busier, I travel a bit more, I pack a bit lighter, but the writing is the same. I do it every day, if only for a few minutes. It's all about the next book.

Praise for Lori Roy's Bent Road

"Bent Road is a remarkably assured debut novel. Rich and evocative, Lori Roy's voice is a welcome addition to American fiction." –Dennis Lehane

"Don't be fooled by the novel's apparent simplicity: What emerges from the surface is a tale of extraordinary emotional power, one of longstanding pain set against the pulsating drumbeat of social change." –Sarah Weinman, NPR.org

"A former tax accountant, author Roy is calculated in the way she builds and eases tension . . . even the simplest scenes crackle with suspense." –Beth Perry, People

"Lori Roy masterfully mixes a noir approach with gothic undertones for an engrossing story about family secrets and tragedies. . . . Bent Road is one of the best debuts of 2011." –Oline Cogdill, McClatchy-Tribune News Service

"Bent Road, Lori Roy's debut novel, is haunting and atmospheric, set in a place where 'everyone knows everything about everybody,' yet acts on misinformation and half-truths, with devastating consequences." –Michelle Wiener, Associated Press

"Haunting . . . Writing with a delicate touch but great strength of purpose, Roy creates stark studies of the prairie landscape and subtle portraits of the Scotts as they struggle to adjust not only to their rural surroundings but to their troublesome relatives and taciturn neighbors." –Marilyn Stasio, The New York Times Book Review

"Psychological acuity, tight plot and in-depth character development keep the reader trying to resist the urge to read ahead." –The Kansas City Star

"Bent Road is a winner. A suspenseful example of American Gothic, its shocking twists and turns will keep you turning page after page . . . Expect the unexpected, and you'll get it." –Seattle Post-Intelligencer

"As a mystery novel, Bent Road delivers: The storytelling is taut, suspenseful and compelling." –William J. Cobb, The Dallas Morning News

"Roy uses spare and elegant language to depict the increasing tension . . . Bent Road provides readers with an unsettling example of American Gothic." –Mystery Scene

"May be a Tana French-like breakout." –Nora Rawlinson, Early Word

"Roy's outstanding debut melds strong characters and an engrossing plot with an evocative sense of place. . . . Roy couples a vivid view of the isolation and harshness of farm life with a perceptive look at the emotions that can rage beneath the surface. This Midwestern noir with gothic undertones is sure to make several 2011 must-read lists." –Publishers Weekly, starred review

"This rich and haunting family story reminds us that simplicity of landscape does not necessarily mean simplicity of life. Roy's exceptional debut novel is full of tension, complex characters, and deftly gothic undertones. Readers of Tana French's In the Woods will find this dark and satisfying story a great read." –Library Journal, starred review

"[T]he plot twists and turns . . . This odd, dark and often creepy tale of a dysfunctional community and a family that fits right in will keep readers wondering right until the last page." –Kirkus, starred review

"Roy excels at creating the kind of ominous mood that is unique to the novel's small-town setting, in which the church holds sway and secrets are locked up tight. Terrifying and touching, the novel is captivating from beginning to end." –Booklist

"Dropping us in a world of seeming simplicity, in a time of seeming calm, Lori Roy transforms 1960s small-town Kansas into a haunting memoryscape. Bringing to mind the family horrors of Jane Smiley's A Thousand Acres and the dark emotional terrain of Tana French's In the Woods, Bent Road manages to be both psychologically acute and breathtakingly suspenseful, burrowing into your brain with a feverish power all its own." –Megan Abbott, author of Queenpin, winner of an Edgar Award

"In her promising debut novel Bent Road, Lori Roy proves that dark secrets hide even in the most wide-open places. Set in the beautifully rendered Kansas plains, "Bent Road" is a family story with a suspenseful Gothic core, one which shows that the past always has a price, whether you're running from it or back toward it. Crisp, evocative prose, full-blooded characters, and a haunting setting make this debut stand out." –Michael Koryta, author of The Ridge and So Cold the River