Beauty Queens - Audio (CD-Audio)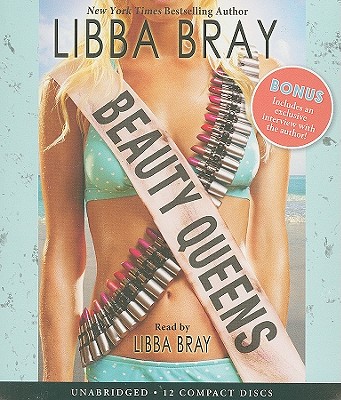 $44.99
It's complicated, and may be unavailable. Place an order and we will contact you with the expected arrival date.
Staff Reviews
---
"In this hilarious novel about identity and survival, Bray examines some of the cultural pressures faced by teen girls in America while satirizing pop culture, politics, and conventional ideas of beauty. This is one of the most original YA titles I've read in a while, and I must confess that while reading it I often laughed so hard I snorted."
— Helen
"With her latest novel, Beauty Queens, staff favorite (and New York Times bestseller) Libba Bray
has wowed us with a satire of our hyper-commercialized image-conscious
modern culture that's wickedly smart, truly funny, and shockingly
relatable. But
the heart of the story truly lies with the beauty queens themselves, whose
isolation on the island (where pageant practice has no meaning) spurs
great surges of self-discovery and self-reliance. Wildly inventive and
surprisingly genuine, this novel deftly tackles some pretty big issues
of identity and culture with a vengeance."
— Meghan G.
Summer 2011 Kids' Next List
---
"Bray's newest novel deserves far more than a simple 'Gilligan's Island meets Lord of the Flies' comparison. Yes it's funny, and yes, it's scary. And of course, you won't be able to put it down until you've read the last page. But this social-comedy adventure is also a masterfully written, inspiring story about being true to yourself, no matter what."
— Ellen Klein, Hooray for Books!, Alexandria, VA
Description
---
From bestselling Printz Award-winning author Libba Bray, the story of a plane of beauty pageant contestants that crashes on a desert island.


FORMAT: 10 CDs, Unabridged
NARRATOR: TBA

Teen beauty queens. A "Lost"-like island. Mysteries and dangers. No access to e-mail. And the spirit of fierce, feral competition that lives underground in girls, a savage brutality that can only be revealed by a journey into the heart of non-exfoliated darkness. Oh, the horror, the horror! Only funnier. With evening gowns. And a body count.
About the Author
---
Libba Bray is the author of the 2010 Printz Award winning Going Bovine, and the acclaimed Gemma Doyle trilogy. She lives in Brooklyn, New York.