Leviathan (Leviathan Trilogy) (Prebound)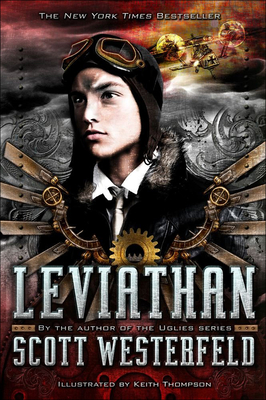 Staff Reviews
---
"In 1914 the death of Austrian Archduke Ferdinand plunges the world into sudden war. And as the British Darwinists set their genetically-engineered beasts of battle against the German Clankers' steam-driven versions, fact and fiction become fantastically fused in this masterful mash-up of re-written history and Steampunk flair."
— Meghan G.
"I'm about 3-4 chapters in and it's really good so far. It's the debut
title by this author, and he's created another great YA fiction series.
It's the rare action series for guys. It's this alternate, steam-punk
WWI setting with lots of robots and other stuff I like. The writing is
really good, and the characters are really inventive. They're not your
usual teen characters that you see in YA books. They're not angsty
teenagers with only modern problems. But, it might be this unique
setting and lends to different problems for the main character. The main
character is Austrian royalty at the start of WWI. He has to learn how
to control a county and a robot army. He's got adult problems, and not
just the complexity of puberty and girls. I'm really looking forward to
the next two in the series."
— John G
Winter 2009 Kids' List
---
"Leviathan is a fantastic and beautifully illustrated steampunk version of The Great War. In this alternate universe, the Clankers put their faith in elaborate steam-powered machines and the Darwinists manage huge living airships that are whole ecosystems. But this is mostly the story of two 15-year-olds who are both hiding secrets. Prepare yourself for an adventurous ride."
— Joanne R. Fritz, Chester County Book & Music Company, West Chester, PA
Description
---
Now in paperback, the "New York Times" bestselling launch of Westerfeld's masterful series that SLJ reviewd as "sure to become a classic.