Quiet: The Power of Introverts in a World That Can't Stop Talking (Prebound)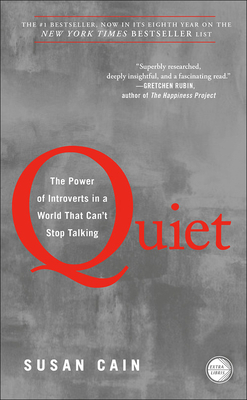 $30.60
Out of Stock; Usually Arrives in 2-5 Days
Staff Reviews
---
This book is about YOU! Whether you are reserved and introverted or you know someone who is, this book will change your perspective on life.
— Cindy K
"It's about introverts and how they have have to deal with an extremely
extrovert-centric society. The book explains there are benefits to being
quiet instead of just talking all the time. Cain backs up a lot of what
she has to say with some serious research conducted over the last 30-40
years specifically focusing on personalities. The conclusion is, of
course, that both have their advantages, however the book makes the more
important point that one personality type shouldn't have to outshine
the others. I'm an introvert, and the book helped me really understand
how to work with my environment. It gives a great example about how a
lot of businesses are going to the mostly open-office environment and
even schools are beginning to adopt that policy. As the book points out,
the research shows that having that extroverted office environment
doesn't necessarily increase productivity. Those environments are
usually dominated by those who are okay with throwing around ideas out
loud. So, it can be very stifling. I experienced that in college. But,
there are examples like Google: a company attempting to integrate both 
alone areas to collect your thoughts and recharge as well as open areas
for collaborative thinking."
— Meredith
February 2012 Indie Next List
---
"This is a wonderfully important book which just may help the human race survive and thrive. In a clear and readable style, combining emerging science and sociological perspective as well as deep empathy and intelligence, Cain does a superb job of making us think. Readers will recognize behaviors at both ends of the introvert/extrovert personality spectrum as well as everything in between and will feel empowered to find their own comfort level for living."
— Karen Frank, Northshire Bookstore, Manchester Center, VT
Description
---
At least one-third of the people we know are introverts. They are the ones who prefer listening to speaking, reading to partying; who innovate and create but dislike self-promotion; who favor working on their own over brainstorming in teams. Although they are often labeled "quiet," it is to introverts that we owe many of the great contributions to society--from van Gogh's sunflowers to the invention of the personal computer. Passionately argued, impressively researched, and filled with indelible stories of real people, Quiet shows how dramatically we undervalue introverts, and how much we lose in doing so. Taking the reader on a journey from Dale Carnegie's birthplace to Harvard Business School, from a Tony Robbins seminar to an evangelical megachurch, Susan Cain charts the rise of the Extrovert Ideal in the twentieth century and explores its far-reaching effects. She talks to Asian-American students who feel alienated from the brash, backslapping atmosphere of American schools. She questions the dominant values of American business culture, where forced collaboration can stand in the way of innovation, and where the leadership potential of introverts is often overlooked. And she draws on cutting-edge research in psychology and neuroscience to reveal the surprising differences between extroverts and introverts. Perhaps most inspiring, she introduces us to successful introverts--from a witty, high-octane public speaker who recharges in solitude after his talks, to a record-breaking salesman who quietly taps into the power of questions. Finally, she offers invaluable advice on everything from how to better negotiate differences in introvert-extrovert relationships to how to empower an introverted child to when it makes sense to be a "pretend extrovert." This extraordinary book has the power to permanently change how we see introverts and, equally important, how introverts see themselves.
About the Author
---
SUSAN CAIN is the author of the acclaimed "New York Times "bestseller"QUIET: The Power of Introverts in A World That Can't Stop Talking, "which is being translated into over thirty languages and was named the #1 best book of the year by "Fast Company" magazine. Cain's book was the subject of a TIME magazine cover story, and her writing has appeared in the "The New York Times; The Atlantic; The Wall Street Journal; O, The Oprah Magazine;" Salon.com;""Time.com; PsychologyToday.com, and other publications. Cain has also spoken at Microsoft, Google, the U.S. Treasury, and West Point. Her record-smashing TED talk has been viewed over 4 million times, and was named by Bill Gates as one of his all-time favorite talks.

She has appeared on national broadcast television and radio including CBS "This Morning," NPR's "All Things Considered," NPR's "Diane Rehm," and her work has been featured in "The New Yorker, Harvard Business Review, The Atlantic, Wired, Fast Company, Real Simple, Fortune, Forbes, PEOPLE, Scientific American, USA Today, The Washington Post, CNN, "Slate.com, and many other publications. She is an honors graduate of Princeton and Harvard Law School. She lives in the Hudson River Valley with her husband and two sons. You can visit her at www.thepowerofintroverts.com., and follow her on twitter (@susancain).