Little Owl's Night (Hardcover)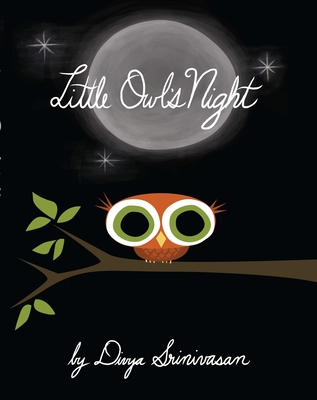 Staff Reviews
---
"Little Owl is having a wonderful night. He soars through the inky night sky, stretching his wings, surveying his domain, and visiting with all his friends--except Bear who just won't stop snoring! Young readers will love this gentle nighttime tale and will adore little Owl and his irresistibly enormous owl eyes even more!"
— Meghan
Description
---
It's evening in the forest and Little Owl wakes up from his day-long sleep to watch his friends enjoying the night. Hedgehog sniffs for mushrooms, Skunk nibbles at berries, Frog croaks, and Cricket sings. A full moon rises and Little Owl can't understand why anyone would want to miss it. Could the daytime be nearly as wonderful? Mama Owl begins to describe it to him, but as the sun comes up, Little Owl falls fast asleep.

Putting a twist on the bedtime book, Little Owl's Night is sure to comfort any child with a curiosity about the night.
About the Author
---
Divya Srinivasan (www.pupae.com) lives in Austin, Texas. Little Owl's Night is her first book.
Praise For…
---
Praise for LITTLE OWL'S NIGHT by Divya Srinivasan:"This debut picture book gets it all just right. The story, while familiar, is executed deftly and with heart, and the crisp graphic elements of the artwork juxtapose well against the pretty prose." --Booklist, starred review "The story's chief virtue is its graceful, balletic prose... It's a provocative inversion of the classic bedtime story, and a solid first outing. Srinivasan's message is that night is a delightful place, and that's useful knowledge for small children." --Publisher's Weekly "A graceful bedtime story celebrates the beauty found in night... Hold on to Little Owl's tail feathers and soar." --Kirkus Reviews"This exceptional first book by Srinivasan, a talented illustrator... follows Little Owl during his nighttime explorations... this bedtime tale may even convert children who are afraid of the dark into adventuresome night owls" -New York Times Book Review"This is the most visually and verbally gorgeous picture book of the year... Simple, dazzling - and simply dazzling." --The Boston Globe