Shoot the Piano Player (Paperback)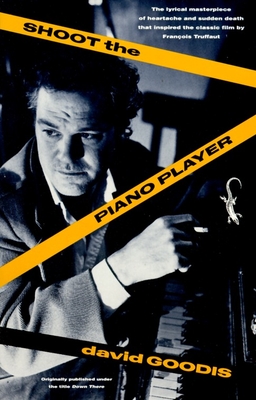 $15.00
Out of Stock; Usually Arrives in 2-5 Days
Staff Reviews
---
David Goodis, in all his work, told human stories of desperate individuals, and each of his novels leaves the reader feeling shattered by the end, yet Shoot The Piano Player, partially because of its artistic antihero and bleak portrayal of a musician's world, has stuck with me the most, through the years.

— Molly
Description
---
Once upon a time Eddie played concert piano to reverent audiences at Carnegie Hall. Now he bangs out honky-tonk for drunks in a dive in Philadelphia. But then two people walk into Eddie's life--the first promising Eddie a future, the other dragging him back into a treacherous past.

Shoot the Piano Player is a bittersweet and nerve-racking exploration of different kinds of loyalty: the kind a man owes his family, no matter how bad that family is; the kind a man owes a woman; and, ultimately, the loyalty he owes himself. The result is a moody thriller that, like the best hard-boiled fiction, carries a moral depth charge.
About the Author
---
David Goodis (1917-1967), born in Philadelphia, was a screenwriter and author of crime fiction well known for his novel Dark Passage. He wrote the screenplay for Dark Passage which starred Humphrey Bogart and Lauren Bacall. He had received a B.A. in Journalism from Temple University in 1938.