Books On Our Site May Not Be Available In-Store
Is This Book In Stock? Be Savvy! Check availability details beneath the blue "Add to Cart" button.
Shakey: Neil Young's Biography (Paperback)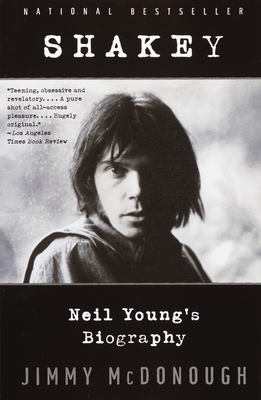 Description
---
Neil Young is one of rock and roll's most important and enigmatic figures, a legend from the sixties who is still hugely influential today. He has never granted a writer access to his inner life - until now. Based on six years of interviews with more than three hundred of Young's associates, and on more than fifty hours of interviews with Young himself, Shakey is a fascinating, prodigious account of the singer's life and career. Jimmy McDonough follows Young from his childhood in Canada to his cofounding of Buffalo Springfield to the huge success of Crosby, Stills, Nash and Young to his comeback in the nineties. Filled with never-before-published words directly from the artist himself, Shakey is an essential addition to the top shelf of rock biographies.
About the Author
---
Jimmy McDonough is a journalist who has contributed to such publications as Variety, Film Comment, Mojo, Spin, and Juggs. But he is perhaps best known for his intense, definitive Village Voice profiles of such artists as Jimmy Scott, Neil Young, and Hubert Selby, Jr. Jimmy is also the author of The Ghastly One: The Sex-Gore Netherworld of Filmmaker Andy Milligan. He lives in the Pacific Northwest.
Praise For…
---
"Jimmy McDonough's fat, teeming, obsessive, and revelatory biography of Young is a pure shot of all-access pleasure. . . . Hugely original." —Los Angeles Times Book Review

"Just as unmanageable, hard-headed, overzealous, and ultimately endearing as Young himself . . . A maddening, beguiling portrait of an elusive maverick . . . A glorious mess." —San Francisco Chronicle Book Review

"An exhilarating match-up of author and subject makes Shakey a great, gripping read. . . . A must-read for anyone who cares about Neil Young." —Rolling Stone

"Staggeringly thorough . . . McDonough gets it all: the chaos, the grandeur, the good times and dreary deaths, the alcohol- and drug-besotted recording sessions, the broken hearts, and the sheer unfettered joy of a seriously gifted artist." —Salon

"The definitive book on the subject." —The Washington Post

"Exhaustive, quarrelsome, and sometimes maddening . . . there are revelations in abundance." —The New York Times Book Review

"Where the average rock-star biography is a tepid, toothless thing, McDonough has approached his task like a literary Terminator, steaming ahead with lethal thoroughness. One of the most penetrative studies of a rock icon ever written." —Times (London)

"A mammoth portrait of the artist and lively exhumation of rock n roll history. . . . [McDonough] traces a rich turbulent career in vivid detail." —The New York Times

"Imaginatively written...not only is Shakey an extraordinary literary feat of research and affection and endurance, it's an insight into the art of biography itself."—Fort Worth Star-Telegram

"Delves further into the life and motives of one of music's most private individuals than anything previously released. . . surprisingly comprehensive and thoroughly enjoyable. . . .The most detailed portrait of this shrouded artist to date." —San Jose Mercury News

"Exhaustively researched, impressively detailed. . . The long passages in which McDonough steps aside to let Young talk are the most revealing. 'One day I'm a jerk,' Young says, 'the next day I'm a genius.' This book argues artfully for the latter."—People

"Like meeting Brando's Kurtz in a cave at the end of Apocalypse Now. . . . Young comes across as a Jekyll-and-Hyde loner whose life has unfolded like a reckless chemistry experiment -- a control freak on an endless quest for the uncontrolled moment." —Macleans (Canada)

"McDonough is an avid fan, music critic and impartial journalist all in one. . . . [He] deftly weaves Young's life, actions and art together. . . . What was known of Young's life before was akin to a series of rough demos. In Shakey, McDonough delivers a full double-album." —Rocky Mountain News

"Does what most rock bios don't: It fails to fawn, it delivers the juice, it subjects the hero to the scrutiny and disappointment of a fan. . . A page-turning good read.."—Houston Chronicle

"Fascinating reading. . . McDonough gives us as good a look at [Young's] cards as we're likely to get." —The Tampa Tribune

"[Shakey's] unprecedented access makes for an entertaining read: McDonough, more than any music journalist since Peter Guralnick in his authoritative Careless Love: The Unmaking of Elvis Presley, has succeeded in stripping a star of his iconography."—The Observer (London)

"Crammed with razor-sharp insights and mind-boggling detail, Shakey is a rock-solid literary triumph, as inspired and inspiring as the eccentric figure it evokes with such frustrated devotion." — The Guardian (London)

"McDonough . . . pores through Young's life with vivid prose and blunt detail, and he is unashamed to insert some stinging opinions. In his probing conversations with Young, . . . he challenges the formidable artist in ways that few others would dare." —Pittsburgh Post-Gazette

"It's hard to imagine anyone trying to better this book. . . It has what Young values above all else. . . passion."—Evening Standard (London)