Choke (Movie Tie-in Edition) (Compact Disc)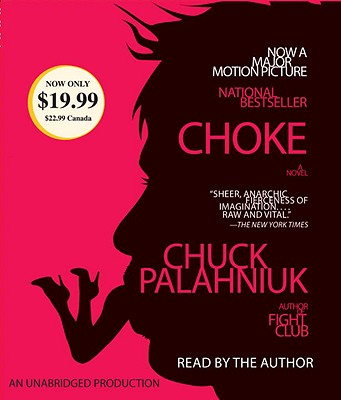 $19.99
It's complicated, and may be unavailable. Place an order and we will contact you with the expected arrival date.
Description
---
From the master of the dark and the depraved, whose Fight Club earned him a cult following, comes a novel about Victor Mancini - a medical school dropout who believes himself to be a direct descendant of Jesus Christ (never mind the fact that he happens to be an incorrigible sex addict who pays for his ailing mother's medical bills by pretending to choke in restaurants and so reaping sympathy checks from the people who "save" him). Mordantly funny, taunting, and, at times, as thought-provoking as it is weird, Choke is a satiric - and unsettling - romp through our 'norm'-driven world.
About the Author
---
Chuck Palahniuk is the bestselling author of seven novels: Haunted, Lullaby, Fight Club - which was made into a film by director David Fincher - Diary, Survivor, Invisible Monsters, and Choke. He is also the author of the nonfiction profile of Portland, Oregon, Fugitives and Refugees, published as part of the Crown Journeys series, and the nonfiction collection Stranger Than Fiction. He lives in the Pacific Northwest. "From the Hardcover edition."
Praise For…
---
"Sheer, anarchic fierceness of imagination. . . . Raw and vital."—The New York Times"Puts a bleakly humorous spin on self-help, addiction recovery, and childhood trauma. . . . Funny mantra-like prose plows toward the mayhem it portends from the get-go."—The Village Voice"Palahniuk has a vision that's distinctive. Like it or loathe it, Choke cannot be dismissed. Nor can its creator."—Houston Chronicle"Few contemporary writers mix the outrageous and the hilarious with greater zest. . . . Chuck Palahniuk's splenetic, anarchic glee makes him a worthy heir to Ken Kesey."—Newsday