Weapon of Vengeance: A Novel (Mass Market)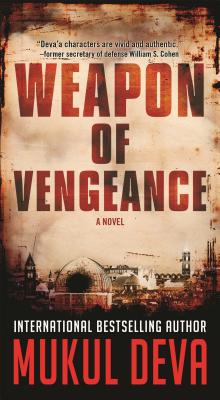 Description
---
Ruby Gill is a rogue MI6 agent, the daughter of an Indian father and Palestinian mother. Her mission is to destroy a Palestinian-Israeli peace summit in New Delhi. Ruby's father, whom she has not seen since age three, is now head of India's antiterrorist police. When the two first meet, Ravinder Gill believes his long-lost daughter has come for a reunion . . . but as time goes by, he begins to suspect that she is the terrorist he's searching for.
Combining a fascinating mix of terrorist operational detail contrasted with the coming together of a father and daughter who once loved each other but are now on opposite sides of a deadly encounter, Mukul Deva's Weapon of Vengeance is a gripping thriller filled with explosive action and weighty characters.
This edition of the book is the deluxe, tall rack mass market paperback.
About the Author
---
MUKUL DEVA served as an infantry officer in the Indian Army for sixteen years, and for over a decade, was involved in active combat and counterterrorism operations in India and abroad. He is a recognized expert on terrorism, especially the menace of Islamic fundamentalism. After retiring from the army, Deva established a security company that helps protect private organizations and individual in sixty Indian cities. He is the author of multiple novels, including Weapon of Vengeance.