Providence Rag: A Mulligan Novel (Liam Mulligan #3) (Hardcover)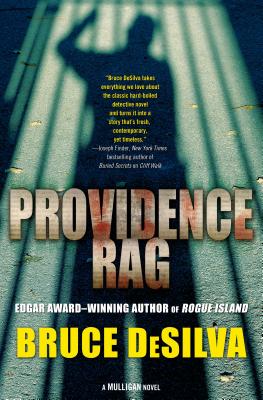 Other Books in Series
This is book number 3 in the Liam Mulligan series.
Staff Reviews
---
"The first two books by Bruce DeSilva's, Rogue Island and Cliff Walk,
have a certain amount of dark brutality to them. This feeling
punches through the books along with a disarming fun spirit, thanks to
the humor of the affable hero of Providence, Rhode Island, Reporter Liam
Mulligan. With Providence Rag, DeSilva gives us a change in tone as well as in structure and approach. This time he goes for the gut right at the beginning...DeSilva's novel is full of his trademark level of suspense, but more
than that, it engages the reader in an ethics debate. Both Mason and
Mulligan are equally right and misguided. The fact that neither is blind
to his situation nor to the  consequences of his actions make them both
smart and sympathetic to one another...Providence Rag is a unique newspaper thriller. It ties emotion to debate, having you think as much as feel."
— Scott M.
Description
---
Edgar Award-winner Bruce DeSilva returns with Liam Mulligan, an old-school investigative reporter for a dying newspaper in Providence, Rhode Island. Mulligan knows every street and alley, every priest and prostitute, every cop and street thug. He knows the mobsters and politicians—who are pretty much one and the same.
Inspired by a true story, Providence Rag finds Mulligan, his pal Mason, and the newspaper they both work for at an ethical crossroad. The youngest serial killer in history butchered five of his neighbors before he was old enough to drive. When he was caught eighteen years ago, Rhode Island's antiquated criminal statutes—never intended for someone like him—required that all juveniles, no matter their crimes, be released at age twenty-one. The killer is still behind bars, serving time for crimes supposedly committed on the inside. That these charges were fabricated is an open secret; but nearly everyone is fine with it—if the monster ever gets out more people will surely die. But Mason is not fine with it. If officials can get away with framing this killer they could do it to anybody. As Mason sets out to prove officials are perverting the justice system, Mulligan searches frantically for some legal way to keep the monster behind bars. The dueling investigations pit the friends against each other in a high-stakes race against time—and snares them in an ethical dilemma that has no right answer.
Providence Rag is a gripping novel of suspense by one of the rising talents in the mystery field.
About the Author
---
Bruce DeSilva's crime fiction has won the Edgar and Macavity Awards; has been listed as a finalist for the Shamus, Anthony, and Barry Awards; and has been published in ten foreign languages. His short stories have appeared in Akashic Press's award-winning noir anthologies. He has reviewed books for The New York Times Sunday Book Review and Publishers Weekly, and his reviews for The Associated Press have appeared in hundreds of other publications. Previously, he was a journalist for forty years, most recently as writing coach world-wide for The Associated Press, editing stories that won nearly every major journalism prize including the Pulitzer. He has worked as a consultant for fifty newspapers, taught at the University of Michigan and the Columbia University Graduate School of Journalism, and lectured at Harvard University's Nieman Foundation. He and his wife, the poet Patricia Smith, live in New Jersey with two enormous dogs named Brady and Rondo. He is the author of Rogue Island, Cliff Walk and Providence Rag.
Praise For…
---
"Edgar-winner DeSilva melds moral dilemmas with a suspenseful plot in his third novel featuring Providence, R.I.–based reporter Liam Mulligan (after 2012's Cliff Walk), his best yet." —Publisher's Weekly, Starred Review