The Footloose American: Following the Hunter S. Thompson Trail Across South America (Paperback)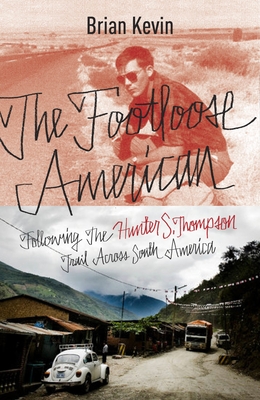 $16.00
It's complicated, and may be unavailable. Place an order and we will contact you with the expected arrival date.
Description
---
An adventure-filled and thought-provoking travelogue along Hunter S. Thompson's forgotten route through South America

In 1963, twenty-five-year-old Hunter S. Thompson completed a yearlong journey across South America, filing a series of dispatches for an upstart paper called the National Observer. It was here, on the front lines of the Cold War, that this then-unknown reporter began making a name for himself. The Hunter S. Thompson who would become America's iconic "gonzo journalist" was born in the streets of Rio, the mountains of Peru, and the black market outposts of Colombia.      
   In The Footloose American, Brian Kevin traverses the continent with Thompson's ghost as his guide, offering a ground-level exploration of twenty-first-century South American culture, politics, and ecology. By contrasting the author's own thrilling, transformative experiences along the Hunter S. Thompson Trail with those that Thompson describes in his letters and lost Observer stories, The Footloose American is at once a gripping personal journey and a thought-provoking study of culture and place.
About the Author
---
BRIAN KEVIN has written about travel, adventure, and culture for Outside, Sierra, Men's Journal, and Travel + Leisure. He received a 2010 Lowell Thomas Award from the Society of American Travel Writers. He currently lives in coastal Maine where he's a contributing editor at Down East.
Praise For…
---
WINNER OF THE MAINE LITERARY AWARD FOR NONFICTION

"Not only does Mr. Kevin fill us in on the careening journey that helped define Thompson as a journalist, but he also delivers an engrossing and opinionated travel guide to modern Latin America." —New York Times

"Brian Kevin has written a marvelous travel romp following the Proud Highway of Hunter S. Thomson through Latin America. Kevin is a helluva good writer and, if the Gonzo King were alive, he would give The Footloose American a thumbs up."
—Douglas Brinkley, author of Cronkite, CBS News Historian, and literary executor of Hunter Thompson's estate

"Brian Kevin has achieved a miraculous first with this brilliant travelogue that follows Hunter S. Thompson's journeys through South America shot into the prism of the modern travelers aesthetic. The vividness of Kevin's writing makes for great reading and his stories bring to life the immediacy and romantic allure of the Latin experience." —Andrew Zimmern, Creator of Bizarre Foods on the Travel Channel

"Brian Kevin's journey through South America in the footsteps of gonzo journalist Hunter S. Thompson is a tour de force. He has brought back a wonderful kaleidoscope of unforgettable characters and keen insight, wrapped in frequent moments of hilarity. This is the work of a first-class writer from whom will we be hearing a lot more in the years ahead. I look forward to every page." —Scott Wallace, author of The Unconquered: In Search of the Amazon's Last Uncontacted Tribes

"Is there a point to another 'in the footsteps' narrative? Emphatically yes. Brian Kevin's decision to follow the journey that created the perspective one of the seminal writers of our time, Hunter S. Thompson, does more than offer a needed understanding of Thompson's origins. Kevin's journey through South America reconsiders what it means to be a journalist, a traveler, a gringo, and an American. Plus, it's a great travel narrative on its own." —Scott Huler, author of On the Grid and No-Man's Lands

"In this meticulously rendered quest, Brian Kevin reveals that before the screeching bats and blood-sucking lizards, Hunter S. Thompson was an earnest, quixotic—even innocent—young writer trying to learn how the world worked. The Footloose American illuminates how Thompson's sharp eye for truth, honed on the back roads and backrooms of South America, would soon fall on fissures in his own country as they cracked wide open in fear and loathing." —Mark Sundeen, author of The Man Who Quit Money

"He travels and writes from a perspective that has one foot in the past with Thompson, while the other is in the present, delving into philosophical questions about the impact of travel.... Whether it's army crawling for 30 feet in a Bolivian mine, petting a piranha-bitten caiman in Mato Grosso, or a semidebaucherous visit to Bogotá, Kevin's vivid descriptions easily bring the reader along for the ride... An informative, captivating adventure across South America with a guide both searching for echoes of his antihero and seeking his own growth experience. Recommended for Thompson fans as well as travel buffs interested in a wide-ranging exploration of the region." —Library Journal

"Literally and literarily following in the footsteps of the young Thompson...Kevin is, like his model, an observant and witty writer...This is fine, historically well-researched travel writing in the tradition of Bruce Chatwin as well as in that of the youthful and restrained Thompson." —Booklist

"Travel writer Kevin does good work in following Thompson's path across the continent...to revisit the places where the gonzo master lived and worked...[An] entertaining entry in the ever-growing library of Thompsoniana." —Kirkus Reviews