Hawke's War (A Sonny Hawke Thriller #2) (Mass Market)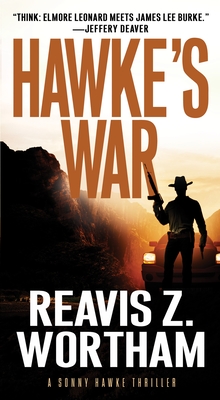 Other Books in Series
This is book number 2 in the A Sonny Hawke Thriller series.
Description
---
"The most riveting thriller all year!" –John Gilstrap on Hawke's Prey
 
The serene beauty of West Texas's Big Bend National Park is shattered when four hikers are brutally ambushed by a sniper. Only one survives to report the murders. When investigators come up with nothing, they're left wondering if this is a single incident—or the beginning of a rampage. One week later, Texas Ranger Sonny Hawke drives his 3500 Dodge Dually into the park, determined to unearth the truth . . .
 
 Before he knows it, he's in the same sniper's crosshairs. The drug and human smuggling cartel known as the Coyotes Rabiosos—Rabid Coyotes—have lured him to remote backcountry, looking for payback for an old grudge. Wounded and stranded in the harsh desert terrain, hunted, and outnumbered, Sonny is about to become the target of an even more dangerous enemy—one whose thirst for revenge could incite an international conflict far beyond the U.S.-Mexican border . . .
 
 
Reavis Z. Wortham is . . .
 
"A masterful and entertaining storyteller." —Ellery Queen's Mystery Magazine
 
"Entertaining and emotionally engaging." —T. Jefferson Parker
 
"The real thing." —C.J. Box
About the Author
---
Reavis Z. Wortham launched his acclaimed Sonny Hawke thriller series with Hawke's Prey. He is also the award-winning author of the Red River Mystery series, including Unraveled, The Right Side of Wrong, Vengeance is Mine, Dark Places, Burrows, and The Rock Hole (winner of the Benjamin Franklin Award). He is a member of the Mystery Writers of America, the Writers' League of Texas, the International Association of Crime Writers, and International Thriller Writers. Each week Reavis pens a self-syndicated weekly outdoor column for numerous Texas newspapers, writing on everything from fishing to deer hunting. He lives in northeast Texas with his wife. Please visit him on Facebook or at his website: reaviszwortham.com.